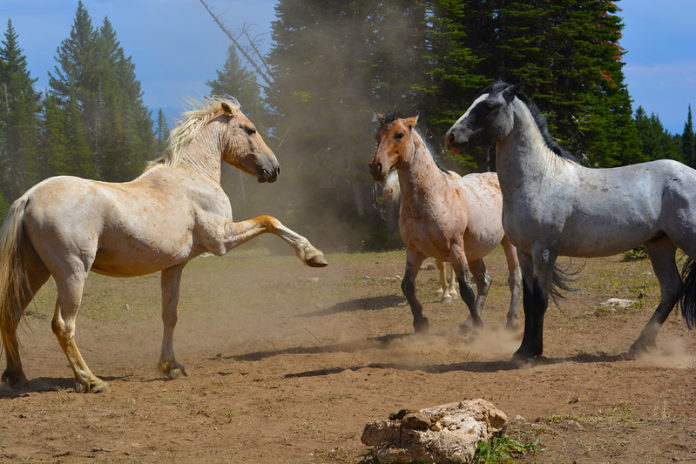 A federal appeals court has invalidated a U.S. Fish and Wildlife Service rule requiring environmental activists to notify affected states of their intent to ask that imperiled plants and animals be given Endangered Species Act protection before seeking it. The May 17 decision by the U.S. 9th Circuit Court of Appeals is a victory for Colorado animal rights lawyers Michael Ray Harris and Jennifer Best.
Obama-era Regulation Sets Stage for Court Fight
Friends of Animals, a Connecticut-based animal rights advocacy organization, sued to block the rule, finalized in 2016, after the Trump administration rejected its petition to provide ESA status to Pryor Mountain mustangs, a Montana- and Wyoming-based horse population that lives near Bighorn Canyon National Recreation Area.
"This moves the Pryor Mountain wild horses into queue for full and fair consideration under the ESA," said Harris, the Centennial-based director of Friends of Animals' Wildlife Law Program. "The red warning flag of extinction is flying on the Pryor Mountain wild horse range."
Judge John Tunheim, a federal district judge from Minnesota, wrote for a unanimous panel that the FWS mandate of advance notice to states is an unreasonable interpretation of the ESA. "The pre-file notice rule . . . provides an avenue for the [FWS] to consider factors it was not intended to consider during the 90-day finding and runs afoul of the ESA's plain directive that the [FWS's] initial assessment be based on the contents of the petition," he wrote.
Tunheim also emphasized that requiring advocates to involve states where animals and plants are found in the process of asking for ESA listings would frustrate Congress' objectives in enacting the law. FWS' "authority to establish rules governing petitions does not extend to restrictions that frustrate the ESA by arbitrarily impeding petitioners' ability to submit — or the [FWS'] obligation to review — meritorious petitions."
Tunheim's opinion was joined by judges Richard Paez of San Francisco and Paul Watford of Pasadena. 
The Case for the Pryor Mountain Mustang
The Pryor Mountain mustang is thought to be descended from ancestors imported to North America by Spaniards during the early 16th century. They are smaller than other horses, generally standing 5 feet high and weighing one-half to one-third as much as an average horse. They have lived in the mountain range south of Billings, Montana, located on the Crow Indian Reservation and Custer National Forest, since at least the early 1700s.
Gus Cothran, a professor of veterinary medicine and biomedical sciences at Texas A&M University, told the author of the 1999 book America's Last Wild Horses that 
Pryor Mountain mustangs are the "most significant wild-horse herd remaining in the United States" because of their unique genetic lineage.
The herd numbers less than 200 individuals. The Bureau of Land Management removed 111 horses in the Pryor Mountain Wild Horse Refuge population for adoption between 2009–2015 because the agency believes the carrying capacity of the habitat is limited to 179 adults.
Best said BLM's wild horse adoption program is plagued with problems. "Some of the horses may go to a range or to people who will care for the horses," she said. "A lot of people don't realize the work that will go into adopting a wild horse." 
A May 15 report in the New York Times said that some are sent to slaughter through livestock auctions even after adopters received a $1,000-per-head incentive payment. Previous reports, including one published by the Los Angeles Times in 1997, have found that a substantial majority of adopted wild horses are sent to slaughter. "It can be a dim future for wild horses that are taken off their homes on our public lands," Best said.
Wild horse killing is not a new phenomenon in American history. While intentional hippophagy has been uncommon in this country, before passage of the Wild and Free-Roaming Horses and Burros Act in 1971 millions of wild horses were massacred for dog food and fertilizer production.
Use of horses, even wild roaming varieties, for food or crop stimulation is not the only threat the ungulates have faced in the U.S.. In May 2017, the Trump administration proposed, along with unrestricted slaughter of wild horses, that BLM should be allowed to euthanize them.
Friends of Animals' 2017 listing petition asserted that the survival of Pryor Mountain mustangs is threatened not only by inadequate protection under federal law, but also by shrinking habitat and BLM efforts to control the population.
"There are a scarce 170 left on 27,000 acres after years of the Bureau of Land Management taking away mares' ability to reproduce by forcibly drugging them with a fertility pesticide and years of yanking so-called 'excess' horses off the land to be part of an adoption scheme," Harris said. 
Best explained that genetic drift is a possible threat to the Pryor Mountain mustangs. "Once they reach such a small population, it does put them at risk" of catastrophic population declines from drought, disease, or other natural disasters, she said.
Harris is a former University of Denver Sturm College of Law faculty member. Best is a DU law graduate who has worked for Friends of Animals since earning her juris doctorate in 2013.