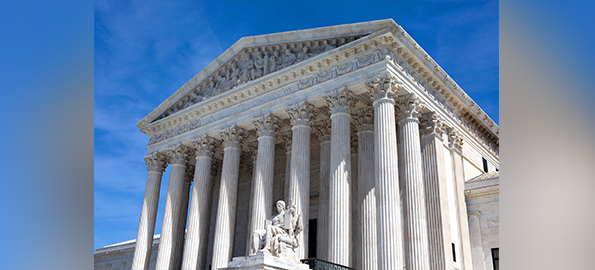 The U.S. Supreme Court on Jan. 13 heard oral arguments in a case questioning the Federal Trade Commission's ability to seek monetary relief when it takes companies to court over consumer protection violations.
At issue in AMG Capital Management v. FTC is whether Section 13(b) of the FTC Act, which authorizes the commission to seek injunctive relief when it enforces the act in federal court, allows the FTC to demand monetary relief in the form of restitution and disgorgement. 
In 2012, the FTC sued several payday loan companies owned by Scott Tucker, including AMG Capital, alleging unfair and deceptive practices in violation of the FTC Act. The FTC sought injunctions to stop the companies from engaging in the alleged illegal activity as well as restitution and disgorgement under Section 13(b). A federal district court in Nevada issued a permanent injunction and ordered Tucker to pay the FTC equitable monetary relief of more than $1.2 billion.
Tucker appealed, arguing that while Section 13(b) allows for injunctive relief, the plain text of the statute doesn't authorize monetary relief. The 9th Circuit Court of Appeals affirmed the lower court's ruling, citing its own precedent. 
Holland & Hart partner Paul Swanson said that for decades, federal appellate courts had interpreted the FTC's injunctive power to include broader equitable powers, including restitution. "The Supreme Court now is faced with decades of pretty consistent case law that says injunctive power includes power to do other equitable remedies, including restitution," Swanson said. "Yet the statute on its face really only talks about injunctions and does not speak more broadly about all equitable powers.
"So that's the dilemma that the Supreme Court is facing, and billions and billions of dollars in enforcement powers hang in the balance," he added.
However, Swanson noted that in recent years, some courts have "changed their tune" on whether Section 13(b) allows for restitution. In 2019, the 7th Circuit Court of Appeals broke with decades of precedent and ruled the FTC cannot seek monetary relief in federal court under Section 13(b). The appellate court concluded from the statute's text and legislative history that Section 13(b) does not "implicitly authorize" an award of restitution.
That case, FTC v. Credit Bureau Center, had been consolidated with AMG Capital for Supreme Court review, but the high court announced in November it would no longer hear Credit Bureau Center. It is believed the Supreme Court rescinded review of the case to avoid potential recusal issues for Justice Amy Coney Barrett, who previously served as a 7th Circuit judge, though she was not part of the three-judge panel that decided the case.
While the 9th Circuit deferred to precedent in deciding AMG Capital, two of its judges raised concerns about the court's reading of Section 13(b). "I submit that our interpretation of Section 13(b) is …  an impermissible exercise of judicial creativity, and it contravenes the basic separation-of-powers principle that leaves to Congress the power to authorize (or to withhold) rights and remedies," wrote Senior Circuit Judge Diarmuid O'Scannlain in a special concurrence.
In Wednesday's oral arguments, AMG Capital attorney Michael Pattillo argued the FTC Act's text, structure and purpose make it clear that Section 13(b) authorizes "a permanent injunction as traditionally understood," and not restitution. Pattillo noted that "where the Act allows relief beyond injunctions, it says so," such as Section 5(1), which authorizes an injunction "and further equitable relief as appropriate," and Section 19, which authorizes monetary relief for actions taken under the FTC's administrative process.    
FTC deputy general counsel Joel Marcus argued that restricting the commission's enforcement power under Section 13(b) to "merely stop[ping] the violations while letting the violator keep his money" would "radically depart from the foundational principle of equity." He said the court recognized that principle last year in its decision in Liu v. SEC, which held the commission may seek a disgorgement award as a form of equitable relief. 
Justice Brett Kavanaugh told Marcus that the FTC "obviously put forward good arguments" about court precedent and Congress' intent. "[B]ut it seems that the problem you have is the text," Kavanaugh said. "And in that this case really is a separation of powers case."
Kavanaugh and Justice Stephen Breyer pushed Pattillo to explain why the high court should deviate from decades of appeals court rulings and related Supreme Court decisions that have guided the lower courts. 
"Long-standing error doesn't make it any less error," Pattillo said. "The statute is still the statute, and now that the issue is before this Court, it's the Court's duty to give the correct interpretation of the statute, notwithstanding a long history of error." 
Two federal appellate courts have now rejected the idea that Section 13(b) allows for monetary relief, Pattillo said, "and there's simply no rule that the first court of appeals to issue its ruling on a particular version of the law wins." 
Holland & Hart's Swanson said he isn't sure why the two appellate courts have broken with precedent in recent years but said it might be because courts are taking a more textualist view of the language in the FTC Act and existing case law.
"Even if that's not what has motivated the courts of appeals, I think that line of reasoning would get traction at the Supreme Court," he said. "We have a court that now hews really closely to the text of the statutes or constitutional provisions it's applying."
"I wouldn't be surprised to see the court say, 'Well, section 13(b) is pretty clear on its face. If Congress wants broader forms of relief … to apply, Congress can amend the statute. But as written, it's injunctions and nothing else.'"
—Jessica Folker