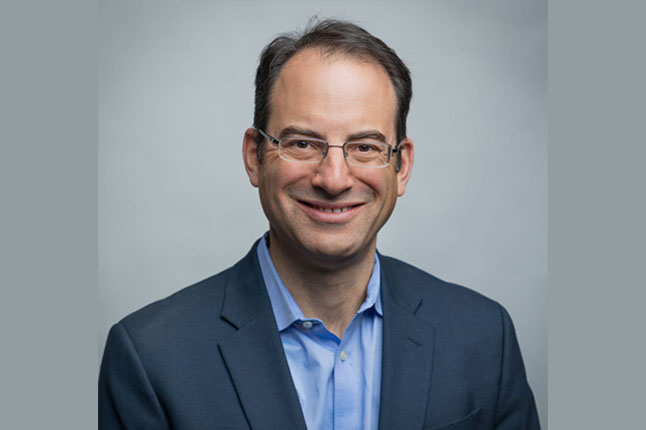 Phil Weiser ended a hard-fought 18-month campaign for attorney general with a win on election night. Now, the work begins. 
Weiser will take office Jan. 9, and, with the exception of a vacation and some time off the campaign trail with his family, he'll be spending the next month and a half staffing the office and preparing for the role. 
The election itself came to its climax just after 11 p.m. Nov. 6 when Weiser gave a speech to his supporters, roughly 10 hours before his opponent, George Brauchler, officially conceded. 
"That was an incredible feeling," Weiser said. "I was, during the campaign, carried by supporters who knocked on doors, made phone calls, posted on Facebook, gave money, and then so many of them showed up to be there physically when we could acknowledge the moment. And that is a special experience that I will always remember."
Weiser emphasized his intention of running a clean race and an "elevating campaign" for himself, the voters and inform the public on what the attorney general does. He faced attacks during his campaign from the Republican Attorneys General Association that questioned his experience as a prosecutor or public official. Even when faced with attacks for providing representation to a prisoner in a constitutional rights challenge, Weiser said he was focused on running a clean race. 
"I was committed to taking that moment and turning it around by saying, 'I'm going to defend the constitutional rights of everybody,' he said. "That's what an attorney general does. It was inspiring that I could win that way because it sets me up to be the people's lawyer, which was the goal of my campaign."
Weiser rode the blue wave in the midterm elections to become the first Democratic attorney general in Colorado since 2005. Now, he'll have the best opportunity to fight the campaign trail criticisms as he takes elected office for the first time.
Staffing His Office
One of Weiser's goals in staffing his office will be to change the culture of the Attorney General's Office and to change how it functions. To him, that means bringing in new staff as well as doing some restructuring within the office. "Some I hope stay, but there will be indeed some new blood coming to the office," Weiser said. "There's also a chance to really think hard and long about how each unit functions."
That culture change also includes thinking about what it means to be the people's lawyer, he said. "I know, the office has sometimes been more nsular and less of a partner," Weiser said. "I want to think hard about how we help reboot the office so that it actually is a high-functioning partner for local governments and state district attorneys."
He said it is his goal to create an environment that is more mindful of the obligations to serve people. "I want our office literally to be accessible in a way that it hasn't necessarily has been. I want it to be more present, so the communities are able to work more effectively with the Attorney General's office." He plans on exploring telecommuting opportunities in order to have attorneys working in other parts of the state. 
He said he also intends to bring some of his experience in innovation and entrepreneurship demonstrated through his work at the University of Colorado Law School. That includes starting an Office of Innovation within the Attorney General's Office and participating in the Governmental Entrepreneurship Leadership Accelerator program — a program he founded at CU's Silicon Flatirons center — which brings students from CU's law and business programs to work with government offices to come up with new efficiencies and ideas. 
And although Weiser said he hopes some of the current AG's office staff stays onboard, one key role that will need to be filled is solicitor general, the state's top litigator. Fred Yarger, solicitor general under Attorney General Cynthia Coffman, returned to private practice Nov. 12, and Weiser will be looking for someone for the role. He said he is inviting anyone interested to apply for the role. 
"I believe that it's important to have an open, transparent process that can get us the best possible people," Weiser said. "The position is very important. I myself have a strong background in appellate law. So I'll be a partner, and we'll make sure we get the best person we can."
In addition to filling out his own staff, Weiser is getting ready for the job by working with other leaders around the state, such as U.S. Attorney Jason Dunn, Governor-elect Jared Polis and outgoing Attorney General Cynthia Coffman. Weiser said Coffman is committed to making the transition as effective as possible. 
"She cares so much about the office," Weiser said. "She spent 10 years as the chief deputy and now attorney general. That's 14 years in the office. That is an extraordinary amount of institutional knowledge, and it's going to be really important to me to leverage that knowledge as we go forward."  
Priorities for January
Once he takes office in January, it will be time to make good on the goals and priorities he laid out during his campaign. One area that has grown in focus since he announced his intention to run for office, however, is tackling the state's opioid epidemic. 
He has referenced the opioid epidemic as a key issue that needs to be addressed in criminal justice reform, and in his mind, that involves working to provide drug treatment in order to keep drug users out of jails. And funding for those reforms, he hopes, will come from proceeds from a lawsuit that was initiated by Coffman. 
"There's litigation that has already been brought against Purdue Pharma. That litigation is going to be a top priority of mine," Weiser said. "When we win money from that, I will need to make sure we take that money and use it to drive sustainable drug treatment and move away from the current model where we're putting opioid users in jail."
Other top priorities for the early parts of his term in office involve focusing on environmental issues, such as negotiating the Colorado River Compact. 
"We've got to prepare for how we comply with our obligations, and that's going to mean developing a new framework," Weiser said. "Those negotiations are going to start soon, and the AG is very well positioned to help lead and drive towards a consensus which needs to be a collaborative and innovative approach. Because the default too often has been buying dry, where certain rural communities have just sold all their water rights and shut down."
Weiser also built his platform on the promise of opposing the Trump administration through litigation. That, so far, involves protecting the Affordable Care Act, and defending Colorado's methane rule, which sets limits on air pollution.  
As Weiser takes office, he will likely take on a more active role in litigation against the federal government, and he hopes to raise the profile of the office within state government too. 
"I want to figure out how do we tell all the millions people in Colorado, you've got an attorney general who's the people's lawyer," Weiser said. "That's going to be a challenge we will keep working on by traveling around the state, by using technology to communicate and engage people and by setting a tone in the office that we're in this job to serve the people of Colorado."
— Tony Flesor