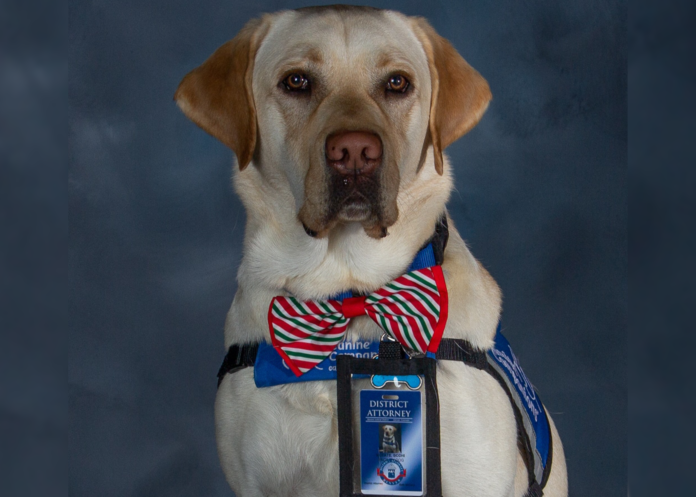 In Colorado, the Prison Trained K–9 Companion Program was launched in 2002. The state's website lists the program "as a perfect marriage of ideas – saving humans through saving dogs." The program offers "boarding-in training for privately owned dogs and trained rescue dogs for adoption." Inmates train the dogs to perform a variety of behaviors including leash training, sit, stay, lay down and coming when called by name. 
Currently, the program has 16 adoptable dogs, according to the state's website. Thousands of dogs have gone through the program in the past 20 years. Colorado's program is funded through the individuals and families who pay to place their dogs there for training or who buy custom leather dog products through the program's webshop. 
The broader justice system has enlisted facility dogs to serve in courts and district attorney offices as well. In 2019, state lawmakers drafted a law that allows trained court facility dogs to accompany witnesses during testimony if certain conditions are met. 
But the use of dogs in courts is still new. Just two years ago, the Colorado Court of Appeals was asked to decide if a court facility dog violated a defendant's confrontation rights "because the dog's presence mitigated this child victim's discomfort about naming defendant as her abuser in court, lessening the reliability of her testimony," according to a 2021 decision in People v. Collins. 
The court rejected the confrontation claim, concluding "Collins's right to confrontation doesn't carry with it right to impose discomfort on an accusing witness," and the trial court's findings that all confrontation requirements were met were supported by the record.
The facility dog in the 2021 case originally appeared in Mesa County District Court, but other organizations and agencies also use court-trained facility dogs including the Denver District Attorney's Office. Earlier this year, Denver DA Beth McCann welcomed Bodhi, a two-year-old golden retriever/Labrador retriever mix who joined the office to provide emotional support for victims, witnesses and their family members, according to a press release. 
The DA's Office noted Bodhi can perform more than 40 commands and aids in investigations, trial preparation and with courtroom testimony. Bodhi is a Canine Companion for Independence certified facility dog and partners with his handler Denver DA Office Victim Advocate Shannon McFate, who has been with the office since 2006, according to the announcement.
The DA's Office noted judges will be asked if they'll allow Bodhi to lie at the feet of a person while they testify and said he'll always be out of sight of the jury.
In addition to Bohdi graduating from the CCI program and being certified by CCI for work in public, he also met the standards set by Assistance Dogs International prior to placement with the DA's Office, according to the announcement. 
Alongside McFate, Bodhi's been working at the Denver DA's Office, Denver County Courthouse, Lindsey-Flanigan Courthouse and Van Cise-Simonet Detention Center, among other locations according to the announcement.