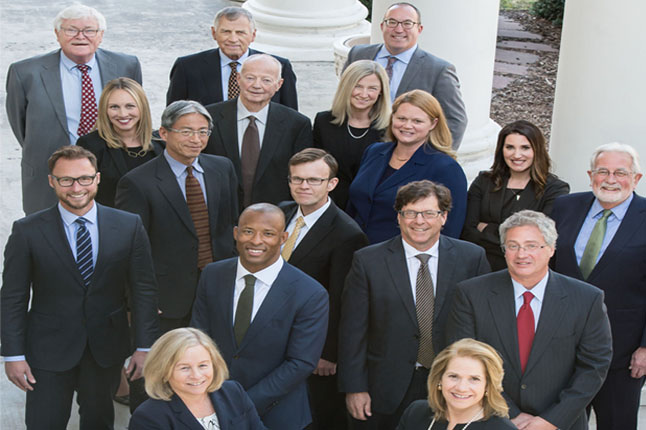 Criminal defense firm Haddon Morgan and Foreman is about to get bigger this week. The firm is absorbing four trial attorneys from Stimson Glover Stancil Leedy — Kate Stimson, Tyrone Glover, Julia Stancil and Brian Leedy — who are joining Haddon Morgan and Foreman as partners. The merger is effective Tuesday.
Haddon Morgan and Foreman partner David Kaplan served as Colorado's state public defender from 1999 until 2006 when he left to join Haddon Morgan and Foreman. As public defender, he hired Stimson, Stancil and Leedy as public defenders. Stimson said that's what makes the merger such a great fit — all four, including Glover, previously served as public defenders.
"We all have similar backgrounds. We all have our roots in public defense and criminal defense. That's why it's a great cultural fit," Stimson said. "We've all been friends over this whole time too. It's not like four strangers coming in here — we work similarly, and we have a lot of fun together."
Haddon Morgan and Foreman was founded by public defenders Hal Haddon and Bryan Morgan in 1976, a firm that Stimson describes as "an institution in the state of Colorado if not the Western U.S." The firm focuses on litigation, including commercial, civil disputes and white-collar defense. It's since grown to 17 attorneys including the merger with Stimson Glover Stancil Leedy. 
"The four of us always looked up to the attorneys at Haddon Morgan and Foreman as mentors and role models — people that we wanted to practice like," Stimson said. She added that the groups of attorneys have recently been working on cases together.
Kaplan said as the firm has grown, it expanded into other practice areas. Haddon Morgan and Foreman attorneys primarily practiced criminal defense, but now they help clients in a number of trial and litigation cases. The reputation the firm has built speaks for itself, Kaplan said, and there's a "recognition that if you have something that needs to be in a courtroom, whether it's criminal or civil, that this is the place to go." He said the firm now has a good balance of both civil litigation and criminal defense. 
The attorneys of Stimson Glover Stancil Leedy have been practicing together for about 18 months. Stimson opened her solo firm in 2010. Glover joined her in 2015, and they practiced together for about two years before adding Stancil and Leedy. Stimson said transitioning from a solo firm to two attorneys and then growing to four has given her the perspective of the type of work and commitment it takes to staff larger cases. 
"We're very excited about coming here, because we can take on bigger cases, and we have the background and the infrastructure of this firm, the legacy of this firm to be able to come into and do the work we've been doing but also other types of work," Stimson said. 
Kaplan echoed the sentiment that the merger is a great opportunity for Stimson attorneys as they will have more resources available to them at Haddon to take on larger cases. 
"Sometimes, to take the bigger cases, especially in the civil world, you have to make sure you can staff them, and that's exciting for them because they can come here and now take cases that are bigger, and we've just become more capable of handling larger litigation also," he said. 
One of Stimson's biggest cases was a lawsuit filed in 2011 against four police officers and the City and County of Denver. Officers raided a family's home without a warrant on suspicions that narcotic and prostitution activity was taking place, but the tip they received was outdated. The suit alleged fabrication of inculpatory evidence and perjurious testimony. A jury awarded $1.25 million to the family in 2016. That case was a Section 1983 action, which deals with deprivation of rights. That case is the type of work that Stimson and Kaplan are looking forward to continuing.
"I know that we've both had an interest in 1983 work, so we're excited to continue that," Kaplan said. "We've both done some of it, but I think we'll probably do more of it." 
Kaplan and Stimson said they don't anticipate many interruptions to workflow and that the merger will function pretty seamlessly. He said both firms are established and have created similar practice styles. 
"We're expanding without impacting what is the most important part of a career, which is doing the work you want with the quality that you demand with the people you enjoy and trust," he said. 
— Kaley LaQuea