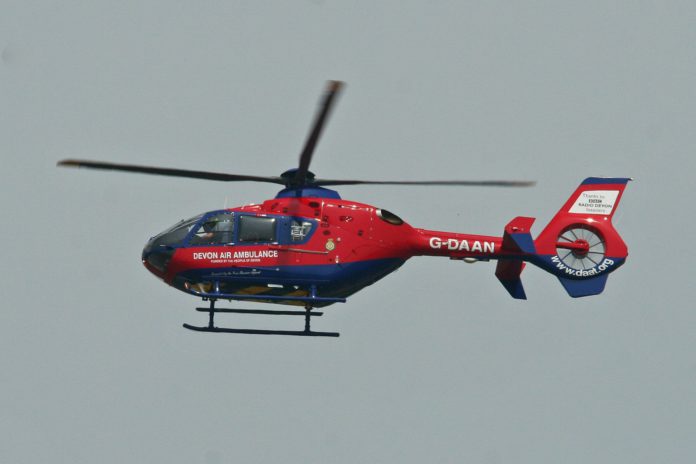 U.S. Attorney Jason Dunn on Nov. 4 filed a lawsuit against Air Methods, alleging the Greenwood Village-based helicopter operator violated Federal Aviation Administration regulations by failing to address potential safety risks.
According to the complaint, the company continued to operate an emergency services helicopter on more than 50 flights after an FAA Aviation Safety Inspector found the Airbus EC-135 helicopter was not airworthy. On Nov. 4, 2014, the inspector found severe corrosion of the helicopter's pitot tubes, a component that helps determine airspeed, during a check in Tampa, Florida, according to the complaint. Air Methods did not fix or replace the corroded parts and continued to operate the helicopter on 51 flights until the damaged parts were replaced on Nov. 12, 2014, the lawsuit alleges.
"When a federal safety inspector notifies an air-ambulance company that one of its helicopters has a potential safety issue, the company must address that issue," said Dunn in a news release.  "Air Methods kept the helicopter in the air despite being warned about the corroded pitot tubes, and we intend to hold the company accountable for its actions."
The lawsuit is seeking civil penalties for the alleged regulatory violations. Air Methods is liable for up to $27,500 for each flight operated in violation of FAA regulations, the complaint says. 
In an e-mail, a spokesperson for the helicopter operator said, "Air Methods vigorously disputes the allegations contained in the complaint but cannot provide further comment as the litigation is pending."
Air Methods has operations in 48 states and transports more than 70,000 passengers each year, according to the company's website. A search of the National Transportation Safety Board's Aviation Accident Database showed that 24 people have been killed in nine fatal Air Methods helicopter crashes over the past decade, with the most recent in April 2018.
— Jessica Folker, [email protected]