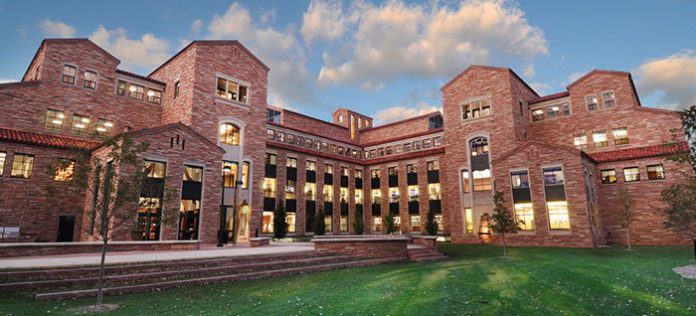 The University of Colorado Law School on Aug. 25 hosted a discussion, "The Roles and Rights of Essential Food System Workers During COVID-19," as part of its monthly Colorado Law Talks series. 
The webinar featured Alexia Brunet Marks, associate professor at CU Law, who talked about the high rates of COVID-19 infection among food system workers and the domino effect it has had on the food supply chain. She also discussed her policy work as part of Project Protect Food System Workers, a group of immigrants, farmers, workers, scholars, activists and unions working to ensure food industry worker protections amid the pandemic.
The presentation opened with a photo of a familiar scene: the empty shelves of King Soopers when COVID-19 first hit Colorado. "Can each of you think back to those early days of the pandemic … and then think about those empty shelves. Did you stop to think that that was caused by COVID sweeping across meatpacking plants and farm fields?" Brunet Marks asked the audience. 
Brunet Marks, whose multidisciplinary background includes law, agricultural economics and international trade, retraced the chain of events that led to sold-out supplies at supermarkets. While many industries shut down, President Trump ordered meat processing facilities to stay open. Food supply workers were deemed essential under Colorado's executive order and continued to work in unsafe conditions, leading many to fall ill. 
Production at some facilities, including meatpacking plants in Colorado, slowed or stopped due to absenteeism or shut-downs by public health officials. Farm animals kept growing while processing plants were at reduced capacity, and pig farmers had to euthanize many animals due to a backlog in hogs, Brunet Marks said. 
Meanwhile, demand changed as people went to restaurants less and grocery stores more, according to Brunet Marks, but food processing systems can't be reoriented quickly from wholesale to retail production. "Grocery stores can anticipate and plan for peaks in demand, such as days around Thanksgiving and Christmas and even regional disruptions and hurricanes," Brunet Marks said. "But not these types of global shocks."
According to Brunet Marks, at least 55,000 meatpacking, food processing and farm workers in the U.S. had tested positive for COVID-19 as of mid-August, and more than 230 have died. In Colorado, the impact on the industry can be seen in county-level data, she said. For example, Weld County, home to JBS, Colorado's largest meat-processing facility, has had some of the highest numbers of COVID-19 cases and deaths per 100,000 people in the state. 
The food production and processing industry was hard-hit by the virus for a number of reasons, according to Brunet Marks, including shoulder-to-shoulder working conditions within meatpacking plants, crowded housing and buses for workers, and a majority immigrant workforce that is reluctant to speak out about workplace safety concerns. 
"Here's the problem, as I see it: At a time when food system workers are essential and heroic, they are among the most vulnerable and unprotected," Brunet Marks said. "And that is because there is a disconnect between the food that we eat and those who make our food — those who work in the shadows of society."
"The irony is," she added, "as animal welfare has changed the way companies do business" — from free-range chickens to ensuring pregnant hogs are not confined in small gestational crates — "there's still little outcry about conditions for workers who produce every meal we eat."
To protect essential food system workers, Project Protect has come up with several policy recommendations, many of which were adopted by Governor Polis and the state legislature in June. These include agricultural industry health and safety guidance from the Colorado Department of Public Health and the Environment and paid sick leave and whistleblower protection laws passed during the final days of the legislative session.
The group's current policy agenda includes several measures to protect workers in the workplace, such as requiring the posting of COVID-19 safety guidelines in multiple languages, more safety inspections and enforcement in plants, farms and company housing, hazard pay for farmworkers and temporary housing to allow sick workers to self-isolate. Additionally, the group recommends establishing a board or commission of workers and advocates to report on the conditions of farmworkers in the state. 
Project Protect also recommends measures to support workers outside of the workplace. These include funding a community health education network to promote "COVID literacy," supporting undocumented workers through cash payments from private groups and extended public benefits and helping the children of food system workers transition to online education.
While policy pressure has already resulted in a few improvements to worker protections, litigation has been less successful. Tyson Foods, Maid-Rite, Smithfield, McDonalds and JBS are among the companies to be sued by workers so far over gross negligence and worker safety violations. In most cases, Brunet Marks said, workers are only seeking injunctive relief to force their employers to follow safety guidelines. "But plaintiffs are not winning. They haven't won a single case," she said. 
—Jessica Folker