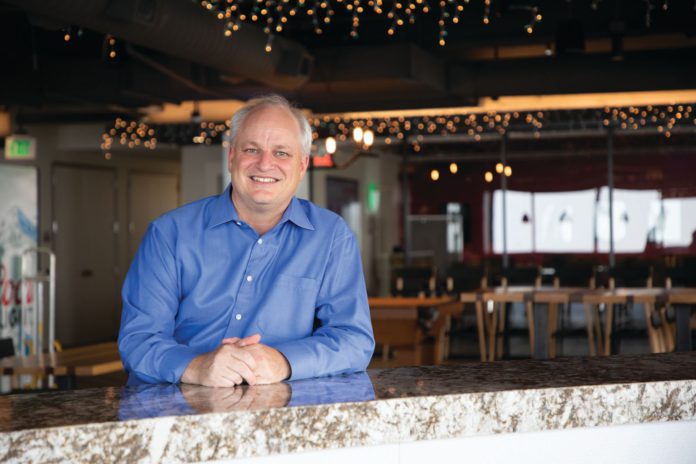 If you were going to pick your first day as a beer company's chief legal officer, it probably wouldn't be March 1, 2018. But it was Lee Reichert's first day as Molson Coors' chief legal and corporate affairs officer, to which he was promoted after his predecessor, Sam Walker, was appointed executive director of the Colorado Department of Labor and Employment. Reichert came to find his role would be less legal, however, and more corporate affairs — including oversight of the beer giant's lobbying and public policy operations. 
The public policy role would come into play on March 1, when President Donald Trump announced his aluminum and steel tariffs. Reichert happened to be in Washington, D.C., luckily, where he could immediately meet with the company's government relations staff as well as several regulators to discuss the impact of the new trade policy on kegs and canning costs. 
With a company the size of Molson Coors, which has 17,000 employees and a $13 billion global market cap, there's still much to learn about its operations even after you've helped lead its legal affairs for seven years.
"For me it's been a bit of a learning curve just getting to know and understand what our agendas are in those areas," Reichert said. 
The beverage market has undergone rapid change throughout the past decade, and Reichert has played a part in Molson Coors' transformation and consolidation on the legal side. A self-described "classically trained" M&A lawyer, Reichert originally came aboard Molson Coors as its general counsel for its international business in 2011. 
It would be an especially involved role as the company made high-profile acquisitions, like the 2012 purchase of StarBev for $3.5 billion that brought Central European beer brands under the Molson Coors umbrella. In 2016, Reichert would help manage the company's $12 billion purchase of the rest of its share in MillerCoors, a joint venture with SABMiller. The deal gave the company complete international ownership of the Coors, Molson and Miller brands. 
But the company is expanding in other ways; beer is far from the only product on its growing tap list. Reichert said that Molson Coors wants to be the "first choice" for consumers not just in beer but other beverage categories. 
"Whatever they want to reach for, off the shelves or in the bars, we want to have that product for them." 
That has the company expanding into other types of beverages, and wherever the company sets its sights, the legal team has to scout the regulatory territory. 
This year Molson Coors invested in Clearly Kombucha in California as well as Bhakti Chai in Boulder. "Now I have to have a legal department that's able to think not just like beer lawyers but think about kombucha [or chai]." 
Molson Coors has an in-house legal department of about 50 attorneys worldwide, but that still leaves plenty of work for outside counsel to help handle. 
Reichert isn't shy about sharing his philosophy on hiring law firms, and this summer, he published an article on that topic that sparked much more conversation than he'd expected. Last month, AdvanceLaw shared the results of its survey that found that outside law firms in the biggest markets — New York, Los Angeles, Washington D.C., Silicon Valley — weren't necessarily rating the highest with GC clients in terms of satisfaction despite their pedigree and premium fees. 
In an article published in American Lawyer, AdvanceLaw said GCs were just as likely to recommend the firms they've hired from a "mid-to-large market" city like Phoenix, St. Louis — and yes, Denver — as compared with firms from a coastal megalopolis.
Reichert threw in his two cents in a July 24 column for American Lawyer. The survey data validated his own experience, which was that GCs shouldn't sleep on mid-to-large city attorneys if they're looking for top legal talent, especially at a good value. 
"What keeps the profession from improving," Reichert wrote, "[is] choosing lawyers based on the historical reputation of the law firm and its geographic location, even in the face of a better option." 
While there are indeed top-flite attorneys in the largest U.S. cities, they don't have the monopoly on legal talent — one can find lawyers just as excellent elsewhere, he said. "The traditional bias in favor of law firms in the largest cities needs to be re-evaluated. 
The research suggests that perhaps our bias should be the other way — there are elite lawyers across the country, in many cases at a lower price point."
 The AdvanceLaw article was perceived as controversial, but not among Denver lawyers, who have "seen the influx of talent come to this town whether it's in the legal profession or other areas," Reichert said. Still, he's seen his inbox blow up with responses to his column supporting that thesis. 
"So the fact that [my article] generated that much interest says that either people don't realize that that's the case, or there may be a tipping point going on right now where I think a lot more in-house counsel are starting to talk to one another." 
And what they're saying, according to Reichert, is that they've found lawyers in Denver, Milwaukee or Phoenix that were just as good as others in the "money-center cities" at more competitive rates. That's been the Molson Coors' approach to outside counsel since he's been there, Recihert said. 
Even for a beer company so massively global as Molson Coors, when it comes to hiring talented counsel, "geography doesn't matter."
— Doug Chartier