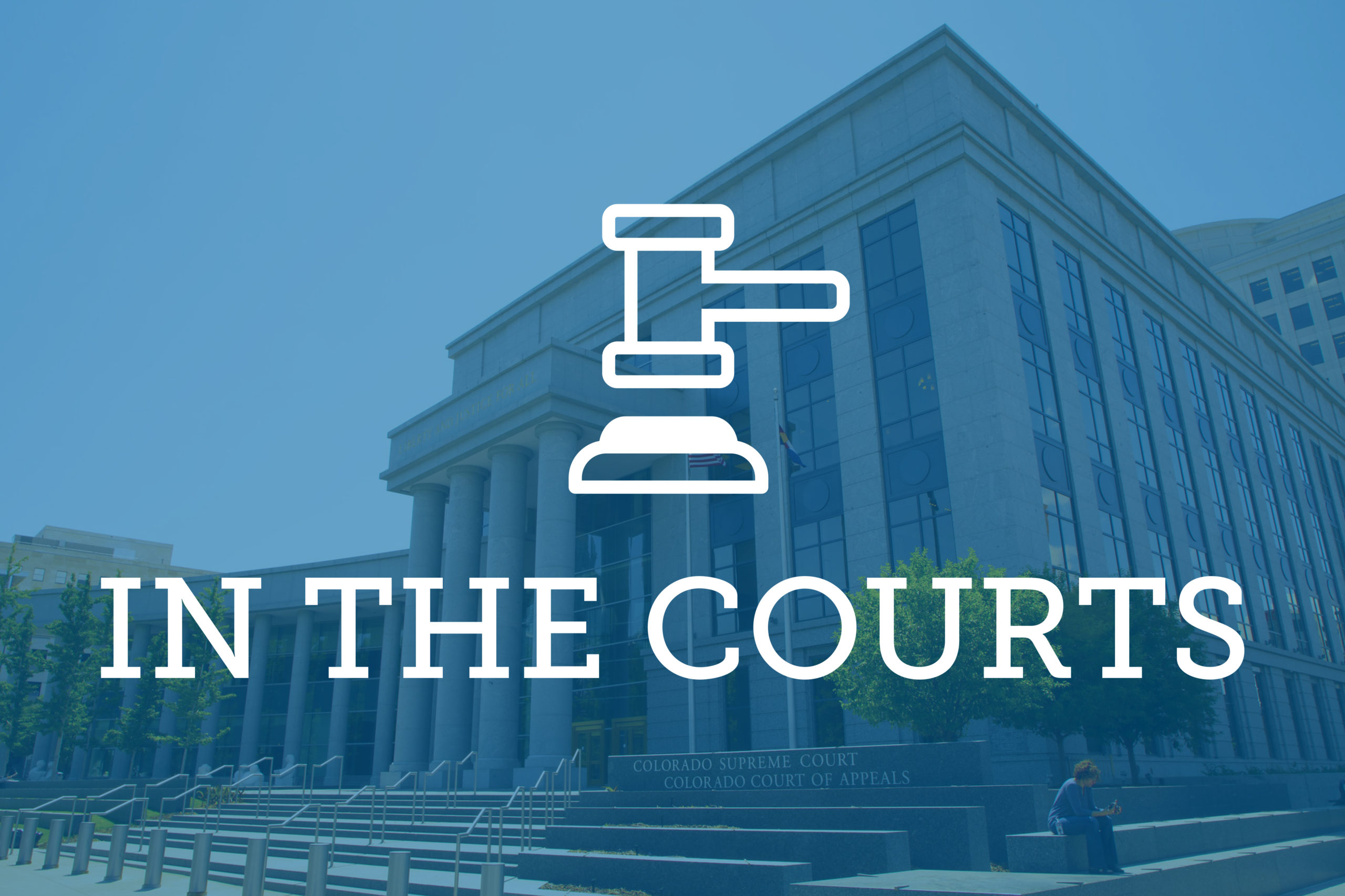 The Colorado Supreme Court has decided a "violation" under the Fair Campaign Practices Act, or the Colorado Constitution's Article XXVIII, means the violation as decided by an administrative law judge. It triggers Article XXVIII's one-year statute of limitations for filing a private campaign finance enforcement action. The decision bars an action filed by Campaign Integrity Watchdog founder Matt Arnold against a group that an administrative law judge decided was a political committee that did not register as required.
In Alliance for a Safe and Independent Woodmen Hills v. Campaign Integrity Watchdog, the two sides have disputed when a "violation" to trigger the statute of limitations occurs. Alliance, represented by Colorado Senator Bob Gardner, argued the plain language of the Fair Campaign Practices Act doesn't allow the one-year period to extend beyond the date the administrative law judge decided the case. 
But Campaign Integrity Watchdog claimed its enforcement suit against Alliance is not time-barred because founder Arnold said he filed it within a year after Alliance was still in "continuing violation" of Article XVIII. In a wider scope, Campaign Integrity Watchdog also argued Alliance's proposed interpretation would allow violators to appeal the ALJ's decision to run out the one-year clock.
"We conclude that the term 'violation,' as used in section 9(2)(a), refers to the violation as adjudicated and penalized in the decision being enforced," wrote Justice Richard Gabriel in the opinion.
The case has roots in a 2014 election for the Woodmen Hills Metropolitan District's board of directors. A group of residents formed the Alliance for a Safe and Independent Woodmen Hills, which campaigned to defeat one candidate, Ron Pace.
A group of eventually consolidated complaints filed with the Secretary of State by Pace, Campaign Integrity Watchdog and a resident claimed Alliance did not register as a political committee or report spending and funds raised. An administrative law judge decided in favor of the complainants, and fined Alliance $9,650 along with an order to register as a political committee.
But the Secretary of State has the onus of enforcing an ALJ's decision. In this case, the office sent an invoice to Alliance, but didn't take action beyond that, which cleared the way for a private enforcement action. Campaign Integrity Watchdog filed its action to enforce the ALJ's decision on Sept. 15, 2015.
The Court of Appeals had come to the opposite conclusion than the Supreme Court. Although the Court of Appeals didn't decide when Alliance's violation ended, the panel concluded the group's failure to register could rise to a continuing violation and reversed the district court's dismissal of Campaign Integrity Watchdog's suit. The case's record didn't show the date it ended. 
Alliance argued the June 26, 2014 administrative hearing triggered the one-year limitation period. But Campaign Integrity Watchdog contended the violation continued until Alliance registered as a political committee on Oct. 8, 2014. 
Arnold argued to the Supreme Court that in instances where a party appeals an ALJ's decision, the
Secretary of State would be unable to file an enforcement action while the appeal is pending because a district court would not have jurisdiction. He said this would allow the appealing party to use the appeal to run down the one-year clock for a private enforcement action.
Arnold told Law Week some political committees file reports only annually, and that presents a problem because discovering evidence of violations takes time.
"What if their violations happen in the first month of their filing period? By the time that their report is due, you've already run out the clock."
But the Supreme Court did not accept that argument. Gabriel wrote an enforcement action is related but separate from the ALJ's decision, so a district court's jurisdiction isn't affected by its pending appeal.
He added that if "need be, a party filing an enforcement action can protect its rights by timely filing the enforcement action and then asking the court to stay that action pending the disposition of the appeal concerning the administrative proceeding. 
Such a procedure would be consistent with the constitution's plain language, and it would avoid the absurd result that Watchdog posits."
Notably, campaign finance law has changed since the beginning of this case. The secretary of state's office first vets private enforcement actions and then decides whether to go forward with prosecuting on the filer's behalf.
Gardner told Law Week he believes had the Court of Appeals' decision stood on a possible continuing violation by Alliance, it could have bled into just about any other administrative regulatory context, such as labor and employment or occupational health and safety. 
Subsequently, determining when a "continuing violation" actually ended could make it more difficult to figure out when a statute of limitations starts running.
The Supreme Court also overturned the Court of Appeals' decision that C.R.S. Section 13-17-102(6) modifies Article XXVIII's Section 9(2)(a) and limits attorney fees against a pro se party. Section 9(2)(a) awards attorney fees to the winning party in a private campaign finance enforcement action. Section 13-17-102(6) says a party won't be required to pay attorney fees unless a court finds they knew, or reasonably should have known the action was groundless. 
Instead, the Supreme Court decided 9(2)(a)'s award of attorney fees is self-executing.
Arnold said he is mulling next steps, such as a potential petition for rehearing or federal appeal. He said he believes the attorney fees component of the decision has a possible Equal Protection Clause implication. He said he believes if 9(2)(a) is truly self-actualizing, pro se parties should have equal ability to collect attorney fees but that the decision hampers his ability to collect attorney fees and costs, had he prevailed.
"So there's a U.S. Constitutional violation, so it may be that there is the potential for a federal appeal." 
—Julia Cardi