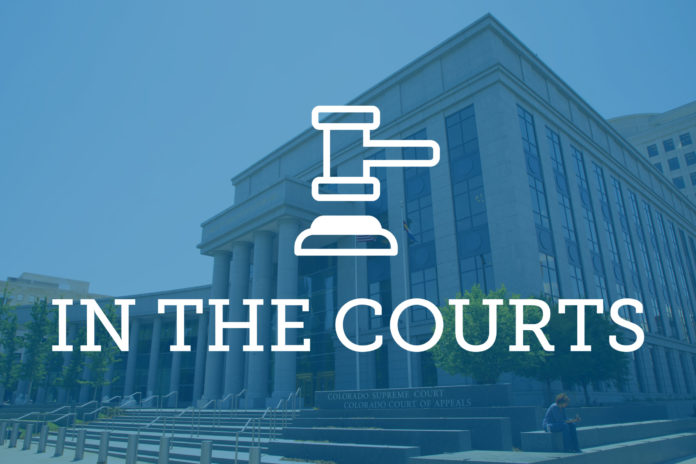 Editor's Note: Law Week Colorado edits court opinion summaries for style and, when necessary, length.
Simon v. Industrial Claim Appeals Office of the State of Colorado et al.
The Colorado Court of Appeals unanimously affirmed an order connected to COVID-19 and vaccination.
Jessica Simon, a registered nurse, wanted a review of the Industrial Claim Appeals Office's (the panel's) final order affirming a hearing officer's decision disqualifying her from unemployment benefits.
Simon worked for Bayada Home Health Care, Inc. from January to October 2021 as Bayada is a home health care agency licensed by the Colorado Department of Public Health and Environment. CDPHE regulations required home health agencies like Bayada to maintain proof of their employees' immunizations or "[d]ocumentation of a religious exemption, as defined by facility policy."
In compliance with CDPHE's regulations, Bayada adopted a policy that required its employees to either be fully vaccinated against COVID-19 or complete a medical or religious exemption form by Oct. 31, 2021. Simon declined to get vaccinated because of her religious beliefs. While Simon knew Bayada's vaccination policy, according to the appeals court opinion, and completed Bayada's religious exemption form, she refused to sign it. Despite multiple warnings Bayada would place her on unpaid leave if she didn't sign the exemption form, she continued her refusal and was placed on unpaid leave in October 2021.
Simon applied for unemployment benefits and a deputy for the Division of Unemployment Insurance found Simon was disqualified from unemployment benefits on the grounds she was at fault for her job separation because she refused to sign a form that would allow her to continue working with other accommodations despite remaining unvaccinated. The parties didn't contest Bayada's placement of Simon on unpaid leave constituted a "separation."
For that reason, the appeals court assumed a "separation from employment" occurred for purposes of determining Simon's eligibility for unemployment benefits, citing Colorado Revised Statute 8-73-108(5)(e). The Division of Unemployment Insurance issued a notice of determination Simon was disqualified from benefits under CRS 8-73-108(5)(e)(XX), (addressing an employee's failure to meet established job performance standards).
Simon appealed her disqualification and was granted a hearing where she and two witnesses for Bayada testified. Simon asserted getting the COVID-19 vaccine would violate her religious beliefs and Bayada would have reduced her work hours if she had signed the exemption form. Simon also said she objected to the language in the exemption form holding Bayada harmless from "any claims for their inability to accommodate my request due to undue hardship, direct threat, or state/local regulatory reasons," as Simon asserted such language was "illegal."
Susanne Anderson, a director at Bayada, said Bayada doesn't disclose an employee's vaccination status to clients and some of its unvaccinated employees who received religious exemptions continued to see patients and "were staying very busy."  
Briell Taylor, another Bayada employee, testified the "State" mandated home health care providers like Bayada submit signed exemption forms from its employees who declined to be vaccinated for religious reasons. Taylor also testified that, because none of Bayada's employees were guaranteed hours, Simon was incorrect asserting signing the form would have "impede[d] her hours."
Based on the evidence presented at the hearing, the hearing officer found in February 2022 Simon had acted knowingly in refusing to sign the exemption form and was aware her refusal to provide the signed form would place her employment in jeopardy. 
The hearing officer concluded Simon was at fault for her job separation and was disqualified from receiving benefits under 8-73-108(5)(e)(VI). 
Simon appealed to the panel, which affirmed the hearing officer's decision. But after the panel issued its decision, the hearing officer reconsidered his decision on the grounds of an apparent error. He scheduled a second hearing, where the hearing officer announced he wouldn't consider certain evidence and testimony because Bayada hadn't provided it in advance. The appeals court explained there is no indication the hearing officer or the panel relied on such evidence in their final determinations, and the appeals court's decision doesn't rest on any of the excluded evidence.
In his reconsidered decision, the hearing officer reaffirmed his original determination Simon was disqualified from receiving unemployment benefits. The panel affirmed the hearing officer's reconsidered decision. 
Simon, proceeding pro se, asked the appeals court to set aside the panel's order, arguing Bayada engaged in religious discrimination by ordering her to sign the exemption form if she remained unvaccinated. 
In the 2023 Colorado Court of Appeals decision Bara v. Industrial Claim Appeals Office, a division of the appeals court decided an employee was disqualified from receiving unemployment benefits because she knew about her employer's vaccination policy, declined a COVID-19 vaccination, didn't seek an exemption from the policy and her employment was terminated as a result. 
The appeals court in Bara affirmed the determination of the Industrial Claim Appeals Office  that the employee wasn't entitled to benefits under 8-73-108(5)(e)(VII) because she "[v]iolat[ed] . . . a statute or . . . a company rule which resulted or could have resulted in serious damage to the employer's property or interests." The division didn't reach the panel's alternative determination that the employee was also disqualified from receiving unemployment benefits under 8-73-108(5)(e)(VI), which applies to employees who deliberately disobeyed "a reasonable instruction of [their] employer." 
In the current case, the appeals court extended the reasoning of Bara to hold an employee who claims a religious exemption from her employer's COVID-19 vaccination policy and who is placed on unpaid leave after refusing to sign her employer's religious exemption form likewise isn't entitled to receive unemployment benefits. 
The appeals court explained under such circumstances, the employee is barred from receiving benefits under section 8-73-108(5)(e)(VI) because she deliberately disobeyed her employer's reasonable instruction that she either get vaccinated or complete and sign the exemption form.
The panel's order was affirmed.