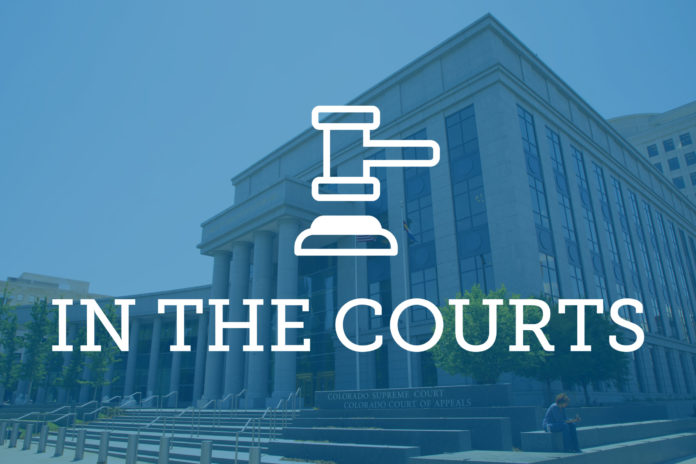 Editor's Note: Law Week Colorado edits court opinion summaries for style and, when necessary, length.
Reynolds v. Great Northern Insurance Company
The Colorado Court of Appeals unanimously affirmed a case involving the statute of limitations.
Maria Reynolds was formerly involved in a car accident with an insured of Great Northern Insurance Company. On Nov. 4, 2020, she sent a formal written request to Great Northern for the insured's policy information, under Colorado Revised Statute 10-3-1117(2)(a). Great Northern's registered agent, CT Corporation, received the request Nov. 17, 2020. Great Northern didn't comply until April 22, 2022, the opinion noted.
On May 4, 2022, Reynolds filed a complaint in the district court seeking statutory penalties based on Great Northern's failure to provide the required disclosures within the timeframe set forth in 10-3-1117(2)(a). 
Reynolds asserted Great Northern was required to provide the requested policy information within 30 days of receiving the request or face a statutory penalty of $100 per two days accrued thereafter, which began Dec. 18, 2020.
Great Northern moved to dismiss Reynolds' complaint under Colorado Rule of Civil Procedure 12(b)(5), asserting her claim for penalties was barred by the one-year statute of limitations applicable to "all causes of action for any penalty" found in 13-80-103(1)(d). 
The district court agreed with Great Northern, concluding 10-3-1117(3) expressly created a cause of action to recover penalties. Therefore, the one-year statute of limitations in 13-80-103(1)(d) applied and Reynolds' claim accrued, and the limitations period began to run on the 31st day — the day following the statutory period allowed to produce the required disclosures. As Reynolds asserted her claim after the one-year statute of limitations had expired, the district court dismissed her complaint as time barred.
Reynolds contended that reversal is required arguing the district court erred when it found that a claim for penalties under 10-3-1117 accrues on the 31st day after an insurer fails to provide the required disclosures. Instead, she argued the claim starts to accrue the day after an insurer complies with a request. 
The Colorado Court of Appeals disagreed with Reynolds. They determined the district court correctly computed the limitations period under the applicable statutes and appropriately concluded Reynolds filed her complaint after the limitations period expired, the appeals court affirmed their dismissal of her claim.
The prior opinion announced July 20, 2023, was withdrawn. This opinion was previously announced as "not published pursuant to C.A.R. 35(e)" on July 20, 2023, and is now designated for publication.