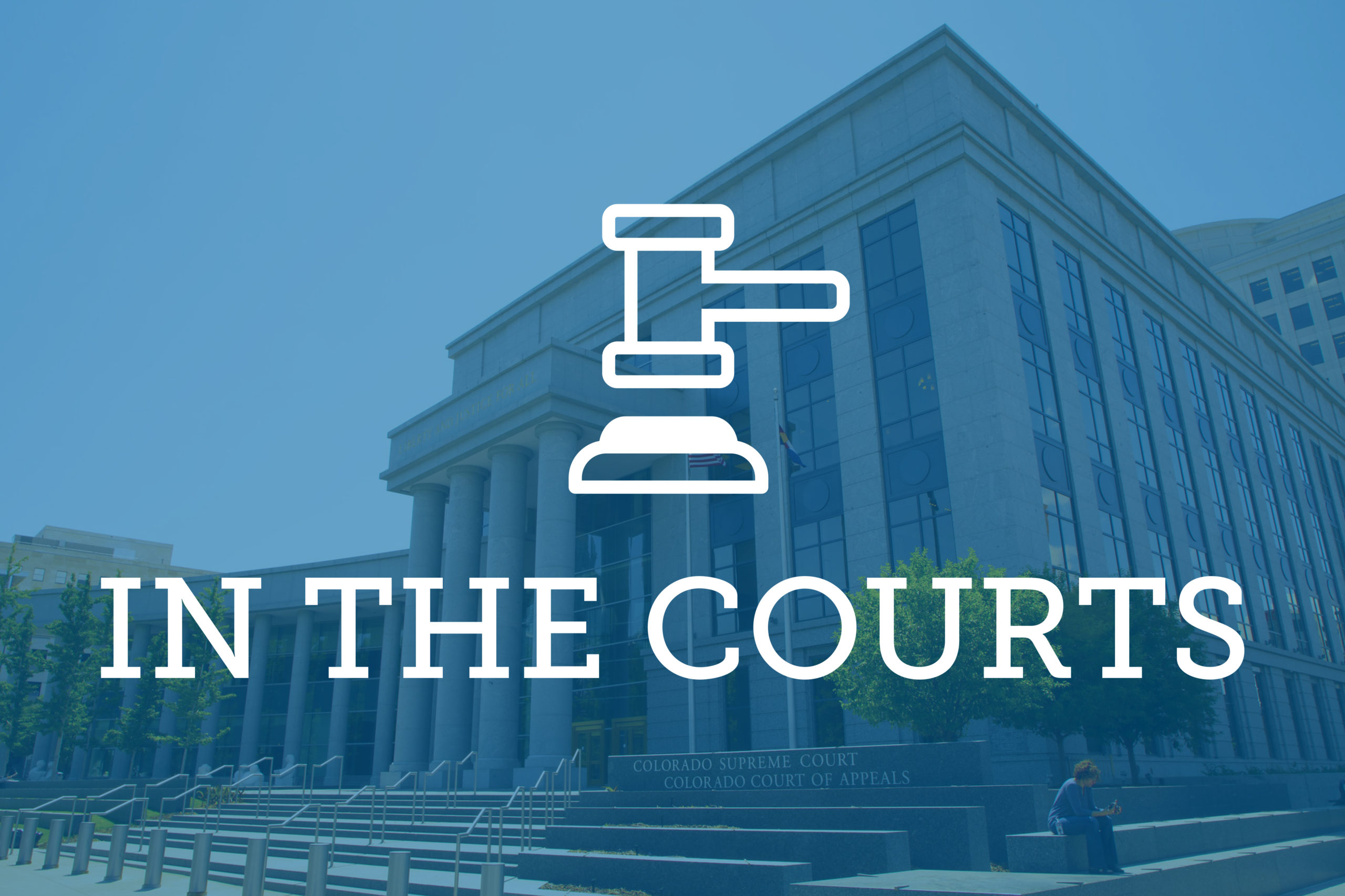 Editor's Note: Law Week Colorado edits court opinion summaries for style and, when necessary, length.
Jordan v. Adams County Sheriff's Office, et al.
According to John Jordan's allegations, he was thrown to the ground and arrested in September 2018 for criticizing the police. Moments before the arrest, Jordan stood across the street from Adams County deputies Michael Donnellon and Chad Jenkins, listening as the deputies questioned his nephew about a car accident involving a truck owned by Jordan's company. According to an opinion from the 10th Circuit Court of Appeals, Jordan grew frustrated with what he was hearing and started criticizing the two deputies. This interaction was recorded on Jordan's phone. 
At the moment Jenkins commanded Jordan to put his hands behind his back, Jordan can be heard speaking on the phone with someone at his office. According to the opinion, when Jordan didn't immediately comply with the command, Jenkins grabbed his arm and used a takedown maneuver to bring Jordan to the ground.
The parties dispute exactly how these events played out and disagree on when exactly during the altercation Jenkins repeatedly ordered Jordan to put his hands behind his back. 
After Jenkins knocked Jordan down, Jordan stuck out his right arm to catch the ground. The deputies contend this was done to resist arrest and Jordan used this arm to push back against Jenkins, but Jordan claims this was done to prevent his face from hitting the ground. Either way, once Jordan was on his knees, he had one extended arm holding himself off the ground. According to the opinion, Jenkins then kicked out this arm, causing Jordan's face to hit the dirt. Jenkins placed his knee on Jordan's cheek and handcuffed him.
Jordan was arrested and charged with obstruction of justice and resisting arrest. These charges were eventually dropped.
Jordan initiated this lawsuit in August 2020. Jordan sued under Section 42 of the U.S. Constitution for unlawful arrest, malicious prosecution and excessive force. A magistrate judge granted the deputies' motion for summary judgment on the basis of qualified immunity and dismissed each of these claims. Jordan appealed the summary judgment ruling for each of those three claims, arguing the magistrate judge erred in granting qualified immunity to the deputies.
The 10th Circuit reviewed the grant of summary judgment de novo. 
The appeals court found Jordan met both prongs of the qualified immunity analysis because his verbal criticism was clearly protected by the First Amendment, so there could be no arguable probable cause for his arrest based on that conduct. The 10th Circuit found it was erroneous to grant summary judgment in favor of the deputies.
The 10th Circuit reversed the order granting summary judgment and remanded the case.
Courage to Change, et al. v. El Paso County
Under the 1988 Fair Housing Act Amendments, municipalities cannot discriminate against disabled residents by denying them housing opportunities available to nondisabled residents. But zoning disputes still arise, including when people recovering from drug and alcohol addictions try to live in group homes in single-family residential areas.
Sometimes, zoning officials might relent to housing discrimination after campaigns by neighborhood homeowners concerned the presence of people recovering from addiction will degrade their quiet neighborhoods. In other situations, local governments may ban or more strictly regulate group homes for disabled persons without adequate justification. The FHAA prohibits both scenarios.
In either situation, the result is the same: group homes for disabled persons are zoned out of the neighborhoods of nondisabled homeowners. 
Here, the appeals court was confronted by the second scenario. Courage to Change Recovery Ranch, more recently known as Soaring Hope Recovery Center, provided treatment and housing for people recovering from drug and alcohol addictions in a single-family neighborhood in El Paso County, Colorado. But Soaring Hope claimed the county's strict occupancy limits, standards for group homes for disabled persons and policies restricting what treatment options Soaring Hope could provide in a single-family zone led Soaring Hope to close its home in a single-family neighborhood: the Spruce Road home.
The 10th Circuit determined the county violated the FHAA by imposing facially discriminatory occupancy limits on group homes for disabled persons without a legally permissible justification. Though Soaring Hope has shown standing to challenge the occupancy limits, which directly injured it, the 10th Circuit found Soaring Hope hasn't shown standing to challenge the standards for group homes for disabled persons — and no evidence shows the county enforced the standards against Soaring Hope.
The appeals court also held the district court erred by granting summary judgment against Soaring Hope on its zoning-out claim for intentional discrimination. Soaring Hope raised a genuine issue of material fact about whether the county prohibited certain therapeutic activities in its Spruce Road home while allowing those same activities in other structured group-living arrangements and residential homes, so the court remanded for the district court to further address the zoning-out claim. But it affirmed on all other grounds.
Brown v. Chaffee County Board of County Commissioners
Dr. Alison Brown purchased a parcel of land in Chaffee County, Colorado, to support her foxhunting interest. Brown had big plans for her property. It would host foxhounds, horses, a barn and a horse arena. She intended to launch hunting parties from her parcel, although her parties didn't hunt foxes. Instead, they would pursue on horseback predators like coyotes that threatened livestock and other beneficial animals. In pursuit of her recreational goals, she submitted a building plan to Chaffee County. In that plan, she proposed building a structure that would, in part, house a caretaker.
Brown's submission sparked a series of communications between her and the county that laid the groundwork for this litigation. 
When the county approved her building plan for the house, Brown understood the county to have also approved her other current and future uses, like housing foxhounds and building an arena. The county didn't share this understanding so Brown was confused when the county later notified her that her foxhunting business was operating outside the Chaffee County Land Use Code and needed to submit to a rigorous form of land use review. 
Brown and the county went into litigation over the scope of Brown's property rights. In federal district court, Brown alleged she possessed a vested right to use on her property the functional equivalent of a "kennel" and "outfitting facility" without submitting to the special land use review process Chaffee County typically affords those uses. 
She grounded her theory in Colorado common law, claiming she detrimentally relied on affirmative representations by the county that she could use her land accordingly. The district court disagreed and granted summary judgment for the county.
The 10th Circuit affirmed the district court. 
Brown argued under Colorado common law, her detrimental reliance on the county's representations about acceptable land uses vested her with the right to use her parcel in the way she initially understood her building permit to approve. But Colorado law sets a high bar for finding a right by estoppel, and the appeals court found Brown didn't reach it. 
Under Colorado property law, the 10th Circuit noted the county had to clearly and unambiguously communicate the content of Brown's claimed rights. Otherwise, Brown couldn't reasonably rely on those representations.
Because the communications from the county don't meet this standard, the appeals court found Brown hadn't established vested rights to develop the kennel and outfitting facility.