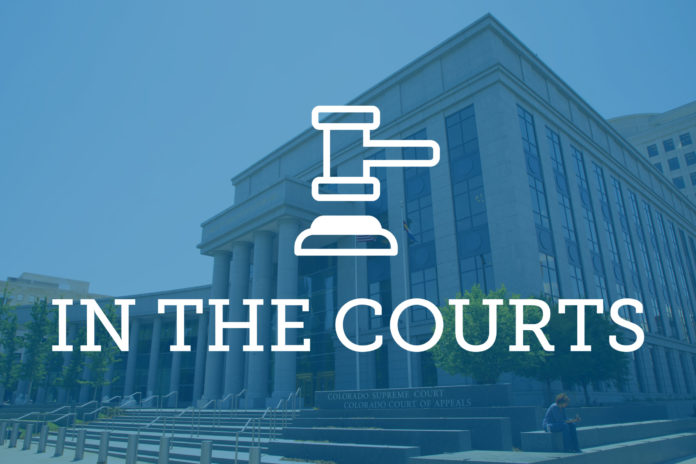 Editor's Note: Law Week Colorado edits court opinion summaries for style and, when necessary, length.
Six Teller County residents sued the county's Sheriff Jason Mikesell in his official capacity after he entered into agreements with the U.S. Immigration and Customs Enforcement. 
A section of the Illegal Immigration Reform and Immigrant Responsibility Act of 1996 allows the secretary of the Department of Homeland Security to make agreements with states or state subdivisions so that certain individuals can carry out some duties of an immigration officer. 
Mikesell entered into such an agreement in January 2019 called the Jail Enforcement Officer model where certain ICE-trained county personnel can make additional 48-hour civil immigration detainers, sometimes called "immigration holds," to people they have in custody that ICE suspects could be deported. The agreement also allows the personnel to issue ICE administrative warrants to arrest and place into ICE custody people they suspect could be deported. The ICE-related duties are performed by correctional facility personnel during the course of their regular duties. The agreement with Teller County Sheriff's Office held the county responsible for all ICE-related costs except the installation and maintenance of certain ICE technologies. 
The court opinion notes that, legally, Teller County Jail is an enterprise, a government owned business entity that's "organized and operated by and for the benefit of Teller County." According to Mikesell, the jail is run by deputies who "change hats" between working for the sheriff's office and running the jail. When they are at the jail, the deputies are paid by the enterprise. As it's statutorily obligated to, Teller County uses tax dollars to pay the jail for its services, but the taxpayers do not directly fund it. 
In May 2019, Gov. Jared Polis signed House Bill 19-1124, which banned state personnel from conducting ICE immigration holds and administrative warrants. The law makes any "continued detention of an inmate at the request of federal immigration authorities beyond when he or she would otherwise be released" a warrantless, unconstitutional arrest. 
The Teller County residents claimed Mikesell broke Colorado law by entering into the agreement. While none of the plaintiffs were detained under the agreement, they invoked standing as Teller County taxpayers. 
After limited oral arguments, a county court dismissed the lawsuit mainly based on a written affidavit by the acting Teller County Administrator Sherly Decker. The affidavit showed that since the jail was an enterprise, between fiscal years 2014 and 2019 it didn't receive taxpayer funding. The trial court dismissed a jurisdictional facts discovery motion filed by the plaintiffs. The court reasoned that since no taxpayer dollars were used, the plaintiffs weren't harmed as taxpayers. 
The Court of Appeals considered de novo if the use of taxpayer funds to operate a government enterprise creates taxpayer standing. The court ruled that it does. 
It rejected the defense's interpretation that since the jail was a private entity that used "fees" not "taxes" to operate, it was not taxpayer funded. The opinion points out that the county funds the jail because of a "statutory obligation to do so — an obligation it has been fulfilling."
The appeals court reversed the dismissal and remanded the lawsuit to be reinstated. 
Mullen v. Metropolitan Casualty Insurance Company
Margaret Mullen sustained serious injuries after an October 2018 car crash with an underinsured driver. Her car insurance company, Metropolitan Casualty Insurance Company, paid her the maximum amount of benefits for an uninsured or underinsured motorist. Mullen's damages exceeded the $25,000 benefit and she filed a declaratory judgment action to rule that the UM/UIM form that her late husband signed was ineffective to reduce her coverage. 
Mullen argued that Metropolitan violated Colorado statutes by issuing the UM/UIM coverage form to her husband at the same time as the other coverage rather than before. She argued that the UM/UIM form her husband signed was ineffective and she was entitled to coverage between $100,000 and $300,000. Mullen added that since her husband passed away before a 2011 policy renewal, he didn't have the authority to make any subsequent UM/UIM selections. Mullen's last argument was that Metropolitan did not provide a reasonable policy calculation to allow her or her husband to make an informed decision as required by Colorado law and  Allstate Insurance Co. v. Parfrey.
A district court granted Metropolitan's motion for summary judgment. It ruled that the insurance company satisfied its one-time duty to offer UM/UIM coverage, that Mullen's husband's insurance election was binding after his death and that under the total circumstance, Metropolitan adequately notified and provided an opportunity for the couple to purchase UM/UIM insurance. 
On appeal, Mullen argues, among other things, that the lower court erred in finding that Metropolitan gave the couple notice of an opportunity to buy UM/UIM coverage "in a manner reasonably calculated to permit them to make an informed decision." 
The Colorado Court of Appeals agreed with Mullen and found that Metropolitan did not satisfy its duties to reasonably notify the couple of their coverage. The court found that Metropolitan's form on UM/UIM coverage made an inaccurate and outdated statement about the law on the coverage and the form's information on coverage and premiums was confusing. 
The court reversed the entry of summary judgment and remanded the case to be entered in favor of Mullen.
Stackpool v. Colorado Department of Revenue, Division of Motor Vehicles 
Kelly Stackpool's driver's license was revoked by the state Division of Motor Vehicles after she pleaded guilty to a class 4 felony DUI for a fourth or subsequent offense. 
The DMV sent Stackpool two notices with different information. One told her her license was revoked for two years as a repeat offender but she would be eligible for early reinstatement after a month using an interlock start device. The other notice said that under the mandatory revocation statute, her license was taken for one year and she was not eligible for any driving privileges during that time. 
Stackpool requested an administrative hearing on the DMV's decision that she wasn't eligible for an interlock reinstatement. The hearing officer held that he didn't have authority to determine reinstatement since the DMV followed the mandatory revocation statement for felony DUIs. On appeal, a district court upheld the decision. 
On appeal, Stackpool argued, among other things, that the district court used an incorrect interpretation of the interlock statute as only applying to misdemeanor DUIs, not felony DUIs.  The DMV defended the lower court's ruling and added that since Stackpool was issued an interlock-restricted license during the pending appeal, her case is moot. 
A majority of the Court of Appeals ruled that Stackpool's request for an interlock-restricted license was moot but similar cases will likely arise.
The court ruled that Colorado's interlock statute, which allows for early reinstatement with an interlock device, applies to all levels of DUI convictions, not just misdemeanor convictions. When the statute was created in 2012, all DUI convictions were classified as misdemeanors but after the creation of felony-level DUIs in 2015, Colorado's general assembly did not elect to change the interlock statute. Given the statute's history, the court ruled anyone convicted of a DUI may apply for early reinstatement. 
The court reversed the district's order in favor of the DMV. 
Chief Judge Steve Bernard concurred in part and dissented in part, expressing that he would have upheld the district court's ruling. While he agreed with most of the majority's opinion, he believed when the interlock statute was created in 2012, the General Assembly meant it to apply to misdemeanors since they were the only DUI classification. He pointed out that a felony DUI is a separate offense, and by not amending the interlock statute in 2015, the Colorado General Assembly intended to bar DUI-felony-convicted drivers from early reinstatement. 
Penny Turilli and Steven Turilli entered a separation agreement in 2015 that allocated parenting responsibilities for their two children to share decision-making responsibility. It laid out that Steven Turilli would have parenting time every week from Thursday after school through Saturday afternoon and the former couple would exchange travel plans seven days in advance. 
In March 2020, Penny Turilli's mother became ill and she needed to fly out of state to take care of her. In text messages, the parents discussed if she should bring their children with her. Steven Turilli suggested that she leave the children with his sister while out of state, and Penny Turilli replied that she would ask the children about the suggestion. Very early the next morning, Penny Turilli texted Steven Turilli that she and the children were at the airport and "leaving now." 
Penny Turilli did not return the children for Steven Turilli's parenting time and he filed an emergency order asking the court to restrict his former wife's parenting time and order her to bring their children back to Colorado. The hearing was rescheduled several times at the parties' request and Steven Turilli eventually withdrew since Penny Turilli said she would bring the children back to Colorado. 
In April 2020, Steven Turilli filed a motion on parenting time disputes requesting make-up parenting time and an award of attorney's fees and expenses connected to his motions. After a two-day hearing, a district court agreed that Penny Turilli violated court orders by deciding to take the children out of state by herself. It gave Steven Turilli 30 days of makeup parenting time over nine months and ordered Penny Turilli to pay for costs. The district court awarded Steven Turilli $6,545 for his parenting time request but not $7,100 for his emergency request. 
Among other appeals, Penny Turilli argued that the lower court erred in awarding fees and costs without holding a hearing on the reasonableness of the requested fees. 
The Colorado Court of Appeals rejected her other arguments but agreed that due process required that the district court hold a hearing. Steven Turilli appealed the Court of Appeals ruling, which the court chose to address in the opinion since it would likely come up on remand. 
The court rejected his argument that under Colorado statutes, the parenting dispute time request was connected to his emergency request and therefore he should have been able to recoup both costs. The Court of Appeals did, however, award him attorneys fees incurred while defending Penny Turilli's appeal. It found that the lower court is best suited to calculate the amount and remanded the decision to the lower court. 
In his dissent, Judge Daniel Taubman agreed with Steven Turilli's interpretation of Colorado statutes. Based on his interpretation of Colorado statutes, Judge Taubman explained "that attorney fees sought under that statute may extend to attorney fees for time spent on a motion that is connected to or has an unspecified causal relationship with a motion filed under section 14-10-129.5(4) [on parenting time]." 
People In the Interest of E.M.
In August 2019, Denver Department of Human Services filed a dependency and neglect petition for a child named in court documents as "E.M." The child's mother, named only as "D.R.M," indicated she had Apache and Sioux heritage. 
The juvenile court found it didn't have reason to know the child was an Indian child and directed DDHS to exercise due diligence to gather more information on E.M.'s heritage. DDHS filed several affidavits of diligent efforts related to the Indian Child Welfare Act of 1978 but didn't send a notice to any tribe or to the Bureau of Indian Affairs (BIA) as part of its investigation.
D.R.M.'s parental rights were terminated after a hearing where the court found again that it had no reason to know E.M. was an Indian child and governed by ICWA. 
E.M. appealed the decision and argued the juvenile court didn't comply with ICWA, which required an appropriate notice of the proceeding be given to the tribes identified by her and other maternal relatives. DDHS and E.M.'s guardian ad litem countered that ICWA's notice provisions weren't triggered since neither the court nor the department had reason to know E.M. was an Indian child.
The Court of Appeals found that D.R.M.'s "suspicions" that she is Sioux and Apache based on conflicting family testimonies are not definitive. But it held that "certainty is not necessary for the court to have reason to know that the child is an Indian child" and not all criteria for the definition of an "Indian child" needed to be met. The Court of Appeals found that since the juvenile court knew of specific tribal connections from D.R.M.'s family, it was sufficient to know E.M. was an "Indian child" and governed by the ICWA. 
The juvenile court judgment was vacated and remanded with instructions to notify all parties required by the ICWA.