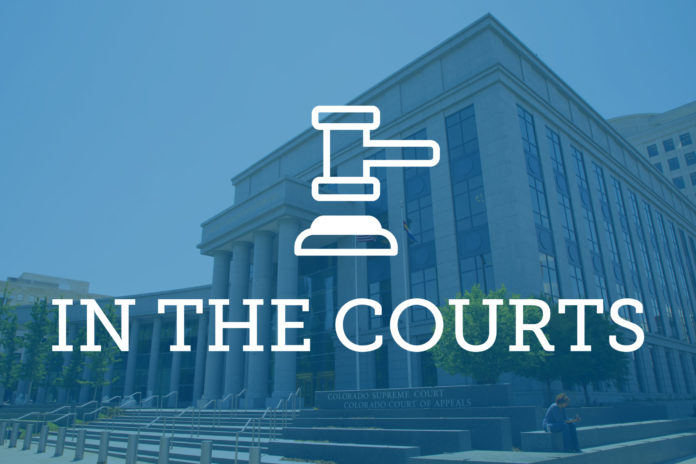 Editor's Note: Law Week Colorado edits court opinion summaries for style and, when necessary, length.
In 2015, a woman, identified as "J.D." in court documents, reported to police that she was sexually assaulted by an unknown assailant in an alley several blocks from her home. J.D. was evaluated by a sexual assault trauma nurse on the same day of the attack. Four days later, in a follow-up interview with police, J.D. said she was actually assaulted by one of her neighbors and fabricated the alley attack out of fear. J.D. identified her neighbor Larry Buckner, from a photo lineup as her attacker. 
A jury acquitted Buckner in October 2016 of assault but jurors were hung on the charges for sexual assault and kidnapping. A mistrial was declared and Buckner was retried for sexual assault and kidnapping in February 2017. Buckner's theory of the case in both trials was that J.D.'s injuries were sustained during a domestic dispute with her girlfriend and that Buckner and J.D. had a consensual sexual encounter. 
During cross-examination, J.D. admitted that on the night of the assault she had a loud fight with her girlfriend while "kind of drunk," but denied that it became physical. 
The fight ended when J.D.'s girlfriend, who at the time was underage, called her mother to pick her up. J.D. testified that when she walked her girlfriend out of the apartment complex, the couple ran into Buckner who agreed not to report the fight as long as J.D.'s girlfriend went home. 
J.D. testified that when she came back to her apartment, Buckner grabbed her and forced her into his apartment where he sexually assaulted her for several hours.  
At the second trial, a DNA analyst verified that Buckner's DNA was found on J.D.'s body but could not verify if the DNA came from sperm. 
Buckner presented two witnesses: a former girlfriend who testified that he couldn't have erections and a friend who was with Buckner part of the night of the alleged assault. Buckner's friend testified that they heard fighting in the upstairs apartment and that two women knocked on Buckner's door and asked that he not report the fight. The friend left when Buckner was still speaking with the women and said he saw "scars or bruising" and "scratches" on J.D. when he left. 
Buckner's defense argued that J.D. lied about the assault to prevent her girlfriend from being criminally charged and that while J.D. and Bucker had a consensual sexual encounter, it did not involve penetrative sex. 
In closing statements, prosecutors brought up that Buckner did not agree to give a DNA sample until a warrant was presented. Speaking to the jury about why they should discount Buckner's arguments, a prosecutor said "[Buckner] refuses to give his DNA sample to Detective McIver. In fact, he gets visibly nervous, starts stuttering on the interview when she's asking about the DNA." 
During rebuttal closing arguments, prosecutors told jurors that J.D.'s "day of justice is a long time coming. That's today. Hold him [Buckner] accountable for what he did to that girl that night."
The second jury found Buckner guilty of sexual assault and kidnapping. 
On appeal, Buckner argued that the trial court made plain errors by allowing prosecutors to comment that his refusal to provide a DNA sample until compelled by a warrant pointed to his guilt and by asking the jury to return a guilty verdict in order to provide justice for J.D. 
The Colorado Court of Appeals applied the two-step analysis for prosecutor misconduct set by Wend v. People and the majority, Judges Jaclyn Brown and Lino Lipinsky, found that both comments were "obviously improper and that together they cast doubt on the reliability of the conviction, requiring reversal." 
On the first appeal, the court ruled that while prosecutors can mention refusal of a search, they can only do so "for purposes other than to support an inference of guilt." By commenting that Buckner became nervous during the interview, the court found, the prosecution implied Buckner's guilt based on his non-consent. The court also found that while Buckner did not flatly refuse the DNA search, prosecutors implied that he did and Buckner's Fourth Amendment rights to refuse warrantless search were invoked. 
The Court of Appeals also found that the prosecutor's remark on delivering J.D.'s "day of justice" was a plain error since prosecutors may not "pressure jurors by suggesting that guilty verdicts are necessary to do justice for a sympathetic victim."
Considering the rest of the evidence in the case, which the Court of Appeals found wasn't overwhelming, the timing of the remarks and their error, the Colorado Court of Appeals overturned Buckner's convictions and remanded the case for retrial. 
Since it's likely to come up on retrial, the court also considered Buckner's argument that the lower court erred by denying his renewed motion for a rape shield hearing. Colorado's Rape Shield Statute blocks public investigations into the sexual history of sexual assault victims but carves out a few exceptions, including one for false rape reports. 
Before his second trial, Buckner renewed a motion to request an evidentiary hearing that J.D. allegedly made false rape claims to family and friends on two previous occasions.  The motion was denied ahead of his first trial. Relying on the first court's dismissal, the second court also refused to hold an evidentiary hearing. 
On appeal, the state argued that since J.D. did not make any false rape claims to law enforcement or other authorities, Buckner's evidence did not count as a "false claim" under the Rape Sheild Statute. 
The Colorado Court of Appeals ruled de novo that Colorado's General Assembly meant to include all false rape reports, not just those to authorities, in its definition of a "false claim" under the Rape Sheild Statute.  
"Although it is a close call, we conclude that the facts described in the affidavit — if proved by a preponderance of the evidence at a hearing — would be sufficient to establish multiple instances of false reporting," the majority wrote, finding that the lower court erred by not granting the hearing. "Courts should remain mindful of the purpose of the rape shield statute to protect victims of sexual assault,'" the opinion added, noting that its ruling is not meant to minimize the evidence that must be presented to justify a hearing. 
Judge David Furman dissented in part from the majority opinion. Furman agreed with most of the majority's reasoning but argued that the prosecution's erroneous statements were harmless errors rather than plain errors that warranted reversal. "Reversing for prosecutorial misconduct in this case could blur the distinction between the plain error and harmless error standards," wrote Furman in his dissent.