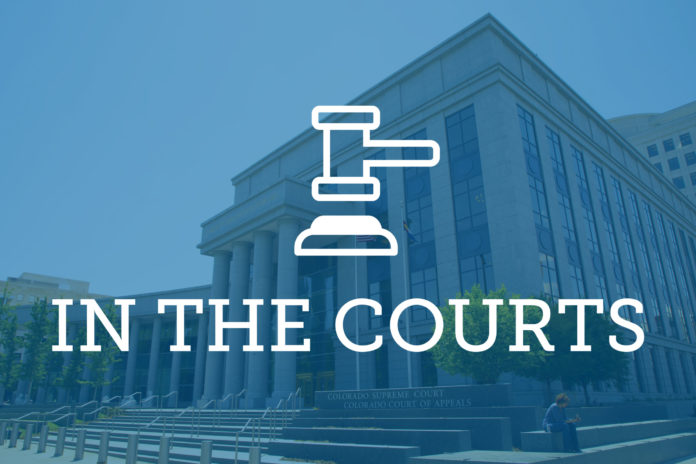 Editor's Note: Law Week Colorado edits court opinion summaries for style and, when necessary, length.
Highlands Broadway OPCO, LLC v. Barre Boss LLC et al.
The Colorado Court of Appeals unanimously affirmed a judgment and remanded a case involving a business lease and COVID-19.
Barre Boss LLC believed it should be relieved of its lease obligations due to the financial impact of the pandemic and the governor's shutdown order on its fitness business. The tenant and guarantors of the lease obligations, Suzanne and Daniel Dipentino, argued they aren't liable to the landlord, Highlands Broadway OPCO, LLC because the pandemic and executive order were unanticipated, making it illegal and impossible for the business to operate.
In May 2017, Barre Boss and Highlands Broadway entered into a lease agreement for a commercial property where Barre Boss would operate a fitness facility. The lease was for 84 months and the Dipentinos guaranteed Barre Boss' obligations to Highlands Broadway. 
The lease contained a force majeure clause which excused the party's delay of performing under the lease: "by reason of acts of God, . . . restrictive governmental laws or regulations[,] or by other cause without fault and beyond the control of the party obligated (financial inability excepted) . . . provided, however, [that] nothing contained in this Section . . . shall excuse Tenant from the prompt payment of any Rent or other charge required of Tenant hereunder . . . nor shall Tenant's inability to obtain governmental approval for Tenant's Permitted Use or for its occupation of the Premises excuse any of Tenant's obligations hereunder."
In March 2020, the governor issued an executive order that required all non-critical businesses to close temporarily and Barre Boss wasn't deemed critical. Barre Boss requested rent relief from Highlands Broadway because it had to close. 
The parties signed an agreement that Highlands Broadway would defer the Barre Boss' obligation to pay minimum rent due in April and May 2020. The agreement specified Barre Boss would repay those missing months, along with the regularly scheduled rent that was due. The agreement also stated Highlands Broadway's consent for rent relief was a specific concession given only to Barre Boss for the tenant's agreement to continue the full performance of all its lease obligations.
The parties also signed an amendment to the lease. That amendment granted Highlands Broadway the right to market the premises to potential new tenants and terminate the lease for any reason upon 30 days advance written notice to the tenant. The amendment allowed Barre Boss to close its business operations at the site for any period of time as long as it continued to pay rent and other payments to Highlands Broadway under the lease through an early termination date. Barre Boss also acknowledged in the amendment it didn't have existing claims, defenses or rights of set-off for the lease.
Barre Boss paid rent to Highlands Broadway through November 2020 and in December 2020, the tenant provided the landlord with notice of an immediate surrender of possession of the premises. Barre Boss argued in the notice its business ceased to operate since the March 2020 mandated shut down, it sought without success to find a tenant to transfer the lease and although it did get an economic injury disaster loan, the business had depleted the proceeds of it. For those reasons, Barre Boss said it couldn't remit monthly payments under the lease terms. 
Highlands Broadway filed suit against the Barre Boss parties for breach of contract. Barre Boss pleaded defenses including impossibility, frustration of purpose and failure to mitigate damages. After a one-day bench trial, the lower court held the defenses were unsupported, adjudicated the amount of the landlord's damages and entered judgment against the Barre Boss parties. 
The Barre Boss parties argued on appeal the trial court erred holding the Barre Boss parties' defenses of impossibility and frustration of purpose failed because the tenant's performance under the lease wasn't impossible for an unforeseeable and indefinite period of time and the landlord took steps to mitigate its damages.
The appeals court held that such affirmative defenses don't relieve the tenant of its contractual duties because the force majeure clause of the lease allocated the risks of acts of God and restrictive governmental regulations to the tenant and the shutdown didn't make Barre Boss' performance under the lease illegal. 
The appeals court also held the record supports the trial court's factual determination Highlands Broadway took reasonable efforts to mitigate its damages. The appeals court affirmed the lower court's judgment in favor of the landlord and remanded for determination and award of Highlands Broadway's attorney fees and costs incurred on appeal.
The Colorado Court of Appeals unanimously affirmed an order involving a guardianship appointment.
L.D. is the only living parent of A.D., who was 16 at the time of the guardianship proceeding. According to court records, L.D. and A.D. once had a healthy relationship, but it deteriorated during the summer and fall of 2021. This gave rise to I.S. and V.T. 's request of an unlimited guardianship over A.D. 
In June 2021, A.D.'s car was vandalized in front of the family home and A.D. and L.D. had a heated argument about why it happened and who would clean it. After this, A.D. went to stay at his girlfriend's house. A.D. returned home shortly after, but he ran away five more times after disagreements with L.D.
In July 2021, A.D. spent more than a month away from home as a runaway. In August 2021, A.D. was taken to the emergency room after it appeared he overdosed at a party. The hospital made a mandatory report to the Department of Human Services. When A.D. was stable, L.D. and her longtime colleague and family friend V.T. met with a DHS representative to discuss the next steps. 
L.D. agreed that, given the hostility between her and A.D., and between A.D. and his two siblings who lived with L.D., it was in A.D's best interest to stay with I.S. and V.T. In September 2021, A.D. drove I.S. and V.T.'s car to L.D.'s house. When A.D. arrived, L.D. became upset he drove there. In L.D.'s mind, A.D.'s operation of a car, and I.S. and V.T. 's facilitation of it, violated their agreement he couldn't drive until certain conditions were met.
The following morning, without giving notice to I.S. and V.T. or A.D., L.D. called the Division of Motor Vehicles and withdrew her permission for A.D.'s license, which was then revoked. A.D. became angry when he learned what L.D. had done, sending angry texts to her. L.D. blocked A.D.'s number, preventing A.D.'s calls or texts to L.D.'s phone — texts did come through on L.D.'s computer. 
In September 2021, DHS had an adults only meeting with L.D., I.S. and V.T. and DHS representatives. It led to three shared priorities: I.S. and V.T. would provide regular updates about A.D. to L.D. who would in turn communicate with the petitioners before making decisions impacting A.D.; A.D.'s license would be reauthorized within 30 days once the defined conditions were met; and A.D. could be on the high school wrestling team.
For the next month, I.S. and V.T. regularly emailed L.D. updates on A.D. and L.D. provided very few if any responses, according to court records. I.S. and V.T. also sent a proposal plan to L.D. for A.D. to get his license back, but L.D. didn't respond. In October 2021, I.S. and V.T. filed their petition for appointment as A.D.'s guardians. L.D. objected to the petition, asked for dismissal of the action and wanted attorney fees.
I.S. and V.T. requested the court appoint a guardian ad litem in November 2021 to represent A.D.'s interests. L.D. objected, but the court appointed the GAL after concluding that, owing to their disagreement over guardianship, the parties couldn't represent A.D.'s best interest in the proceedings. The court instructed the GAL to provide a report about whether L.D. was unable to exercise her parental rights.
Later in November, before I.S. and V.T. filed their reply, L.D. who didn't consult with the petitioners or A.D., revoked her permission for A.D. to wrestle the day before practice started. A.D. was devastated by the action, according to court records. 
While the motions were pending I.S. and V.T. continued caring for A.D. Court records also indicate L.D. also resisted I.S. and V.T.'s requests for financial support for A.D. — L.D. did provide A.D. $25 a week for groceries. Those funds came from A.D.'s $1,800 monthly survivorship benefit which had been established following the death of A.D.'s father when A.D. was three. I.S. and V.T. knew the benefit existed and asked for more financial support, but L.D. didn't respond. 
The district court held a hearing and granted I.S and V.T. unlimited guardianship over A.D. The court concluded I.S. and V.T. proved by convincing evidence L.D. was unwilling or unable to care for A.D. and the guardianship was in A.D.'s best interest, notwithstanding L.D.'s opposition to it. 
L.D. appealed the order granting guardianship. The appeals court said the moving party must prove by evidence the parent is unable or unwilling to exercise their parental rights and the guardianship is the best interest of the minor, notwithstanding the parent's opposition to that guardianship. The appeals court said when entering this type of order, the court must also bring forward special factors to justify the interference with parental rights. After using that framework, the appeals court concluded the lower court didn't err in appointing a guardian for the minor. The order was affirmed.