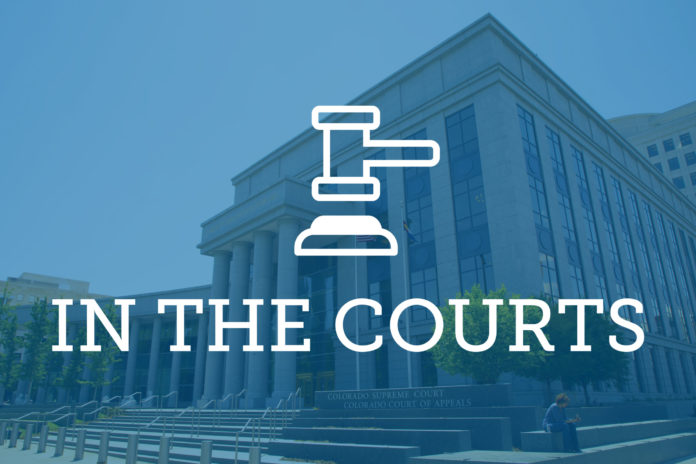 Editor's Note: Law Week Colorado edits court opinion summaries for style and, when necessary, length.
People v. Steven Charles Bachar
In January 2021, a court entered default judgment against Steven Bachar's business, Empowerment Health LLC, in a civil case that included claims for breach of contract, negligent misrepresentation and unjust enrichment. The plaintiff brought the claims after Empowerment failed to honor a purchase order for N95 masks and refused to issue a refund. The court awarded the plaintiff damages of $700,000 plus interest and attorney's fees that Bachar has not yet paid.
In another civil case, Bachar and Empowerment defaulted on claims that included conversion and civil theft of more than $1 million in Federal Emergency Management Agency-reimbursable funds paid to Empowerment by the State of Wisconsin. Bachar agreed to transfer the funds to the plaintiffs as reimbursement for personal protective equipment procured for and delivered to Wisconsin under an emergency purchase order during the COVID-19 pandemic. In May 2021, the court entered a default judgment against Empowerment and against Bachar personally, resulting in their liability for nearly $4 million, which Bachar has not paid.
Through this conduct, Bachar violated Colo. RPC 8.4(c), which states it is professional misconduct to engage in dishonesty, fraud, deceit or misrepresentation. The Presiding Disciplinary Judge disbarred Bachar effective Aug. 1.
People v. Thomas Joseph Burke
In September 2019, a client hired Joseph Burke to help remove an IRS tax lien levied for the 2013 and 2014 tax years. Burke sent the client personal and business financial information questionnaires without a specific deadline and didn't communicate with them again until January 2021, after the client reached out three times. Burke told the client that the IRS had not assigned the case to an appeals office or set a hearing.
At Burke's request, the client forwarded Burke his financial information and Burke charged the client's credit card an additional sum without his authorization. The client never heard from Burke again. Burke didn't respond in March 2020, when the IRS sent Burke a letter offering a hearing, or December 2020, when the client emailed to ask about his tax liability. In February 2021, Burke was suspended from the practice of law, but he didn't notify the client of the suspension or that he intended to withdraw as counsel.
The Presiding Disciplinary Judge found Burke violated several rules of professional conduct, including requirements to act with diligence and promptness, to keep a client reasonably informed about the status of a matter, to protect a client's interests upon termination of representation and to not charge unreasonable fees.
The PDJ suspended Burke for six months, during which he must attend ethics school, effective June 6.
People v. Michael Lloyd Hutchinson
During a 2021 malpractice case where Michael Hutchinson served as lead defense counsel, the parties became involved in discovery disputes and a hearing was scheduled to address the issues in the early afternoon of Feb. 9.
That morning, one of Hutchinson's partners was unable to reach him by phone and resorted to checking on Hutchinson at his residence. Although he assured his partner he would attend, Hutchinson failed to appear for the hearing.
The Presiding Disciplinary Judge found Hutchinson's conduct violated Colo. RPC 1.3, which states that a lawyer must act with reasonable diligence and promptness, and Colo. RPC 8.4(d), which states it is professional misconduct for a lawyer to engage in conduct that is prejudicial to the administration of justice.
The PDJ publicly censured Hutchinson, effective June 17.
People v. Matthew S. Park
Following a reinstatement hearing, a hearing board denied Matthew Park's reinstatement to the practice of law. Park cannot file another petition for reinstatement for two years.
Park was suspended for one year and one day in September 2020, with three months served and the rest stayed upon a two-year conditional probation. He needed to attend ethics and trust account schools and, if he practiced law during his probation, he was required to participate in quarterly meetings with a financial monitor.
His disciplinary suspension was premised on his misconduct in practicing law while he was on administrative suspension, including accepting two personal injury cases and mixing his personal funds with those of his client and third parties. Park was placed on administrative suspension in 2013 because he didn't comply with Colorado's continuing legal education requirements or pay his attorney registration fees. He was again suspended for failing to pay his fees in 2015 and was not reinstated from that suspension until Jan. 31, 2019.
Although Park was eligible to seek reinstatement by affidavit in January 2021, he never took the necessary steps to be reinstated and placed on probation, remaining suspended since Oct. 27, 2020. On Nov. 11, 2021, Park filed a petition for reinstatement with the Presiding Disciplinary Judge, who set the matter for a reinstatement hearing and directed Park to submit hearing briefs no later than Feb. 17. Park didn't file his brief until March 2.
According to the board, Park seemed "to lack an understanding of his obligations under the Rules of Professional Conduct, and he has failed during his suspension to seek any appropriate experience or education to cure these deficits."
The board concluded that reinstatement wasn't appropriate because Park failed to prove that he followed disciplinary orders and rules following his suspension, that he is fit to practice law and that he has been rehabilitated from his misconduct.