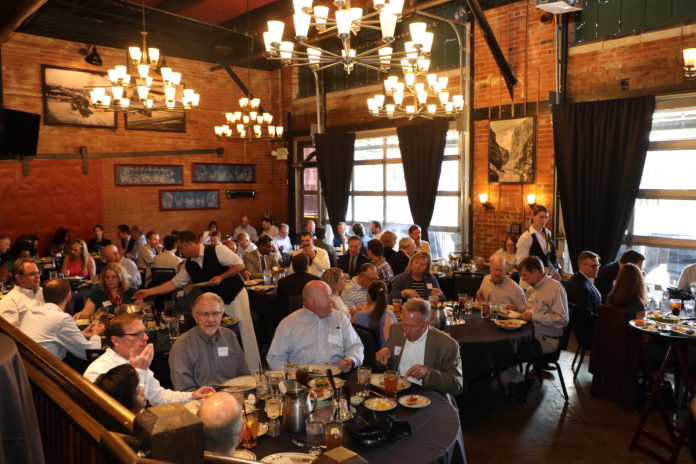 The U.S. Patent and Trademark Office sees its satellite locations as a way to spread innovation throughout the U.S. Last week, the Rocky Mountain Regional Office celebrated five years as a Denver-based hub for innovation resources.
According to the RMRO, which is headed by Mollybeth Kocialski, the regional office has conducted more than 1,260 IP-focused educational and outreach events since its 2014 founding. The office serves nine Western states including Colorado and as far north as North Dakota.
The RMRO's anniversary brought in USPTO Director Andrei Iancu to deliver a lunch-and-learn talk at the Denver ChopHouse in LoDo. IP practitioners gathered to hear the director's updates on various reforms and initiatives the office is carrying out on patents, trademarks and copyright procedures as well as its response to impactful court decisions.
Moderating the discussion was former USPTO Director Q. Todd Dickinson, who is now a shareholder at Polsinelli's Washington, D.C., office. Dickinson headed the USPTO from 1998 to 2001.
Patent eligibility — particularly under 35 U.S.C. Section 101 — saw plenty of discussion at the event and is "the most important issue in patent law in the United States right now," Iancu said. The USPTO has been trying to make the patentability of software and similar innovations more predictable in light of the test the Supreme Court issued in its 2014 "Alice" decision, which evaluates whether an invention is too abstract to receive a patent. In January, the USPTO released new guidance for its patent examiners and administrative judges on how to determine Section 101 patentability, and Iancu said that already patent rejections in the most affected units are down to pre-Alice levels.
"So I think we have a framework that by all accounts works," Iancu said.
On the subject of Supreme Court decisions, the USPTO now can't ban trademarks based on "scandalous" matter as a result of the June ruling in Iancu v. Brunetti. Dickinson asked Iancu what the upshot of that might be for the USPTO.
"The upshot is that we have a docket of scandalous marks … that is ready to be reviewed," Iancu joked. "If there are volunteers here, please let us know — Molly [Kocialski] is taking applications for the Denver office." In seriousness, he then said the office hasn't seen a "huge" number of marks it would have considered scandalous. The court left a path for a legislative fix, he added, but it remains to be seen whether Congress will act to amend trademark laws in light of Brunetti.
"You can publicize the list of the pending ones," Dickinson said. "It might get their attention."
Iancu replied, "We'll probably wait for the next director for that publication."
— Doug Chartier