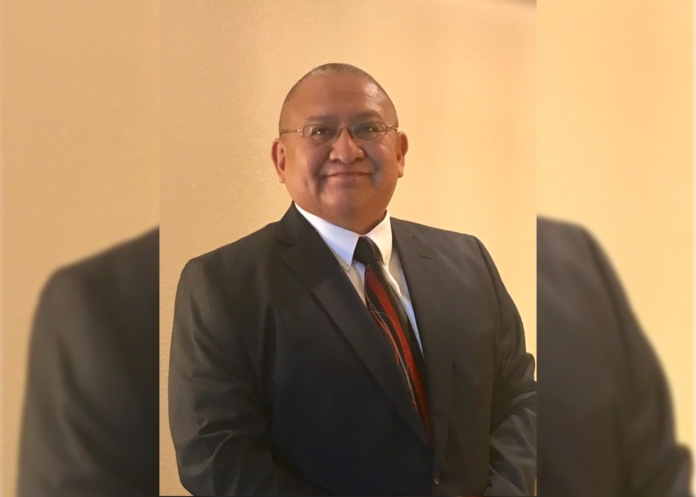 In late November, Arron Julian became the director of the newly formed Office of Liaison for Missing or Murdered Indigenous Relatives for Colorado.
Julian has worked in law enforcement for more than 30 years and is a member of the Jicarilla Apache Tribe in New Mexico. He previously worked as the police chief of the Bishop Paiute Tribe in California and was the sexual assault response team coordinator for the San Carlos Apache Healthcare Corporation in Arizona. He also worked as an operations manager for the U.S. Embassy Security Force in Baghdad. 
In 2022, the Colorado General Assembly passed a law that created the office to help with investigating missing and murdered Indigenous cases. The Colorado Division of Criminal Justice hired Julian to head the new office.
"What we do is be a liaison between the state law enforcement and community members that are Native that go missing and we provide the resources to help find those individuals across the state and to bridge that gap of any disparities between the Native community and law enforcement," Julian said. 
Those involved in the hiring process, including Kathryn Redhorse, the executive director of the Colorado Commission of Indian Affairs, felt confident about what Julian brings to the table.
"We are grateful to have found a director who has many years of relevant professional experience and who understands the importance of this work, being from the Indigenous community and working to solve MMIR cases," Redhorse said in a press release. "We're eager to get started with this work building partnerships and expanding trust through a multi-jurisdictional, community-focused program."
Julian, who started Nov. 21, 2022, said everything has gone well after taking over the role. The office works with numerous groups, including the Colorado Commission of Indian Affairs, different tribes, tribal law enforcement agencies and Indigenous organizations.
"Everybody's been helpful," Julian said. "The state entities … the members across the state of Colorado, everybody's been very warm."
Julian surmised that across the U.S. there have been disparities for the Native American community when it comes to receiving resources for missing and murdered Indigenous people, and in some cases, they are not properly reported. Julian's met with multiple agencies to understand what that disparity looks like in Colorado, including with federal agencies and the Southern Ute Indian Tribe and Ute Mountain Ute Tribe. Julian said he plans to look at how the new office is running within a year or two to understand more about what other resources they need.
Offices dedicated to missing and murdered Indigenous people are rare in the U.S. Julian said Minnesota was the first to form a state office like Colorado's. 
Julian said he's met with the Minnesota office's director. "We're going to start working together and bring our knowledge and information to help better this cause," he said. 
Another item the office is working on is creating law enforcement training. The training focuses on the history of the Native community and teaches law enforcement to be more empathetic to the Native community. Julian's already helped authorities with multiple cases, including one where a young woman was found deceased and an arrest was made. 
According to the background information from a law passed last year, more than 60% of American Indian and Alaska Native women have been assaulted during their life and American Indians and Alaska Natives are 2.5 times more likely to be the victim of violent crimes. The law added jurisdictional issues and data-sharing barriers between agencies and tribal governments have resulted in confusing reporting mechanisms for those who have relatives that are missing or murdered and there's very limited data about the cases.
The law also included the launch of an alert system for missing Indigenous people that went live Dec. 30, 2022. According to a press release, the legislation requires law enforcement agencies that receive a report of a missing Indigenous person to notify the Colorado Bureau of Investigation within eight hours for adults or two hours for children. The CBI will also issue the alerts if law enforcement requests it, according to the press release.