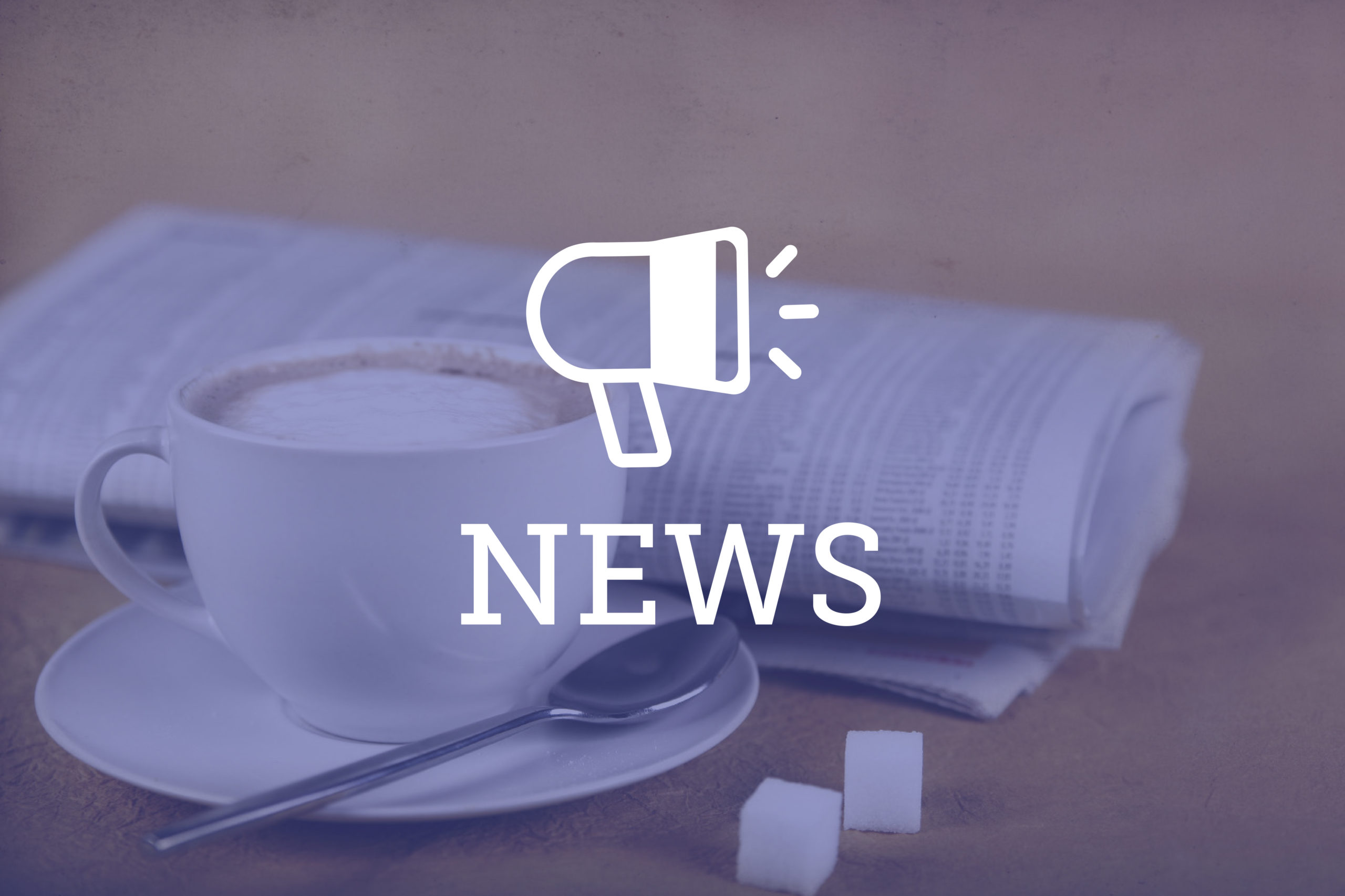 Editor's Note: This is the first of three articles spotlighting CTLA Case of the Year Award nominees. Others will be included in upcoming issues of Law Week Colorado.
A disability discrimination case ended last fall with what the attorneys say they believe is one of the largest ADA awards ever in Colorado and is a caution to companies about the seriousness of discriminating under the Americans with Disabilities Act and the Family and Medical Leave Act. For their victory in the case, attorneys Paul Maxon, Sarah Parady and Amy Trenary are among the nominees for the Case of the Year Award from the Colorado Trial Lawyers Association.
In September 2017, a jury ruled against Utah-based SkyWest Airlines for discrimination, retaliation and failure to accommodate, as well as retaliation in violation of the FMLA. The jury awarded plaintiff John Hayes $2.45 million, including $450,000 in actual damages and $2 million in punitive damages.
Hayes, a former SkyWest Airlines employee, brought claims against the company after it did not reassign or reinstate him upon his return from FMLA leave for complications from kidney disease, nor did the airline accommodate doctor-ordered lifting restrictions when he returned to work. Hayes also applied for several other positions within the company that did not carry the same lifting requirements as his previous ramp agent position. 
SkyWest denied the discrimination allegations. The company claimed Hayes turned down a pilot recruiter position in Salt Lake City, which SkyWest pointed to as a reasonable accommodation. 
Parady couldn't say for certain why the jury made the award for such high damages, but she said she believes Hayes' likeability likely contributed to the favorable award.
"The jury, I think, probably just wanted to really make him whole and help him out and punish this company for treating someone who was such a nice guy so badly," Parady said. "He had a really long history with the company, he had loved his career, and they just took that away from him for reasons they didn't do a very good job explaining." 
Parady said Hayes enjoyed aviation as a career path and would have stayed with SkyWest Airlines and also chose to have an uncommon type of kidney dialysis treatment that only took place at night so he could continue working during the day.
Findings of contempt against the defense punctuated the trial itself. Judge Robert Blackburn found Ann Rutledge, a paralegal for SkyWest defense firm Armstrong Teasdale, guilty of contempt for attempting to influence a witness on the stand. He also dismissed a juror and defense witness Jamie Sorensen for conversing about her testimony while in an elevator together, finding them guilty of indirect contempt.
"I've never seen anything like that, and I don't think the judge had seen anything like that," Maxon told Law Week last fall in reference to Rutledge's conduct.
Parady said the case is significant because noncompliance by employers with the ADA and FMLA tends to be common, especially with the requirement to accommodate employees by reassigning them to new positions if possible. Hayes v. SkyWest airlines will hopefully get the attention of employers and make them take such obligations more seriously, she said.
"Mr. Hayes successfully fought against workplace discrimination by exposing intentional violations of federal law by a major employer," Maxon wrote in his request for consideration of Hayes v. SkyWest Airlines for Case of the Year. "Mr. Hayes not only won his own claims but sent a powerful deterrent signal to other would-be violators of disabled persons' civil rights."
He cited data from the Bureau of Labor Statistics that the unemployment rate for people with disabilities is more than twice the national average, even for people with high education levels or other qualifications.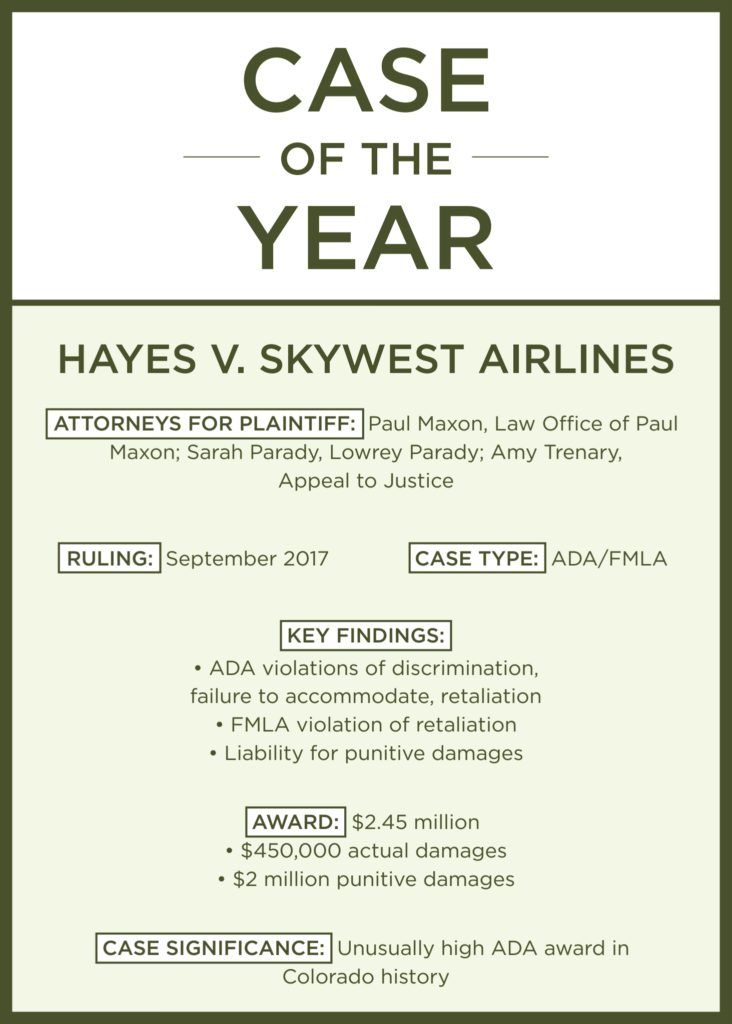 Parady said ADA cases often present a challenge for both sides because they turn on a subjective "reasonableness" standard for accommodations. 
"There's a lack of certainty there, I suppose, which is why I think [the claims] tend to go to trial," she said. "And in this case, I think the jury was thoroughly convinced that the company could reasonably and without an undue burden have kept Mr. Hayes employed." 
According to Maxon's nomination request to the CTLA, October 2017 data for the U.S. District Court for the District of Colorado showed civil rights plaintiffs prevailed in only one out of 10 cases.
Hayes v. SkyWest Airlines is one of three nominations for Case of the Year, all three of which involve victories for individuals with disabilities. Attorneys from Rathod Mohamedbhai received a nomination for Shiva Rai v. St. Vrain Valley School District, a case for mistreatment of a student with autism. Jack Robinson of Spies Powers & Robinson, Brian Wolfman of the Georgetown Law Center and Jeffrey Fischer of Stanford Law School are nominated for their work in Endrew F. v. Douglas County School District, which resulted in a unanimous U.S. Supreme Court decision last spring. 
— Julia Cardi