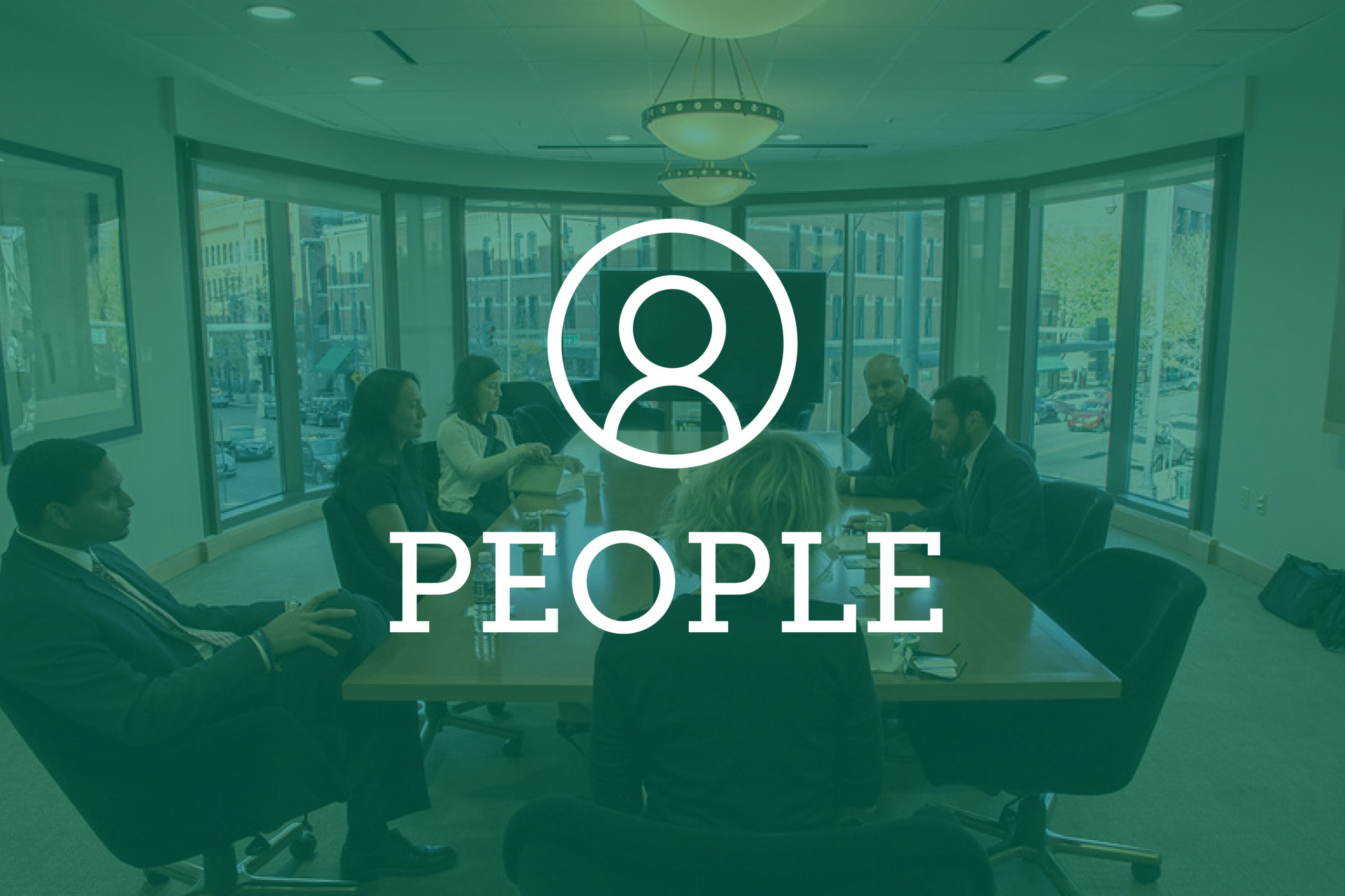 The Colorado Governor's Office's former top lawyer is the latest recipient of an annual award for excellence among Denver attorneys.
Stephanie Donner received the 2018 Richard Marden Davis Award at a dinner hosted by Denver firm Davis Graham & Stubbs on Thursday night at the Brown Palace, which had Gov. John Hickenlooper in attendance.
The honor, often referred to as the Dick Davis Award, is named for the late DGS cofounder who "set an example of a skilled, charismatic lawyer who also made time for extensive community service," according to the DGS website. Each year DGS, the Denver Bar Foundation and the Davis Family jointly recognize a Denver lawyer under 40 who has shown excellence and "creative civic, cultural, educational and charitable leadership."
Donner works as outside corporate counsel at Galvanize, Inc., an education company that provides co-working space and training to tech professionals and entrepreneurs. She handles compliance and government relations for the company and has also launched a program, Galvanize Gives, which helps connect the company's employees with volunteer opportunities. She also started the Galvanize Foundation, a nonprofit that provides education funding to underrepresented groups in the tech industry.
Previously, Donner served as chief legal counsel and chief of staff for Hickenlooper's office. During her time at the Governor's office, she spearheaded the recovery efforts for the 2013 Colorado flood, a disaster that caused $4 billion in damage and 10 fatalities and required widespread evacuations.
"Stephanie Donner is an exceptional lawyer and an asset to the community," said DGS co-managing partner Kristin Lentz. "The selection committee made an excellent decision by choosing to honor Ms. Donner."
Donner also serves on the board for several organizations, including the Colorado Symphony Orchestra, the Denver Metropolitan Major League Stadium District, Girls Inc. of Metro Denver, and the Keystone Policy Center.
The Dick Davis Award, which was first presented to then-Judge Celeste Quinones in 1993, was most recently given to Denver Deputy City Attorney Cristal DeHerrera in 2016 and civil rights attorney Qusair Mohamedbhai in 2015. 
Lateral Watch
Werge Law announced that it added Angela Hahn as a partner and renamed the firm to Werge & Hahn effective January 1. Hahn specializes in estate planning and supports the firm's small business commercial litigation practice. 
She will split her time between the firm's downtown office and a new satellite office in Golden. 
She earned her law degree from the University of Colorado Law School and a her bachelor's degree from the University of Colorado at Boulder.
Ballard Spahr added two Denver-based partners to its public finance team firm chair Mark Stewart announced Tuesday.
Kimberly Reed and Hester Parrot joined the firm from Kutak Rock.
The arrival of Reed and Parrot also marks the latest development in Ballard Spahr's continued expansion in Denver and Boulder. In the past year, the firm added 18 lawyers, including eight partners, in Colorado, through mergers with Levine Sullivan Koch & Schulz and Lindquist & Vennum.
Ballard Spahr's Denver-based public finance attorneys — led by partner Anastasia Khokhryakova — serve as bond counsel, disclosure counsel or issuer's counsel to the State of Colorado, state authorities, higher education and health care institutions, counties and municipalities, special districts and other governmental issuers.
Reed focuses on tax-exempt and taxable financings by Colorado special districts. She has also participated in transactions involving urban renewal authorities, transportation authorities, airports, housing authorities, cities, towns, counties, school districts and water and sewer enterprises. Reed has served as bond counsel, special disclosure counsel and underwriter's counsel in municipal finance transactions by such issuers.
Parrot focuses on financings for charter schools, other 501(c)(3) organizations and government entities ranging from small towns to state-level issuers. For more than a decade, she has served as counsel in bond financing transactions for more than 50 charter schools across the country and helped clients issue more than $1 billion for projects throughout the region. 
Parrot has also served as bond counsel, disclosure counsel and underwriter's counsel on transactions involving the issuance of a variety of debt instruments, including general obligation bonds, revenue bonds, certificates of participation, conduit private activity bonds and single-family mortgage revenue bonds.
Lori Magnuson joined Butler Snow as an insurance claims specialist, the firm announced Jan. 29.
Magnuson will be a part of Butler Snow's insurance defense practice and its catastrophic events and major claims team. She will work from the firm's Denver office.
Magnuson has more than 20 years of experience in the insurance industry. Most recently, she served as the claim manager for the National Flood Services division of AON. At AON, she supervised, mentored and trained the examination team in handling complex residential, commercial and condominium association flood insurance losses. Magnuson also managed all claims and served as an underwriter related to flood insurance litigation. Magnuson was also the senior claims technical and litigation analyst and previously served as an underwriter and underwriting supervisor during her tenure at National Food Services.
Polsinelli announced Thursday Ghislaine Torres Bruner joined its Denver office as shareholder. Bruner has national and international experience in handling litigation and transactional matters for energy clients.
Bruner has more than 15 years' experience litigating cases relating to energy, oil and gas, environmental and natural resources, air quality, water quality, negligence, products liability, torts and appellate matters.
Bruner is a member of the Women's Energy Network-Greater Colorado Chapter Denver and serves as a historian and board member for Colorado Ballet Auxiliary. 
A native Spanish speaker, Bruner leverages her bilingual skills to represent a range of clients in energy-related transactions or litigation.
Associate Watch
Hearn & Fleener recently added Sean Wells and Michael Matthews as associates to its construction defect practice. 
Wells is a litigator with a focus on both prosecution and defense of construction defect claims, community association law and environmental law. He holds a certificate in environmental law and from Gonzaga University School of Law. He also serves on the Board of Re:Vision, a Colorado nonprofit that focuses on food desert communities in the Denver Metro.
Matthews was previously a clerk in Colorado's 18th Judicial District, Arapahoe County District Court. Michael has his law degree and a certificate in corporate and commercial law from Denver's Sturm College of Law and a bachelor's degree from the University of Colorado. During law school, he interned at a construction defect firm and the office of general counsel for a large regional utility company.
Judicial Announcements 
The 17th Judicial District Nominating Commission has nominated three candidates for a district court judgeship created by the appointment of Judge Ted Tow III to the Colorado Court of Appeals, effective Feb. 13. Nominees Caryn Datz, Sean Finn and Meghan Saleebey, all of Broomfield, were selected by the commission on Jan. 31.
Under the Colorado Constitution, the governor has 15 days from Feb. 1 to appoint one of the nominees as district court judge for the 17th Judicial District, which includes Adams and Broomfield counties.
Comments regarding any of the nominees may be sent via e-mail to the governor at [email protected]