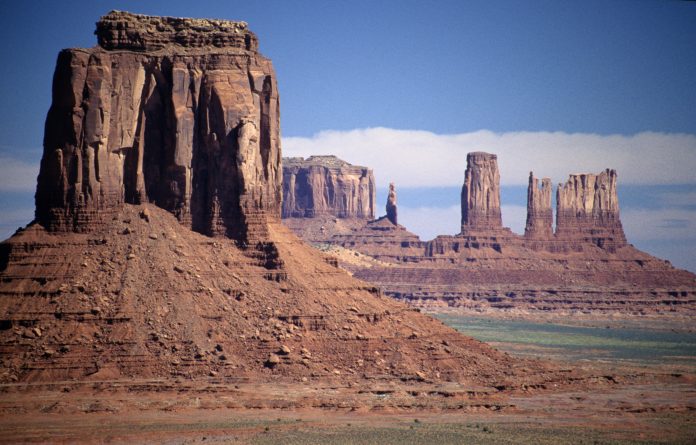 In 2013, John Roach sent a call for help to law schools in the southwest. Roach was a fiduciary trust officer with the Office of the Special Trustee which manages the billions of dollars of assets of American Indian tribal members held in trusts by the U.S. Department of the Interior. After a federal amendment passed several years earlier, tribal members who died without wills found their families in a difficult place, and Roach was hoping law schools might be able to help. 
Congress amended the American Indian Probate Reform Act in 2008 in hopes of addressing increasingly fractured Indian trust lands. Prior to the amendment, for tribal members who owned land held in trust by the DOI who died without a will, ownership of the land was passed down to their surviving heirs and over the course of decades, tribal land ownership had become increasingly fractured. The 2008 amendment hoped to stop the fractionation of trust lands and specified that a tribal member's trust lands would be passed entirely to their oldest child. 
But for the millions of tribal members in the U.S., the amendment created an unexpected problem: if you didn't have a will, the inheritance of your trust land wasn't going to follow the path you expected. 
"Nothing to the surviving spouse, nothing to the other kids. And you can imagine that causes a lot of conflict in the family," explained Lucy Marsh, a professor of wills and estates at the University of Denver's Sturm College of Law. "So John thought that maybe something could be done about it."
In 2013, Marsh was the only professor to answer Roach's call. That spring, she scraped together funding from private donors, recruited student and attorney volunteers and, over spring break, held the first Tribal Wills Project clinic to provide free, custom-drafted wills to tribal members in the U.S. 
While an estimated two-thirds of adults in the U.S. don't have a will, Marsh said that wills and estate planning can be especially uncommon in cultures that consider talking about death taboo. 
"Most of the tribes everywhere we've worked … there has been a real taboo against writing a will or even speaking of death, because that means you're ready to die. And so people died without a will," explained Marsh. 
She added that when the American Indian Probate Reform Act was amended, people who owned tribal trust lands found themselves in a difficult, and often expensive, position needing to write a will to distribute their assets to spouses or other family members. 
In the years since its founding, the Tribal Wills Project has grown and holds an average of three week-long clinics every year over spring, summer and winter break where students have two-hour consultations with tribal members, draft wills that are reviewed by volunteer attorneys and present the wills for review and signature to clients the next day. 
The trip is capped at 20 students, Marsh said, and open only to upper-level students who have already taken a course on trusts and estates as well as multiple training sessions about the reservations and tribes they will visit. 
Marsh said it's hard to estimate the number of clients the clinic has worked with, but the project has visited reservations in seven states — California, Colorado, Montana, South Dakota, New Mexico and Utah. She added that during the most recent trip over winter break to a reservation in Farmington, New Mexico, the clinic wrote around 100 wills (the upper end of the usual number of wills written) with the support of 19 students. 
Marsh said the Tribal Wills Project has been able to grow over the past 10 years due to a cultivated trust between the law school and tribes. The clinic only visits reservations upon invitation from the tribe and Marsh said the lengthy interviews allow students to build rapport with clients while maintaining sensitivity to their cultural and religious views and the often painful history of federal Indian law and policy.  
"It's a very good experience for the law students to be on the reservation and work with tribal members," said Marsh. "You get more of an idea and appreciate another culture."
As well as providing free will drafting, the clinic has partnered with Dependable Cleaners-Coats for Colorado for multiple years to bring winter coats to reservations. And Marsh added the students and volunteers will bring fresh fruit and other groceries that can be expensive and hard to find in remote communities. 
While the project was created to address tribal trust land, Marsh said the process of writing a will has also helped clients to express how they would like other assets, including heirlooms or items of cultural significance, to be passed down. 
Marsh said that tribal members can face additional barriers when it comes to writing wills. 
"We've had a number of clients come to us who tried to get a will from a lawyer in town, and the lawyer says, 'I don't do tribal matters. I don't know about tribal matters,'" explained Marsh. 
She said that while some parts of writing wills involving federal Indian law can be tricky, resources are available for trust and estate lawyers looking to learn more. And Marsh added knowing how to write wills for tribal members isn't just something lawyers in or around reservations should know. 
"In Colorado, for example, we have two reservations," explained Marsh. "Between Southern Ute and Ute Mountain Ute, the total enrollment [on the reservation] is about 5,000 people. And yet there are about 80,000 tribal members living in Colorado … so lawyers throughout Colorado should know how to deal with trust land." Nationally, the 2010 U.S. census found that just 22% of 5.2 million Native Americans in the U.S. lived on a reservation.  
Marsh said that while learning how to draft wills that comply with the American Indian Probate Reform Act and governing laws can be tricky to do on your own, the American Bar Association and other organizations hold webinars and CLEs for lawyers to learn how to approach wills for tribal members. 
"​​Yeah, it's a little complex," said Marsh. "But they've graduated from law school, they've learned some other complex things."