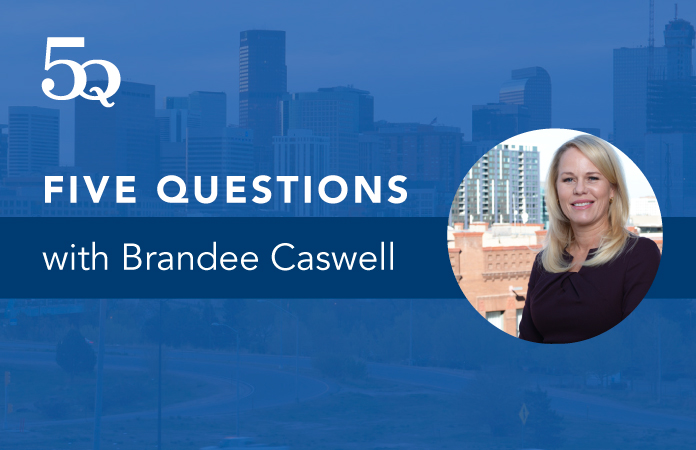 5Q is your way to get more acquainted with the local legal community. Submissions come from lawyers, paralegals, judges and law professors alike. In 5Q, you'll discover insights on the profession while learning more about the people behind the practice. Responses are edited for clarity and length.
Want to be featured in our next 5Q? Respond to the survey today.
This week, we heard from Brandee Caswell, partner and property rights attorney at Davis Graham & Stubbs. Caswell resolves "complex, high-value real estate disputes involving land use, eminent domain leases, special districts, and the Colorado Common Interest Ownership Act." Read more about her practice and experience in her online biography.
Question 1
What is your favorite clause of the Constitution and why?
A: The Fifth Amendment's takings clause. Defending the core Constitutional right of property ownership is humbling and gratifying.
Question 2
Which celebrity was on the posters you had hanging on your teenage bedroom wall?
A: Muhammed Ali & Elvis
Question 3
If you could travel back in time and talk to any historical figure about the law, who would you talk to and what would you say to them?
A: John Jay is a largely forgotten co-author of the Federalist Papers. I would talk to him about the many roles he played in the American Revolution, his work on the Federalist Papers, the importance of property rights, and his tenure as the first Chief Justice of the United States Supreme Court.
Question 4
What's your favorite book and why?
A: This is difficult given the posthumous revelations about its author, but if a "favorite" is measured by the number of times one reads a book, mine is The Mists of Avalon. It was one of the first tomb-like novels I read as a young woman, and a pointed example of how the "truth" and "facts" are a matter of perspective.
Question 5
What's your favorite movie or TV show?
A: Favorite movie: The Color Purple.