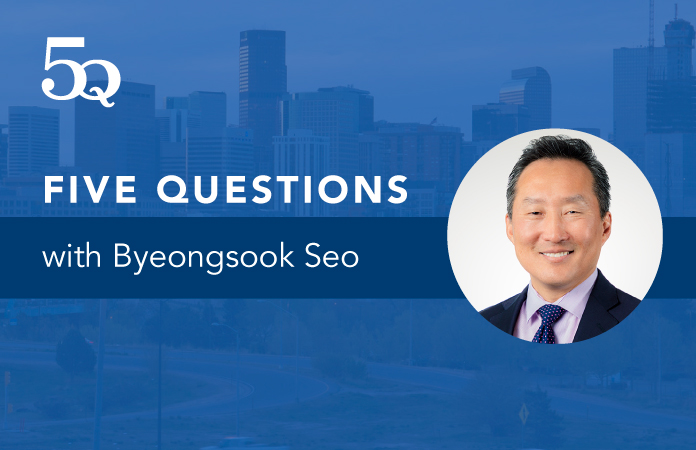 5Q is your way to get more acquainted with the local legal community. Submissions come from lawyers, paralegals, judges and law professors alike. In 5Q, you'll discover insights on the profession while learning more about the people behind the practice. Responses are edited for clarity and length.
Want to be featured in our next 5Q? Respond to the survey today.
This week, we heard from Byeongsook Seo, counsel and commercial litigation attorney at Snell & Wilmer. He's represented "high-tech clients in disputes that ranged from patent and trade secret enforcement actions to disputes over the sale of high-tech products" Read more about his practice and experience in his online biography.
Question 1
If you could choose to master a musical instrument that you don't already know how to play, which one would it be and why?
A: Piano because we have a keyboard and my family used to play it more often, now it is just gathering dust. I want to learn how to play just to put the keyboard to use.
Question 2
What is your favorite restaurant and what's your favorite thing to order there?
A: Savory Vietnam Restaurant … Fried Squid with peppers.
Question 3
If you could travel back in time and talk to any historical figure about the law, who would you talk to and what would you say to them?
A: James Madison because he proposed the Second Amendment. I want to share with him how the Second Amendment is currently being interpreted and ask what he would do differently if he knew, back then, how the current Supreme Court interprets the Second Amendment
Question 4
What's your favorite book and why?
A: A Single Shard by Linda Sue Park. It's the first book that I read with my daughter that we both enjoyed. Before that, I read a lot of books with her that only she enjoyed.
Question 5
What's your favorite movie or TV show?
A: Currently, The Last of Us. It shows the strengths and weaknesses of humans with a story about a protagonist's struggles with his losses.