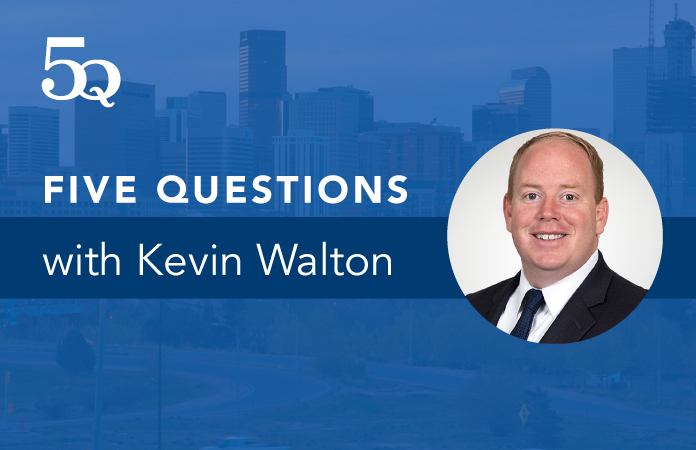 5Q is your way to get more acquainted with the local legal community. Submissions come from lawyers, paralegals, judges and law professors alike. In 5Q, you'll discover insights on the profession while learning more about the people behind the practice. Responses are edited for clarity and length.
Want to be featured in our next 5Q? Respond to the survey today.
This week, we heard from Kevin Walton, partner and commercial litigation attorney at Snell & Wilmer. Walton "represents clients spanning a broad range of industries, including oil and gas companies, financial institutions, secured and unsecured creditors, general contractors and other construction professionals." Read more about his practice and experience in his online biography.
Question 1
If you could choose to master a musical instrument that you don't already know how to play, which one would it be and why?
A: The only instrument that I ever learned to play was the recorder in 8th grade. I then broke my thumb and never took another music class. With that said, I would love to learn how to play the piano because almost any genre sounds great on the piano.
Question 2
Which celebrity was on the posters you had hanging on your teenage bedroom wall?
A: I had the classic Bo Jackson baseball/football poster.
Question 3
What is your favorite restaurant and what's your favorite thing to order there?
A: Guard & Grace. Any of their steaks are amazing!
Question 4
What's your favorite weekend activity?
A: Currently, my weekend involves chasing my two-year-old daughter around the neighborhood while she rides her Strider bike.
Question 5
What's your favorite movie or TV show?
A: My favorite TV show is The Office. I still regularly watch the re-runs.