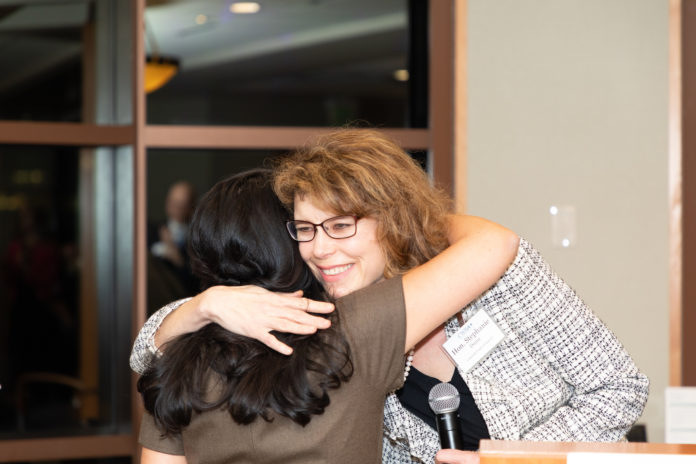 When describing Court of Appeals Judge Terry Fox's involvement in the legal community, it would probably take less time to list what she doesn't do. She focuses much of her energy on increasing diversity in Colorado's judiciary and mentoring other attorneys, especially women, attorneys of color and those from disadvantaged backgrounds.
Part of Fox' mentorship includes helping judicial hopefuls with mock interviews. The Court of Appeals is in the process of filling two seats, one currently open and the other to open in May because of an impending retirement. Fox said she's pleased that four of the six nominees on Gov. Jared Polis' desk to fill them are women.
Fox's dedication earned her Judicial Excellence Award at the Colorado Women's Bar Association's annual judicial reception on March 6. In introducing Fox at the reception, fellow Court of Appeals Judge Stephanie Dunn spoke about a particular experience at a judicial conference, at which Fox received another award. 
"The speaker looked around the room, and she asked every woman who had been mentored, assisted or promoted by Judge Fox to raised their hand," Dunn said. "Almost the entire room raised their hand, myself included." 
CWBA member Sharlene Aitken, who nominated Fox for the award, said Fox mentored Supreme Court Justice Monica Márquez during Márquez' career in the Colorado Attorney General's Office, and supported Justice Melissa Hart in getting to the bench as well. Aitken said that has some irony, because both justices were also considered for the CWBA's award this year.
She also described a time she heard Fox describe her involvement in the legal community outside her role as a judge.
"Judge Fox talked about some of her activities, in particular, her week of after-work events, and listening to the list, I literally felt exhausted," Aitken said.
Before her appointment to the Court of Appeals in 2010, Fox's public-sector law career included stints as an assistant U.S. attorney and in the Colorado Attorney General's Office. Fox is a member of the Colorado Hispanic Bar Association and a former board member of the women's bar. 
She's served on the U.S. Attorney's Advisory Council and the Diversity Committee, and is active in the National Association of Women Judges.
Other recent recipients of the CWBA's award include Judge Theresa Spahn of the Denver County Court and Court of Appeals Judge Karen Ashby. In honor of her receiving the award, Fox chose the Latinas First Foundation to receive a donation in her name. 
Fox said at 52, she doesn't plan to wrap up her career anytime soon. "I really have the best job in the world. I've already hinted to people I'm in it for another 20." 
— Julia Cardi