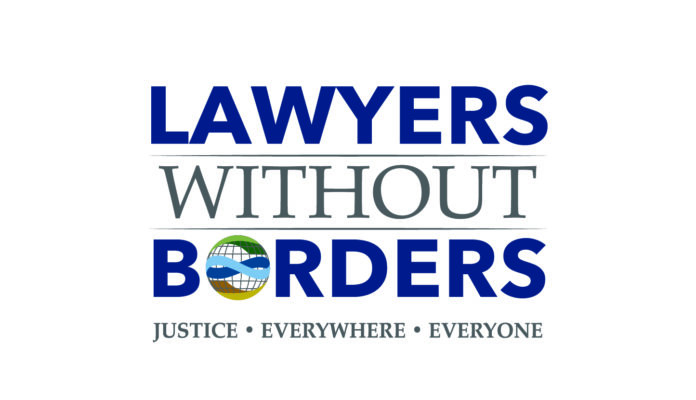 Not-for-profit international corporation Lawyers Without Borders works with partners and volunteers to advance a global rule of law, bolstering justice sectors and supporting development worldwide. "Our objective is to develop programs that improve access to justice guided by a mandate of neutrality and independence," the corporation's website states. 
The corporation works with lawyers, judges and law enforcement to develop and deliver programming that focuses on trial advocacy training and building "capacity and technical assistance in developing regions and regions emerging from conflict or contemplating transition." LWOB also cultivates "lawyer skill sets to create effective human rights strategies in developing sectors" and develops educational materials. 
Hadley Rose Staley, who works at U.S.-based 501(c)(3) organization Friends of the Public-Private Partnership for Justice Reform in Afghanistan, said she's been working in international development and rule of law projects for the past 15 years. Rose Staley, who volunteers with LWOB, said the corporation is currently focusing on human, labor and wildlife trafficking overseas. 
"A lot of this work centers around training prosecutors and law enforcement and empowering multi-institutional coalitions and working groups that focus on the issue of trafficking in these countries to improve the response to human trafficking, and child trafficking and labor trafficking," she said. A newer area in this same vein is online commercial sexual exploitation, Rose Staley noted. She added for some less developed countries it can be very challenging to investigate and prosecute this type of crime compared to other types of trafficking. 
"I used to work for International Justice Mission, which is an anti-human trafficking organization as well," Rose Staley explained, adding when she first started working for the international nonprofit back in 2008, commercial sexual exploitation wasn't a big focus of the anti-trafficking movement yet. "And online commercial sexual exploitation is in part tricky because of the jurisdictional issues. Because the internet is virtual and not grounded in a physical jurisdiction as much, so it's difficult for law enforcement to detect and enforce human trafficking statutes that are not necessarily incorporating the online aspect." Rose Staley noted she isn't a traffic expert but gave her personal observations over the years. 
According to information emailed to Law Week from LWOB, the corporation is currently engaged in tackling the online and commercial exploitation of children in Kenya through its three-year Excellence in Prosecution through Increased Collaboration and Cooperation to Combat Child Trafficking project, or EPIC project.
LWOB explained it's working closely with the Office of Director of Public Prosecutions, the Child Trafficking in Persons Secretariat, the Directorate of Criminal Investigations and other agencies to establish a specialized prosecution unit and nationwide database of trafficking in persons cases, with the aim of reducing child trafficking in Kenya.
As part of the EPIC project, LWOB noted the Office of Director of Public Prosecutions is partnering with the corporation to develop child-friendly interview spaces in Nairobi. LWOB explained the first space is scheduled to be completed this year. The spaces will provide a safe environment and minimize secondary trauma to child victims by allowing for videotaped interviews and use of recorded testimony in court. 
LWOB noted the next stage of the EPIC project will focus on providing additional training programs for stakeholders involved in child sexual exploitation cases, including trauma-informed investigations and prosecutions, as well as self-care. The corporation noted prior capacity building focused on human-rights-based and victim-centered responses, including case studies and mock interviews of children designed to simulate real-life scenarios.  
The corporation noted its law firm partners provided hundreds of hours of research on a range of topics, including comparative case law on child sexual exploitation offenses, specialized prosecution units and child-friendly spaces.  
LWOB stated the EPIC project is funded by the U.S. State Department's Office to Monitor and Combat Trafficking in Persons. 
Beginning in December 2022, LWOB also started working on engagement with Ukraine focused on anti-corruption and judicial reform and bolstering the mental health of attorneys and judges, among other program initiatives. Carolyn Forstein joined LWOB in December 2022 as a scholar in residence focused on Ukraine. The corporation explained Forstein is a U.S. lawyer with experience in public international law and U.S. litigation and previously lived and worked in both Ukraine and Russia. 
Over the past six months, the LWOB team has started developing partnerships, conducting research and identifying priority focus areas for LWOB's multifaceted Ukraine program.
LWOB explained judicial reform and anti-corruption initiatives are key priorities for the Ukrainian government and civil society activists in Ukraine. LWOB noted it's met with lawyers focused on these topics from leading Ukrainian civil society organizations and universities, and LWOB started developing research agendas in connection with these organizations. 
LWOB also met with two justices from Ukraine's specialized High Anti-Corruption Court, who highlighted the number of vacancies and challenges in the appointment process as key obstacles for their work. LWOB noted it conducted internal research on the judicial appointments and vetting processes and Ukraine's current reform efforts. The corporation noted it's partnering with pro bono partner law firms to conduct more research specifically focused on Ukraine's Constitutional Court. 
Alongside judicial reforms and the work related to the country's Constitutional Court, Rose Staley said LWOB has also been engaging with the Atrocity Crimes Advisory Group, which is working on the documentation of war crimes in Ukraine. ACA is a multilateral initiative led by the U.S., U.K. and EU focused on supporting the Ukrainian government in connection with war crimes.
The Ukrainian government is currently investigating tens of thousands of potential war crimes and started prosecuting these crimes in domestic courts. The American Bar Association noted in May that at a recent hearing of the House Foreign Affairs Committee, Ukrainian Prosecutor General Andriy Kostin said around 80,000 incidents of potential war crimes have been registered with his office. LWOB noted that while much international attention has focused on accountability at the international level, particularly for high-level offenders, Ukraine is currently grappling with how to try cases within its own system. 
In June 2023, LWOB hosted a roundtable for a visiting delegation of Ukrainian prosecutors and plans to develop further initiatives in connection with ACA over the remainder of 2023.   
LWOB explained it has also engaged with non-governmental organization partners and government officials about the collection, cataloging and processing of information collected on the battlefield that may be useful as evidence in civilian court. LWOB partnered with WUNDERfund, which the corporation noted is a Canadian NGO led by Ukrainian-Canadian former armed forces veterans founded in 2022 that provides support to volunteer members of Ukraine's armed forces, including lawyers currently serving in the Ukrainian Territorial Defense Forces. Working with WUNDERfund, LWOB noted it has discussed information collection and potential challenges with government partners in the U.S. and the EU.   
In partnership with WUNDERfund, LWOB stated it also started considering opportunities to support mental health initiatives for lawyers and judges in Ukraine who are adjudicating war crimes cases or are otherwise in need of mental health resources. WUNDERfund, the corporation noted, primarily focuses on mental health and has developed a platform providing these services to members of Ukraine's Territorial Defense Forces. LWOB and WUNDERfund are looking at opportunities to expand mental health services and support and have discussed potential projects with lawyers in Ukraine, the corporation explained.  
LWOB is also engaged with projects in Africa, Asia, the Caribbean and Central and South America. LWOB is funded through a variety of federal grants and donations. 
Rose Staley said law firms and pro bono lawyers have contributed to more than 5,000 workshops and programs LWOB has developed and delivered over the years. Some of the law firms provide financial support to LWOB as well, but Rose Staley noted the biggest source of support from law firms is often the pro bono hours which aids in the development and implementation of programs.
LWOB has 35 student divisions from different universities mostly in the U.K. and while there are no student divisions in Colorado currently, Rose Staley said that could be another opportunity.