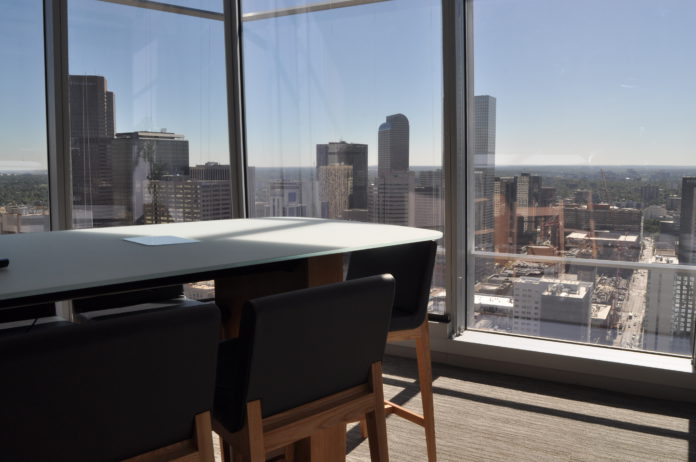 1144 Fifteenth is one of the most notable additions to Denver's skyline in decades. Two local law firms have moved into the 40-story office tower in LoDo. They let us inside to take photos and tell us what they like most about being in the new building, which has tenant perks including a fitness center, outdoor terraces and 13 floors of parking space.
Greenberg Traurig was looking for a "flexible, modern space" with "environmentally sensitive features," according to David Palmer, co-managing shareholder of the firm's Denver office. The skyscraper has LEED Gold certification and an advanced air filtration system.
The firm was attracted to 1144 Fifteenth because it was a new building "by one of the country's premier builders," Palmer said. 
"We love the location, the quality of finish [and] the workout facilities," said Palmer.
The building's floor-to-ceiling windows provide panoramic views of the mountains from the lobby and corner conference rooms, while other meeting rooms look out toward the city.
The café space serves as a gathering spot for attorneys and staff from across departments and practice groups to mingle or relax. 
-Jessica Folker, [email protected]