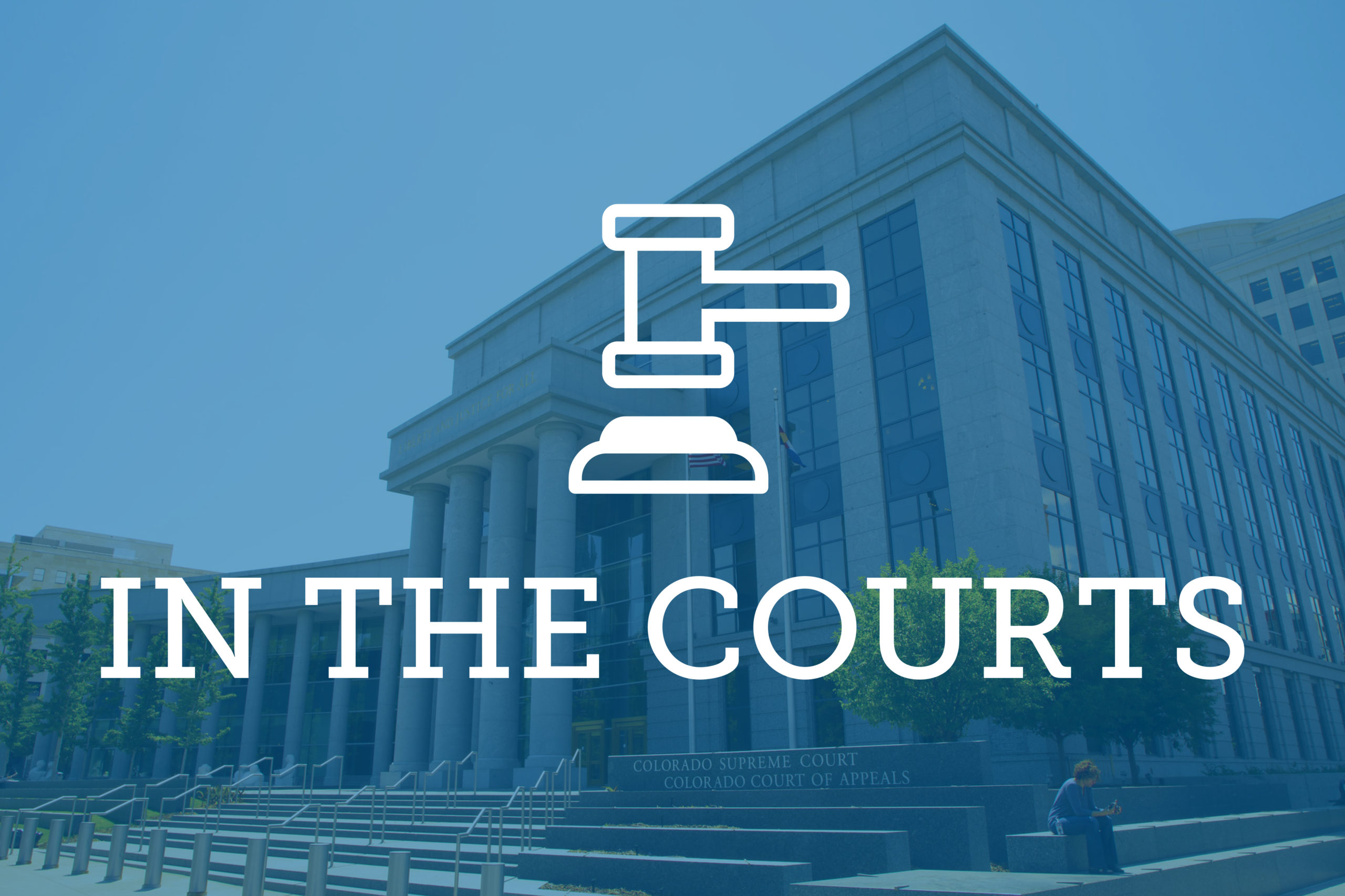 Masterpiece Cakeshop owner Jack Phillips renewed his legal battle with the Colorado Civil Rights Commission when he filed an Aug. 14 complaint in federal district court. In Masterpiece Cakeshop et al v. Elenis et al, Phillips has alleged continued animosity by the commission toward his religious beliefs. According to the Alliance Defending Freedom, the organization representing Phillips, the lawsuit comes from a June ruling against Phillips for "probable cause" of discrimination based on "sex and or transgender status." Phillips had refused to create a cake for a customer to celebrate their gender transition.
"It is now clear that Colorado will not rest until Phillips either closes Masterpiece Cakeshop or agrees to violate his religious beliefs," states the complaint. "The state's continuing efforts to target Phillips do not just violate the Constitution; they cross the line into bad faith. This Court should put a stop to Colorado's unconstitutional bullying."
Among other claims for relief, the complaint asks for an injunction against enforcement of the Colorado Anti-Discrimination Act for Phillips' and others refusal of products or services that go against their religious beliefs and for indicating particular messages they will not express through goods or services because of those beliefs. The complaint names as defendants all seven members of the Colorado Civil Rights Commission as well as Attorney General Cynthia Coffman and Gov. John Hickenlooper.
But the new complaint's timing and similarity to the first Masterpiece Cakeshop case and others around the U.S. bring challenges for both sides. 
Steven Collis, a partner at Holland & Hart who chairs the firm's First Amendment practice group, said as the case moves along, the Civil Rights Commission will likely have a fight on its hands to prove it treated Phillips' case neutrally after the U.S. Supreme Court ruled the commission showed hostility toward Phillips' religion in the first case. Also potentially complicating matters for the commission, Collis said, is the appearance that the person who filed a complaint with the Civil Rights Commission after Phillips refused to create a cake celebrating their gender transition was intentionally baiting Phillips. 
"It's not as if they accidentally went into the shop and were suddenly surprised to learn that he wouldn't bake them a cake to celebrate this event," Collis said. "And that begs the question of, could that be considered targeting from the state?" He added it's not yet an established legal doctrine, but is an interesting theoretical question. 
Also still unresolved are cases in which the Civil Rights Commission took an opposite position than with Phillips, allowing three bakers to refuse to create a cake for a customer who requested a cake with a message opposing same-sex marriage. The commission ruled the bakers' refusal was permitted because they said they would not create an item expressing that message for anyone. Collis speculated the disparity could still prove problematic for the commission going forward. 
"Those are still out there, so I don't know how the commission argues that somehow those don't apply anymore."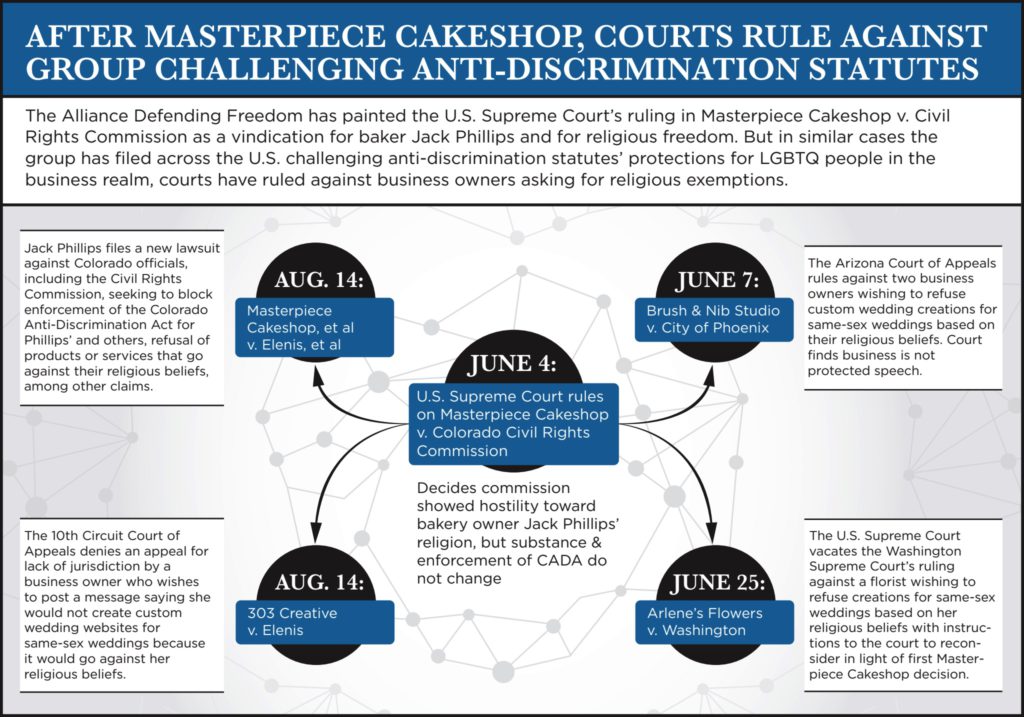 ADF's Cases Around the Country
The Alliance Defending Freedom has represented business owners in a handful of other cases in the U.S. in which they challenge anti-discrimination statutes' prohibition of discrimination against the LGBTQ community by asking for religious exemptions. But courts have ruled against the business owners for the most part, even in decisions released in the wake of the first Masterpiece Cakeshop ruling.
Craig Konnoth, a University of Colorado law professor, said Phillips and the Alliance Defending Freedom seem to adopt a cornucopia of legal arguments just to find out what they can make stick. "In this complaint, Phillips has very much adopted, and the Alliance Defending Freedom has very much adopted the kitchen sink approach," he said. "And the fact is they're asking the courts to do something unprecedented. The courts have already held in the civil rights era that … people could not use religion and speech claims to justify their discrimination." 
But he added Judge Brett Kavanaugh, President Donald Trump's nominee to succeed Justice Anthony Kennedy, would likely be more decisive than Kennedy, as well as more sympathetic toward religious freedom than LBGTQ rights. The June Masterpiece Cakeshop ruling marked the second time Kennedy punted on the question of religious exemptions to anti-discrimination policies, the first time in a 2010 concurring opinion in Christian Legal Society v. Martinez.
But Collis said Phillips' religious liberty argument may not play as prominent a role in his new lawsuit as it did in the first Masterpiece Cakeshop case. Though he may still make it, Collis said it seems less likely the case would see the same amicus support from religious groups in droves. 
"I think one potential difference is the event that he's being asked to celebrate this time, a gender transition, is arguably not a religious event," he said. "So it's conceivable that the establishment clause argument might fall away."
The same week as the June Masterpiece Cakeshop decision, the Arizona Court of Appeals ruled a pair of business owners cannot refuse to make artistic creations for same-sex weddings based on their religious beliefs. And on June 25, the U.S. Supreme Court sent a case back to the Washington Supreme Court to reconsider, in light of the Masterpiece Cakeshop decision, when the state court has previously ruled against a florist who refused to create arrangements for a same-sex couple's wedding.
On Aug. 14, the same day Phillips filed the latest lawsuit, The 10th Circuit Court of Appeals denied an appeal for lack of jurisdiction in 303 Creative v. Elenis for a business owner who wishes to post a message saying she will not create custom wedding websites for same-sex weddings because it goes against her religious beliefs. The court had delayed proceedings until the Supreme Court released the first Masterpiece Cakeshop decision because of the case's similar facts.
Collis said while he doesn't believe the 10th Circuit's order will prove directly relevant to Masterpiece Cakeshop v. Elenis, he said it's conceivable the federal court might rule it is not yet the right venue for the complaint. Phillips has not yet exhausted his case through the state's administrative process, since thus far the Civil Rights Commission has only found probable cause of discrimination by Phillips. 
But rather than espousing Kennedy's call for tolerance for religion and the LGBTQ community in Masterpiece Cakeshop, Collis said it appears neither side will be satisfied until the Supreme Court draws a line on religious exemptions to anti-discrimination statutes. "My guess is, if it's not this case, it's going to be another one. Someone's going to keep forcing these things up and the Supreme Court is eventually going to have to make some kind of a ruling." 
— Julia Cardi