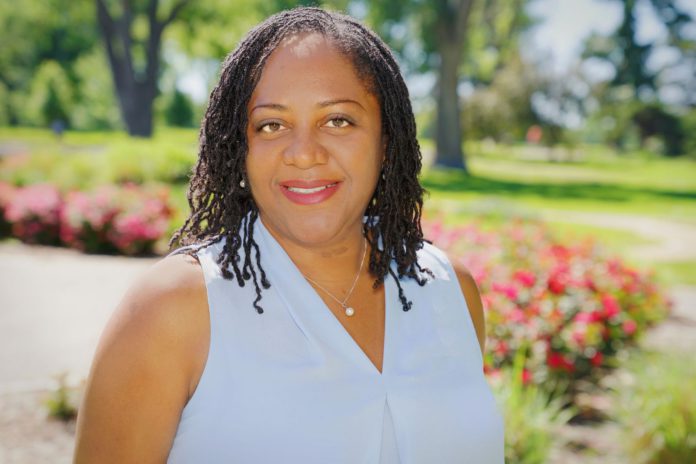 Jill Dorancy will join the Denver District Court bench July 1. Since 2017, she served as counsel for Jost Energy Law where she handled regulatory matters and litigation in oil and gas. 
Including Dorancy, Gov. Jared Polis has appointed five Black judges to Colorado's courts during his first 18 months, and the majority of his judicial appointments have been women. Dorancy spoke with Law Week about diversity in the oil and gas sector of law, why she chose to apply for Denver's bench specifically, and why inclusion is necessary for diversity to be meaningful.
Law Week: When we talk about diversity within the legal profession, we tend to talk about it in really broad terms, whether it's within firm leadership roles, within the judiciary, things like that, but I have to imagine that diversity varies between different types of law practice. What have you seen about diversity within the oil and gas practice specifically?
Dorancy: I started with oil and gas about maybe eight or nine years ago. My first real foray into oil and gas was with the Oil and Gas Conservation Commission as a hearing officer. When I first started, I was the only woman and the only person of color in that role. There had previously been hearing officers who had been women. 
In the oil and gas regulatory world, women are definitely well represented. I think women do a good job before the Commission of ensuring that their positions are heard. And they're well represented in terms of representing clients and representing individuals. But when it comes to people of color, it's not a very diverse field. So, in my time at the commission, it was rare that I would see a person of color participating in front of the commission. 
But I know there are a number of people of color who do represent oil and gas companies as in-house counsel, and it's still not a high amount. The field, in general, is pretty lacking in diversity. So I consider myself fortunate to have been selected by the firm that I was selected [by] as well as by the commission when I decided to enter this this particular area of law.
Law Week: And because you are a woman and because you are a person of color, does that influence the type of mentorship and guidance that you have sought out over the years throughout your legal career? 
Dorancy: At this point, pretty much half the profession are women. So for me to dive into oil and gas, or any field at this point, as a woman I think is a lot easier. I've been able to find a lot of mentors, even those younger than me, such as the partner at the firm where I work, Jamie Jost. She's the founder of Jost Energy. She was a great support for me when I entered the industry as well as when I decided to go to her, though she's been practicing for less time that I have. 
But I've also been able to find people who serve as in-house counsel who have been good mentors for me, people who understand the industry helped me to navigate through how it is to represent operators before local governments and in these different fields. 
It's definitely hard to find people of color who can do it, but there are people who did step up to give me guidance. But in general, finding mentors throughout my career, it wasn't difficult at all. I knew that I could always turn to attorneys who were more experienced than I was in the Sam Cary Bar Association to find support, and Sam Cary has been, really, a wealth of information and support for younger attorneys. I'm proud to have served as their vice president for the last six months. 
Law Week: Can you talk a little bit about what influenced your desire to join the bench? 
Dorancy: I was raised in Brooklyn, New York, in the 1980s. At that time, New York was not the fancy cosmopolitan urban playground it is today. Drugs were rampant and homicides were at a near-record high. Violence was so common it was hard to imagine a day without a story of police brutality or violence. Parents like mine were afraid to let their children play outside for fear that the police would mistake us for criminals. Looking back, this instilled a strong sense of right and wrong in me and was the impetus for becoming a lawyer. From a young age, I wanted justice for victims.
I just wanted to be able to participate in the judicial system in a way that could help people and could further people's understanding and people's experience with the system.
When I was really young, I remember being in court and just remembering that the judge was really compassionate. And it stayed with me. And it stayed with me through high school and at that point I decided to work for a judge there.
I worked for a judge on the civil court in New York. He impressed upon me how important it was to give back to the community where I lived. We talked about how the judiciary should reflect the community it served because the most effective way to get justice is to have as much of a cross-section of the people in the community as possible. He had previously been in the criminal division prior to my internship with him, and he would reflect on how every decision a judge entered could impact the trajectory of a defendant's life, particularly determining how much bond should be imposed on an individual accused of a crime. His experiences impacted the way he saw the justice system and he shared those with me.
I applied for Denver District Court in about 2013 [or ] 2014. And obviously, I wasn't successful back then. But I had the opportunity then to speak to some of the commissioners who just really explained and helped me figure out what the weaknesses in my application were. And that helped me, so I took some time to really think about why I wanted to be a judge and where I can strengthen my application and what I could do to make myself a more desirable candidate. 
And I think waiting and taking that time to apply was definitely a great decision on my part. I think over the course of the last five years, I've become a lot more thoughtful. And as a hearing officer, I had to be that way. But I was still early in my experience as a hearing officer, but I've been more thoughtful about the ways that decisions impact people and about communicating and working with the public. And being at the commission helped that for me. And I was glad that I've had the time to work through that before being appointed. 
Law Week: Was there anything in particular about the Denver District bench that drew you? Would you have been open to being a judge somewhere else in the state?
DORANCY: The entire time I've lived in Colorado, I've lived in Denver. I think part of the reason I've chosen to live here is because I love everything about Denver. The culture here, the people here, just how open it is in terms of thought diversity. I think Denver is unique in the state in that way.
I had also applied actually for the county court about seven or eight years ago, and obviously I wasn't successful there either. But upon reflection, I applied for Denver County Court because I wanted to work with people. 
My experience is pretty broad. I had my own practice for 12 years. And in those 12 years, I represented juveniles; I represented parents who were involved in the dependency and neglect system. And I was a CFI, a child and family investigator. I represented a number of people charged with criminal complaints.
I just did a lot in my career. And at the time I applied for county court, I thought that that was where I wanted to be because it's like the people's court. It's working directly with people. And once I started in with the Oil and Gas Commission, I realized there's such a need for diverse perspectives on the district court bench.
People of color are obviously getting divorced. There are custody matters. There are criminal cases, high-level criminal cases in which people of color are disproportionately represented. And there were civil cases, which have a need for different eyes and different perspectives. 
And so, after working with complex litigation and complex cases, I realized that it would be a great opportunity for me to take what I know and what I've learned representing different types of people to the district court bench. And that's part of the reason why I chose district court and I've never gone back to apply for county court, because of that experience.
Law Week:  I want to ask about your views on tokenism and diversity and inclusion efforts that are really purely symbolic. And I've heard from some, whether it's CLEs, speeches, things like that about how to make sure diversity and inclusion efforts are genuine and not just tokenizing. 
And I've also heard from attorneys who have also said that they know that that they are viewed as tokens in some capacity, that that even simply by being one of very few women or one of very few people of color in any room. When you're picked for a new opportunity, like the judgeship or a new job at a law firm, is your identity as a woman or as a person of color on your mind or in the back of your mind? Or is it something that you just put out of your mind, because you know that you're qualified for whatever it is and dwelling on it would be tiring? 
DORANCY: I think that this is something that every person of color who has ever advanced probably considers. But I worked in a firm with four attorneys, white women. And I didn't feel like I was a token. Having worked in the role before, they had worked with me. They had seen me work and they appreciated the work that I had done. They invited me to come work with them because they had seen the quality of work that I could put out, and they appreciated it.
But does that quell the nagging voice that, was there an extra kind of thought process put in because I'm a Black woman? I mean, that's always going to be there. But I just have to keep moving forward. I can't consider and worry about what other people's thoughts are in trying to achieve my own goals and in trying to move myself forward.
But in terms of accepting this position as a judge, I also recognize that Nikea Bland was appointed in in November. She was sworn in on my birthday on Feb. 13. And I just remember how proud I was that she was there. And I recognize that Judge Bland and I are so different in our backgrounds. We're so different in our practices; we're so different in who we are.
So I can't take it from the perspective that I'm a token, I have to take it from the perspective that one person was appointed because she had a strong and well-respected practice in criminal law. And I have a diverse background. Her parents are from Virginia, you know, they've been in this country for years. My parents came here and sought asylum almost 50 years ago, so our backgrounds are so different. I would hope that people aren't looking at us only as Black women, because I think there's diversity within each diversity. We're not monolithic. We're different people.
The last thing I want to say is, I've always seen the issue of diversity and inclusion as separate. I see diversity as having someone in the room that optically demonstrates that there's a different person in the room. I think true inclusion not only allows for that person's voice, but allows for different perspectives, and actually accepting that voice and incorporating those thought processes into whatever decisions are being made. 
So while I appreciate diversity, I think the issue of inclusion and really incorporating those ideas and those perspectives of marginalized communities [is] really where inclusion comes in. And yes, there were times that I'm the only person of color in the room; I'm the only Black woman in the room. But in my opinion, that gives me the opportunity to present a different perspective than what everyone else is looking at. And, and while some people may look at that as tokenism, I look at that as be as an opportunity to change people's perspective.
At the end of the day, what we want is to be at the table, and to make sure that whatever comes from that table is representative of where we are as a community and who we are as a community. 
—Julia Cardi