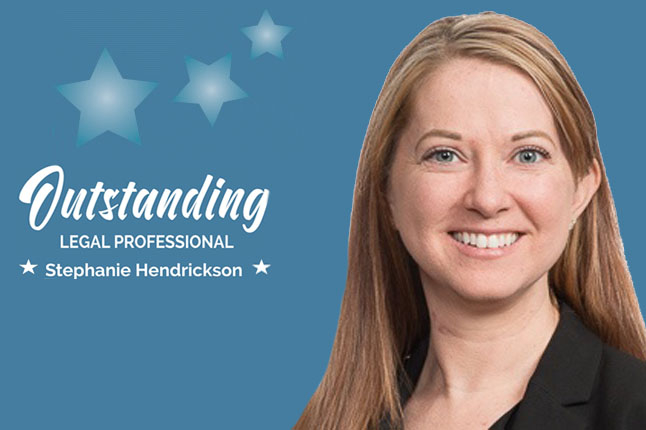 For Stephanie Hendrickson, organizing and helping coworkers  in the Denver office of Armstrong Teasdale are not only part of her job — they're part of the "niche" she found in law.
Her firm describes her as the "go-to legal secretary." She describes herself as willing to give 100% of herself to a task, and as an organizational and helpful introvert who does her job so that attorneys can do theirs. Working mainly with the firm's litigation section, her knowledge, dependability and respect throughout the office are well known.
"I get to do the fun stuff," she said. "I get to listen to the fun stories of litigation, this happened and that happened, you get to hear the transcripts sometimes, I get the back end of it — it's the best of all of it."
Hendrickson loves being able to help organize each member of a team or operation into their correct place. She loves to read through case documents, listen to court recordings and organize people so that each piece of the process can work to its full potential.
"When you're an organized person, you have this fantasy that everything is going to go in a specific order and exactly to plan and be super meticulously thought out and executed — and of course we all know that in law, that doesn't happen," Hendrickson said.
Her role within the office covers a wide field of administrative tasks supporting the firm's litigation attorneys, but her work doesn't end there. Hendrickson mentioned she often is finding ways to help all the attorneys and staff of her office, squeezing in paperwork before deadlines and helping watch the front office when others are on lunch breaks.
She considers herself lucky to have worked with many different types of law, which led to her work in litigation, "where you get to be a project manager, you get to be an admin — you get to run so many different projects at once — to help others to maintain a common goal and help others," she said. "I just felt like that was my niche."
In litigation specifically, it can be extremely difficult to anticipate a move in the process, she said. After a crisis for a client, 30 emails in an afternoon and more sudden events, everything that had to be accomplished that day still needs doing and more.
Although she joined the firm in 2018, Hendrickson has had two decades of experience in the legal world. She can't believe it's been that long and still loves it as much as her first day. Needing to work her way through college, she began working in a two-person law firm that handled bankruptcy. Her plan was to become a lawyer, but her plans changed.
"I found through the experience … that my real passion is organizational schematics, and I like to organize people and things," Hendrickson said.  Doing the "behind the scenes stuff" has always been her passion in law. Although she fell into the work she does, she wouldn't have it any other way.
Hendrickson said she often check dockets and emails through the day in order to best accomplish what is needed in ever-changing environments. It's not unusual for her to reprioritize her entire day every few hours, she added. 
"Because I'm very type A, I just really like to keep things organized, and there are lawyers out there who can't do it themselves," Hendrickson said laughing. "I really like that my current team lets me do that for them … and lets them go do the things they're good at."
Her firm describes her as an "incredible" resource and part of the firm, and she finds solutions to complex problems and puts the clients of the firm first. Often, she'll take on many responsibilities and keeps in-tune to dockets and never misses a deadline for projects or filings.
Her quality service is so trusted by her firm that she was selected to additionally support two new partners in Salt Lake City besides her regular workload. He selection was described as being in part due to her talent of "reading minds," and knowing what is needed before someone has to ask for it.
Hendrickson also trains new secretaries as they join the firm. This task, much like other aspects of her work, is not just a job to her, it's a duty. In her career, Hendrickson said she had many great teachers ranging from attorneys to other legal professionals, and she fully believes in paying that forward. She said she has many moments where she thinks of a past mentor and how many "little pieces" she has taken from each one.
Key ingredients to be an "amazing assistant" are to know how to use technology, time-management and knowing keyboard shortcuts "which is a lost art," according to Hendrickson. By being able to know and use all these tools, she is able to perform more efficient and useful work.
— Avery Martinez