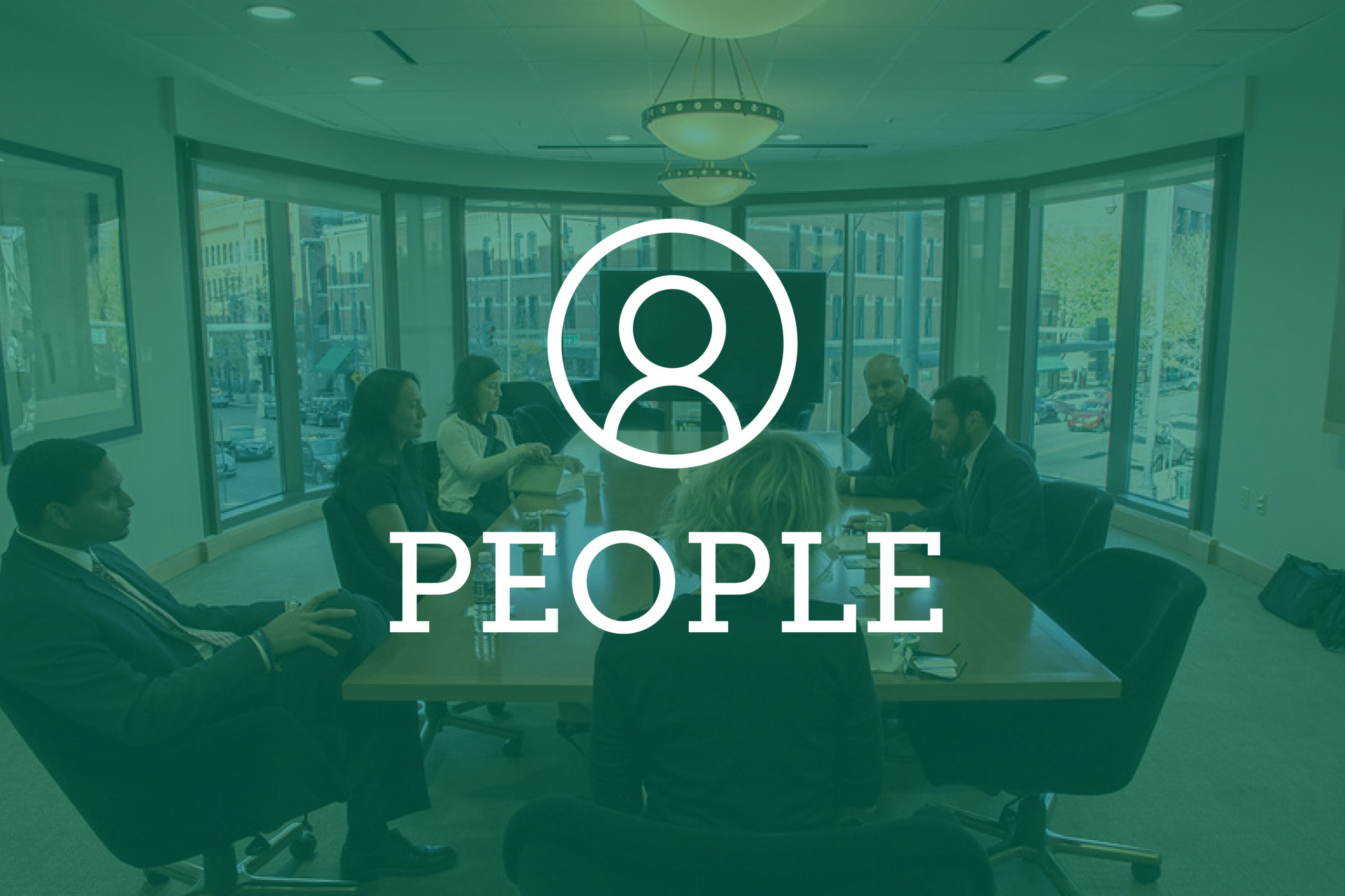 Polsinelli's Denver office will serve as the next home to the Colorado Lawyers Committee.
The Colorado Lawyers Committee is an association of 75 Colorado law firms that devote pro bono resources to public policy issues and systemic change.
In their work with the committee, Polsinelli lawyers have focused on topics including civil rights, immigration, homelessness, mental health an deducation.
"It's consistent very much with Polsinelli's overall values and support for pro bono in the communities where we have offices," said firm shareholder Gerry Niederman, who practices in health care. "So we do think it's a win-win situation."
Niederman said among other projects, the firm has a nonprofit legal audit clinic planned to advise up-and-coming nonprofit organizations in Colorado. He also said he and others, including the executive directors of the Colorado Health Institute and Connect for Health Colorado, plan to give a presentation to the Colorado Lawyers Committee's board of directors about current issues in health care. Niederman has served on the committee's board of directors, himself, since 2017. Polsinelli associateRyan Thurber is part of the Colorado Lawyers Committee Young Lawyers Division board.
"It's pretty open-ended, but very tangible," Niederman said of the possibilities for projects with the Colorado Lawyers Committee. "Part of the hope for synergy is that by being located here, not only does it support an important innovation in the legal community, but that any of our law-yers over time will become involved in projects in areas of interest."
Niederman has taken an interest himself in working with the Colorado Lawyers Committee to promote better access to health care and implementation of the Affordable Care Act.
He said there is not a specific time-line set for Polsinelli housing the committee in the firm's space.
"The Colorado Lawyers Committee is delighted to be in our new home in Polsinelli's Denver office," said Connie Talmage, executive director of the Colorado Lawyers Committee, in a news release. "The new space is beautiful, and the views are truly un matched anywhere else in the downtown area.We're looking forward to continuingour work with the attorneys at Polsinelli and other Colorado firms, and we're grateful for the generosity and hospitality of Polsinelli."
LATERAL WATCH
Denver International Airport announced Feb. 12 the appointment of Cristal Torres DeHerrera's its chief of staff. DeHerrera is currently the deputy city attorney for the City andCounty of Denver. She will begin her new role April 2.
As one of five executive vice president positions at the airport, DeHerrera will be responsible for managing the airport's external affairs business unit, which includes overseeing the airport's executive office and government and community affairs, including the DEN Commerce Hub.
DeHerrera will lead development of the airport's strategies, policies and plans related to legislative and regulatory activities at the local, state and federal levels.
Prior to her position with the City of Denver, DeHerrera was a partner at Brownstein Hyatt Farber Schreck where her practice focused on mergers and acquisitions, private equity, public and private securities offerings, capital formation and securities advice.
DeHerrera holds a law degree from the University of California, BerkeleySchool of Law and her undergraduate degree from Pitzer College in Clare-mont, California.
Hall Estill announced TuesdayRichard Manner joined the firm'sDenver office in an of counsel position.
Manner focuses his practice in the agricultural law, banking and corporate arenas.
He has served on the American Bar Association task force formed to recommend amendments to the Uniform Commercial Code on agriculture and agribusiness for the 2001 Article 9 re-visions.He has also served as a member of the Colorado Secretary of State's workgroup on farm product security filings. Prior to going into private practice, he served for 30 years as in-house counsel in the Farm Credit System.
Manner received his law degree with honors from Western New England University School of Law, where he was also the executive editor of theWestern New England Law Review.
ASSOCIATE WATCH
Fairfield and Woods announced Wednesday the addition of two new associates, Steven Paletz and Andrew Helm.
Paletz joined the firm's real estate practice group, where he will focus on real estate development, leasing and finance. Prior to joining Fairfield and Woods, he worked in private practice at a regionally focused firm based in Houston. Paletz earned his law degree from the University of Houston Law Center and his under graduate degree from Yeshiva University. Helm joined the firm's litigation practice group, where he will focus on a variety of matters, including insurance, insurance regulatory and general business litigation.
He also represents individuals and businesses in administrative matters concerning state and national regulators, including the Colorado Department of Regulatory Agencies.
Helm earned his law degree from the University of Denver and his undergraduate degree from ColoradoState University.
JUDICIAL ANNOUNCEMENTS
Gov. John Hickenlooper on Thursday appointed Sean Finn as a district court judge in the 17th Judicial District. He fills a vacancy created by the appointment of Judge Ted Tow III to the Colorado Court of Appeals.
Finn currently serves as a chief trial deputy for the District Attorney's Office in the 20th Judicial District, a position he has held since 2010. In this capacity, Finn prosecutes felony offenses, supervises felony-level prosecutions of economic crimes — cases brought before the Boulder CountyGrand Jury — and appeals and civil matters brought on behalf of the District Attorney's Office, including for feiture of asset cases.
Finn also serves as an adjunct professor of criminal procedure at theUniversity of Colorado Law School.Prior to his current employment, he served as a deputy district attorney and senior deputy district attorney in the 17th Judicial District, as a law clerk for Judge Robert Russel of the Colorado Court of Appeals, as an associate at Davis Graham & Stubbs and as an Associate at O'Melveny & Myers in LosAngeles.
Finn earned his undergraduate degree from the University of Colorado in 1997 and his law degree from LoyolaLaw School in 2001.
Finn's appointment was effective Tuesday.
Gov. John Hickenlooper on Thursday announced boards and commissions appointments to the 5th Judicial District Nominating Commission.
For terms expiring Dec. 31, 2023, Michael John Bordogna and Leslie Cook-Knerr, both of Leadville, were appointed to serve as non attorneys and as Democrats from Lake County.
Each Judicial District Nominating Commission consists of seven citizens residing in that judicial district. No more than four members can be from the same political party, and there must be at least one voting member from each county in the district.
In all districts with populations of more than 35,000, the voting members consist of three people admit ted to practice law in Colorado and four people not admitted to practice law in Colorado. In judicial districts with populations under 35,000, at least four voting members are people not admit-ted to practice law in Colorado.
It is determined by majority vote of the governor, attorney general and chief justice how many, if any, of three remaining three members will be per-sons admitted to practice law in Colorado.
CLARIFICATION
The Feb. 5 article "Wheeler Trigg O'Donnell Celebrates 20 Years" stat-ed WTO has taken a number of cases to the U.S. Supreme Court, including Golan v. Holder. While members of the firm served as co-counsel and appeared as counsel of record at the Supreme Court, WTO did not make the oral arguments in Golan v. Holder.