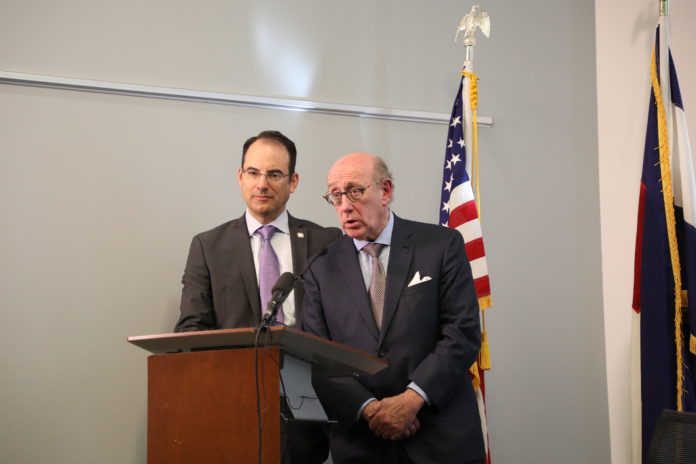 People who were abused as minors by Catholic priests in Colorado may now seek payment under a new program launched last week.
The Colorado Independent Reconciliation and Reparations Program has begun accepting claims from individuals who survived sexual abuse from priests in the Archdiocese of Denver and the dioceses of Colorado Springs and Pueblo. The voluntary program is being offered to victims as a confidential alternative if they don't want to pursue claims in civil court.
The program, led by attorney Kenneth Feinberg and his associate Camille Biros, will review victims' claims and decide who will receive payments, and how much, independent from the Catholic Church. Feinberg previously oversaw the relief fund for victims of the 2012 Aurora theater shooting and has been involved in many other high-profile disaster compensation or settlement funds. 
Feinberg and Biros are administering similar programs in California, New Jersey, New York and Pennsylvania to compensate victims for sexual abuse at Catholic dioceses.
Colorado Attorney General Phil Weiser announced the compensation program Oct. 7 in a press conference at the Ralph L. Carr Judicial Center. The program seeks to help sexual abuse victims "improve, get treatment they need and get a measure of acknowledgement that they were wronged," he said.
The compensation fund is part of a program Weiser announced in February, which also involves an independent investigation into how Colorado dioceses have handled sexual abuse allegations. Former U.S. Attorney of the Colorado District Bob Troyer, who is serving as a special master for the investigation, is expected to issue an independent report on Catholic abuse claims later this fall.
The compensation program is limited to claims of abuse in the Denver, Colorado Springs and Pueblo dioceses, and it does not include Catholic orders in Colorado, such as Jesuit or Franciscan priests.
Victims who might have been barred by civil statutes of limitation may still be eligible for reparations under the IRRP, which doesn't limit claims by how long ago an alleged incident occurred. All new reports of child sexual abuse submitted to the program will be forwarded on to law enforcement.
The program is being compared to reviews and investigations conducted by other states. A grand jury in Pennsylvania issued a report in August 2018 showing hundreds of priests in the state victimized more than 1,000 minors over more than 70 years.
Weiser said his office lacks the authority that its Pennsylvania counterpart had in that Colorado's investigation doesn't have a grand jury. "But what we do have is the ability to work collaboratively," in creating processes to independently review claims and compensate victims, he said.
Claims will be paid entirely by the dioceses, and the IRRP has full discretion on how much money each claimant receives, with no cap on the program's total awards or individual awards. Feinberg said that individual payments under similar programs in other states have ranged from $10,000 to half a million dollars.
The dioceses have agreed to abide by whatever awards the IRRP issues and cannot appeal them, Feinberg said. Claimants aren't asked to waive their rights to sue the diocese, he added, until after they learn the amount of the award offer and choose to accept it. The registration deadline for new claims is Nov. 30
A volunteer committee chaired by former U.S. Senator Hank Brown will oversee the program. Committee members include retired 10th Judicial District Judge David Crockenberg, former El Paso County District Attorney Jeanne Smith, community leader Laura Morales and Nancy Feldman, former manager of Colorado's Office for Victims Programs.
No representatives from the three dioceses were present for the press conference.
Biros said 65 claimants have previously filed claims of abuse in the three dioceses. Feinberg said 65 claims "relative to other states is not a huge number, thank goodness," but he noted sexual abuse claims have also been settled in Colorado under a previous program in the mid-2000s. Estates or heirs of victims who may have committed suicide from child sexual abuse aren't eligible for compensation under the Colorado program, Biros said.
Asked why Special Master Troyer's report isn't being released at the same time as the reparations program is being announced, Weiser responded, "We don't want to hold this up, frankly."
"We want to open the window to get people to come forward to start getting things processed," Weiser said. "We are working on the report and expect it later this fall." He added that his office hopes the report comes out before the Nov. 30 registration deadline for new claims.
Weiser said people may make a claim by calling 720-508-6003 or submit one online at www.coloradodiocesesirrp.com.
Feinberg said he and Biros learned through administering similar programs in other states that what claimants often want even more than compensation is "independent reviewers validating the wrong that was done to them," he said. "It means a huge amount to some people."
— Doug Chartier