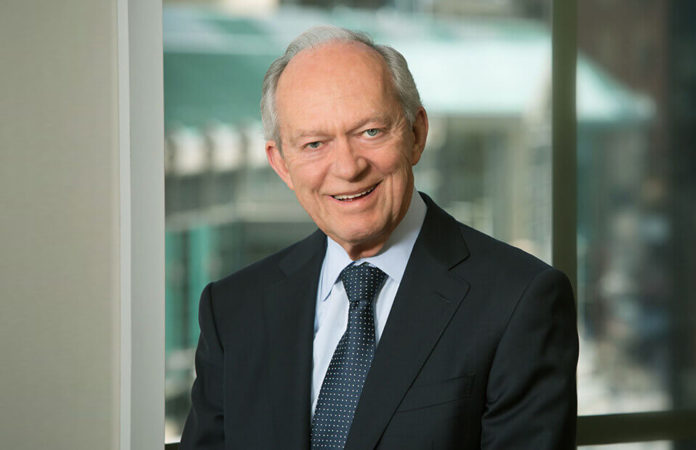 Forty years after its inception, Denver firm Moye White LLP announced founder John Moye died at age 77 from complications of Parkinson's Disease. 
"It's an especially sad day for us at Moye White as we grieve the loss of a man whose principles are deeply embedded in our firm's culture," said Moye White managing partner Thomas List. "John absolutely loved the practice of law and his approach — a combination of intellect, ethics and compassion — is a model for us all and for the many other lawyers who worked with John over the years. We recognize the vast contributions John made as a lawyer, humanitarian and philanthropist, and in light of his high standards for professional excellence and integrity."
As an acclaimed instructor in the legal community, Moye was sought after for continuing legal education programs and bar review programs across the country, training approximately 400,000 U.S. law graduates, according to Brittany Kauffman, interim CEO of the Institute for the Advancement of the American Legal System at the University of Denver.
For his contributions to legal education, Moye was awarded the Robert B. Yegge Excellence in Teaching Award and an honorary doctorate in law from the University of Denver.
"John was a visionary in the practice of law and an innovator within our legal system," Kauffman wrote in an IAALS blog post. "His passion for justice and the betterment of society were at the forefront throughout his life and career[…] As Coloradans, we are proud to have had John among our leaders — and at IAALS, we are proud to have had him as family. He will be greatly missed."
From 1974 to 1979, he served as a professor of law at the University of Denver's Sturm College of Law. During his time at DU, Moye won the students Award of Merit in 1972; professor of the year in 1973, 1974, 1976 and 1977 and the Outstanding Faculty Award in 1978. 
"John was a highly respected lawyer, an immensely gifted teacher and a true friend of the University of Denver," Bruce Smith, dean and professor of law at Sturm, said in a public statement. 
In addition to his passion for education, Moye was also recognized as a leader and pioneer in the field, receiving awards including The Award of Merit — the Colorado Bar Association's highest accolade — and the Dana Crawford Award for Excellence in Historic Preservation.
"While receiving recognition and honors throughout his distinguished career, John was characteristically humble," Moye White said in a press release. "A favorite certificate, situated in the middle of a phalanx of others displayed on his office wall, was an ornate, hand-drawn parody created by a former student which read in part, 'to fill out an already ostentatious display of awards.'"
Although recognized for his custom-tailored suits, the legal community knew Moye for his genuine approachability, kindness and commitment to open and ethical firm culture.
Moye's professional expertise included corporate, commercial, banking, partnership and contracts law, specifically chosen to spite a Cornell professor who told him he would never understand contracts. 
Graduates of Moye's classes and bar exam lectures fondly remember his "Contracts Rap," which articulated more than 60 contract law concepts through rhymes and mnemonics.
"I can't say it in rap or rhyme, and I can't spin it on a vinyl; but, simply put, John's heart was as big as his brain," IAALS founding Executive Director Rebecca Love Kourlis said, referencing John's love of music and how he often used it to help teach complex legal topics. 
In 2006, alongside Kourlis, Charles Gates and Chancellor Emeritus Dan Richie, Moye co-founded IAALS, an independent research center at DU.
"IAALS grew out of a cocktail napkin conversation with John, and he walked side by side with all of us for more than a decade, contributing hours, wisdom and energy," Kourlis said. "His legacy will echo and inspire for decades to come."
In a 2017 profile of Moye, Kourlis regaled Moye's support, resilience and strategic thinking, noting that Moye "ha[d] never heard the words 'it cannot be done,'" to which IAALS was no exception. Kourlis wrote that she could not "even begin to estimate" the amount of time and energy Moye donated to the emerging organization. 
"My idea of perfect happiness is enjoying healthy and vibrant relationships with the people with whom I spend most of my time: my wife, my children, my grandchildren, my partners, my clients and my friends," Moye said in his 2017 IAALS profile. "If at the end of the day, I can say I spent worthwhile time with them, well then I'm perfectly happy." 
Moye's dedication to the community led to leadership positions at dozens of local organizations. He served as the president of the Colorado Bar Association, chair of the Colorado Historical Foundation and director of the Denver Botanic Gardens and Colorado Public Radio. Additionally, Moye served on the Board of Law Examiners, the Stapleton Development Corporation, the Denver Urban Renewal Authority and Downtown Denver, Inc.
In his early years, after obtaining his bachelor's degree from the University of Notre Dame, Moye graduated from Cornell Law School with distinction and went on to serve a four-year station at Lowry Air Force Base. In 1976, he founded Moye White and helped to grow and evolve the firm over several decades. 
"He's been my partner, confidant and friend for decades. John was the consummate lawyer whose intellect, ethical standards and human compassion were a model for us all," said firm partner Edward White. "The legal community is diminished by his loss. We at Moye White are privileged to have practiced law with him and will continue to live up to his high expectations. We extend our sincerest condolences to his family."
Moye's Celebration of Life event will be held at the DU Newman Center from 4 to 6 p.m. on Wednesday, July 6th.