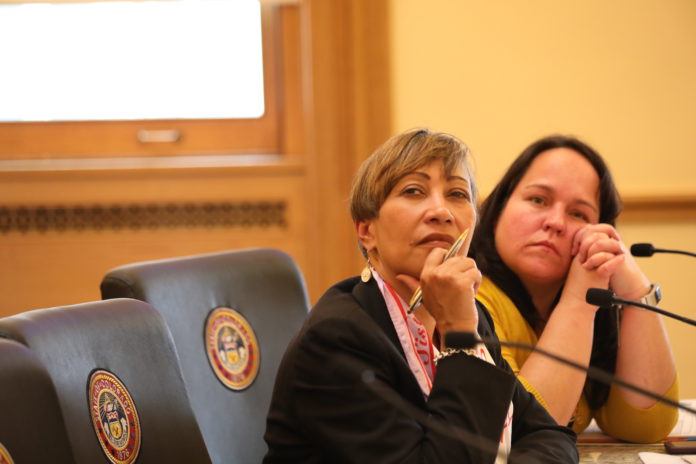 A bill for paid family and medical leave in Colorado appears on its way to passing the Democrat-controlled legislature, but for now the sponsors have decided it needs more work before it passes out of the Senate Finance Committee. After a nearly eight-hour hearing Tuesday afternoon and evening, the committee laid over Senate Bill 188. 
The marathon hearing followed the bill's first committee session on March 13 in Business, Labor & Technology, for which senators received intense criticism for not rescheduling despite the snowstorm that made getting to the Capitol difficult.
Much testimony in favor of paid leave focused on how the availability of it eases economic stress for low-income people who can't afford to take unpaid leave to deal with their own health condition or care for someone close to them. Proponents also focused on potential benefits for small employers who have not been able to offer private paid leave and could better compete with large employers for workers with a state-administered program. But almost as many people also showed up to protest the bill, decrying its lack of carve-outs for small businesses or those that already offer their own paid leave programs. There also was much debate about the bill's definition of a "family member" that a person can take leave to care for, with some concerned it's overly broad.
The current bill defines a family member as an immediate family member, domestic partner and "any other individual with whom the covered individual has a significant personal bond that is like a family relationship, regardless of biological or legal relationship." Democratic Sen. Faith Winter, one of the bill's primary sponsors, said the definition intends to recognize that non-traditional families are becoming more common.
By contrast, the federal Family and Medical Leave Act defines a covered family member as a spouse, son, daughter or parent.
An amendment may be introduced to shore up the definition so people won't receive leave to care for casual acquaintances or others they don't have a family-like relationship with that the bill doesn't intend to cover. It would limit the definition to someone with which an employee has a significant, ongoing emotional or financial relationship. The committee did not officially introduce or debate any amendments Tuesday after testimony.
As another safeguard, proponents of the bill also pointed to its requirement that a health care provider sign off on an employee's condition and how much time off they need.
One testifier shed light on the appropriateness of allowing the definition of a family member to include people who aren't blood relatives. Kris Garcia, testifying in favor of the bill, spoke about being kicked out of their home at age 15 after coming out as an LGBTQ person. Garcia's best friend ended up caring for them after Garcia was injured at work, and Garcia ended up providing support for their friend when he later got sick with AIDS. 
"Many LGBTQ, disabled and older adults do not have accessible relationships with biological relatives," Garcia said. "When they get sick, they often rely on non-blood relatives to help with caregiving."
Sen. Pete Lee wondered whether the squishy definition of a family member would create cost uncertainty for the leave program, since it's not yet known exactly who employees will request time off to care for. 
"Rising out of some of the testimony we heard was the definition of 'employee' and 'family relationship,' that the definition in the bill is somewhat ill-defined and imprecise, and some of the challenges that that might create to actuarily project what a program of this nature might cost," he said.
In response, Jennifer Greenfield, an assistant professor at the University of Denver's graduate school of social work testifying in favor of the bill, said New Jersey has recently expanded the definition of a family member under its own law, and it has not seemed to have any negative impacts.
"This year, they implemented an expansion that the governor just signed that actually closely matches what we are talking about here in Colorado," she said. "What they have found is that the program is imminently feasible. It has been affordable; the businesses there have not reported negative impacts." Greenfield added so few people take leave anyway to care for others that the program has not strained its funding structure.
Attorney Rachel Ellis testified representing the Plaintiff Employment Lawyers Association and the Colorado Women's Bar Association supporting the bill, and she said she believes SB 188's definition is reasonable. She added the Office of Personnel Management, which manages the federal government's civilian employees, uses a broad definition of a family member in administering leave.
The OPM's website lists multiple additional definitions for each covered relationship under the definition of a family member: immediate relative, parent, son or daughter, domestic partner and a committed relationship.
"The definition actually means something, and the amendment is actually very clear," Ellis said. "Please do not get hung up or distracted by this definition of family. It's something that's appropriate for our modern society."
— Julia Cardi