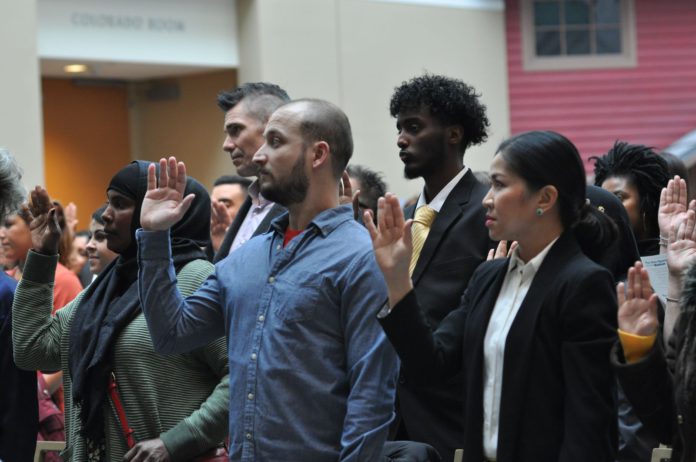 A total of 152 people from 50 countries became U.S. citizens during a naturalization ceremony in Denver on Feb. 12. It was the latest supersized citizenship celebration to be held in the state in the past year, following the swearing-in of 200 new Americans at Centennial Center Park in September — Colorado's largest nationalization ceremony since 2009.
Nationwide, naturalizations hit an 11-year high in fiscal year 2019, according to U.S. Citizenship and Immigration Services, with 834,000 immigrants obtaining U.S. citizenship, or about 100,000 more than the annual average for 2016-2018.
But the boost will need to continue for USCIS to tackle a backlog of nearly 650,000 people waiting to become citizens, especially since proposed fee hikes and November's election are likely to increase application numbers. 
Ming Hsu Chen, an associate professor of law at the University of Colorado, was project director for a report released in September about the backlog in naturalization applications. According to the report, the backlog in Colorado is among the biggest in the country, exceeding 9,300 as of late 2018. Wait times at the USCIS Denver Field Office ranged from 9.5 to 20 months at the time of the report. Nationally, processing times have doubled since 2016.
"I think those problems are likely only to get worse in the coming months," Chen said. "The reason I say that is, historically, interest in naturalizing spikes as presidential elections come closer." She said the cyclical spike in applications is likely driven by a mix of both negative incentives, like a desire to shield against unfavorable policy changes with a new administration, and positive ones, such as wanting to take part in the electoral process.
Representatives from the Colorado Secretary of State's office were on hand at last week's ceremony to help register new citizens to vote. Jessica Xu, originally from China, said she was motivated to apply for citizenship in part because she wanted to take advantage of the right to vote. She also hoped to gain the power of a U.S. passport and the ease of travel that comes with it. 
Xu, now an entrepreneur running a real estate investment company, first came to the U.S. on an H-1B visa. She became a permanent resident in 2012 and applied for citizenship in September 2018. Although the naturalization process was long — more than 16 months from the time of application to her swearing in — it was straightforward enough that she didn't need to hire a lawyer. 
Xu said she first applied in Seattle, where she lived for about a decade, and heard nothing for months. After moving to Fort Collins in July and changing the address on her application, the process seemed to move faster, and she completed her interview a couple months later.
The election isn't the only factor that could exacerbate the backlog in naturalization applications in the coming year. Immigration fee hikes also tend to drive up application numbers, according to Chen. In November, USCIS proposed increasing total fees for the application from $725 to $1,170. The agency's proposed changes also include eliminating most fee waivers for low-income immigrants and imposing application fees for asylum seekers, who historically have not had to pay. While the increase hasn't been finalized yet, even the expectation fees will go up could lead to an increase in applications.
Peruvian immigrant Mariela Polanco, who was sworn in at last Wednesday's ceremony, said her path to citizenship has cost her thousands of dollars. The Lakewood resident's immigration story is one of ups and downs, having started with a student visa in 1998, then H-1B visas while working for Jefferson County Schools and, later, marriage and eventual divorce from a Cuban immigrant in this country. She got her green card 10 years ago, which helped her feel more secure, but decided to apply for citizenship in March 2019 to eliminate any fear. It's a decision she made for herself and her son, who was born in the U.S.
"I made a choice. I want to gain the freedom of applying for any job. I want the freedom of staying or leaving. No more uncertainty," she said.
Polanco said most of her immigration costs have been for attorney fees. She consulted a high-profile immigration lawyer when applying for permanent residency. When it came time to start the naturalization process, she couldn't afford to hire another attorney, so she turned to the Littleton Immigrant Resources Center. She credits retired attorney and LIRC volunteer Antoinette Tadolini for helping her complete the last leg of the immigration journey. "She made a miracle," Polanco said.
In the vast majority of cases, naturalization applicants don't need to hire a lawyer, though some, like Polanco, might seek out volunteer services and citizenship workshops. But Chen said that might be changing as USCIS scrutinizes applications more carefully and the pipeline between immigration and enforcement grows closer, leaving open the possibility that applicants could be referred for deportation. 
"Given those kinds of stakes, I think people who ordinarily would have been able to handle it themselves now feel like they need to have an immigration attorney just to make sure that everything is right," Chen said.
A survey by the American Immigration Lawyers Association found more than 77% of respondents reported an increase in the rate of Requests for Evidence for naturalization candidates. While the increased scrutiny of applicants has slowed down the process, it's generally not leading to more denials among the general population, Chen said, although she has seen a drop in the approval rate for military members. 
According to USCIS, the approval rate for naturalization applications between Oct. 1, 2018, and Sept. 30, 2019, was approximately 90%, which is consistent with trends back to 2013.
"Despite a large workload, USCIS is completing more citizenship applications, more efficiently and effectively — outperforming itself as an agency," said USCIS spokeswoman Jessica Collins in a statement. 
The agency's Denver Field Office completed nearly 11,300 naturalization applications in fiscal year 2019, up from 9,400 the year before, and the office's average processing time for naturalization fell to 5.5 months at the end of FY2019, down from a peak of 12.9 months in June 2018, according to USCIS data. 
Aliria Bello's wait time was in the middle of those extremes. Bello, who came to the U.S. from Venezuela in 2001 as part of a work exchange for teachers, applied for naturalization in April 2019 and was sworn in last week. She said she applied for citizenship after five years as a permanent resident — in other words, as soon as she was eligible. 
"I couldn't wait to be a citizen," Bello said. She felt comfortable handling the application without an attorney because she teaches citizenship classes to other immigrants. 
Bello was so undaunted by the process that she found herself wishing immigration officers had asked her more than the 10 required civics questions during the citizenship exam.
"I knew all 100 questions," said Bello. "I said, will you please ask all of them? Because I'm so proud of myself."
—Jessica Folker