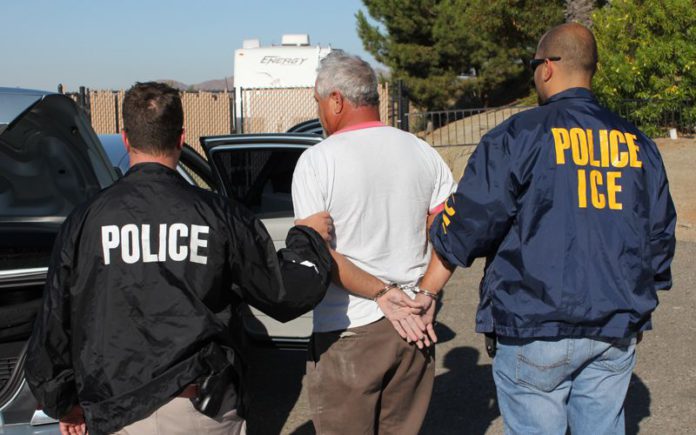 An individual detained by Immigrations and Customs Enforcement must be afforded the opportunity to prove citizenship in an Article III court, the 10th Circuit Court of Appeals said last week. 
Abraham Gonzalez-Alarcon was born in Mexico in 1993 and came to the U.S. in 2005, but was ordered removed in 2012. He reentered and was again ordered removed in 2013. After a third reentry, he was taken into federal custody and charged with illegal reentry. In April 2015, his removal order was reinstated. 
Gonzalez-Alarcon's mother was born in New Mexico, but she explained to the court she never received a U.S. birth certificate. She left the country shortly after she was born and later returned to Albuquerque for school. His mother and grandmother both submitted affidavits confirming her time in the U.S. and Gonzalez-Alarcon's citizenship. His criminal charges were dismissed, and he filed for a stay of removal. While in ICE custody, he then filed a habeas petition. He was detained for six months. 
Gonzalez-Alarcon's attorney Olsi Vrapi said U.S. citizens get picked up and detained by ICE "all the time." He says ICE advises these individuals to file an Application for Certificate of Citizenship through U.S. Citizen and Immigration Services, or an N-600, and if that's granted, ICE will release them. But Vrapi said that process can take several months or years in some cases. 
"ICE can't hide behind the N-600 anymore, they have to address this detention issue," Vrapi said.
In 2005, Congress passed the REAL ID Act. It created requirements for state driver's licenses and ID cards. One portion of the act outlines security and evidence standards for pieces of identification as they pertain to final asylum and deportation orders. Immigrant and civil rights organizations criticized the law because they viewed the changes as creating unnecessary barriers to asylum as well as proof of citizenship.
The REAL ID Act also includes a provision on district courts and their "exclusive jurisdiction to hear all causes or claims arising from any action undertaken, or any decision made, by the Secretary of Homeland Security." The rule also states a claim can only be brought if there's an allegation of violation of the U.S. Constitution. 
On this point, the 10th Circuit stated they found the "jurisdiction-stripping provisions [of the REAL ID Act] raise serious Suspension Clause concerns in one limited context" and that the Act seems to prevent federal court review. 
"These restrictions would effectively strip citizenship from those who do not clear various procedural hurdles. Citizenship cannot be relinquished through mere neglect," the ruling reads. The U.S. Attorney's Office declined to comment on the decision. 
The REAL ID Act changed the procedures for final deportation orders. After a removal order ruling from an immigration judge in a case, an appeal has to be filed directly to the federal court of appeals and may not be appealed in federal district court. 
But the Act also prevents claims if they aren't filed within 90 days, which Gonzalez-Alarcon was unable to do in detention, and he was not made aware of his citizenship status until after that window had passed. 
The Suspension Clause prevents the delay of unlawful detention, but the clause also stipulates that alternate methods or procedures besides a habeas filing must be explored first. Vrapi feels the ruling is a "tortured" way of achieving the same result: proving Gonzalez-Alarcon's citizenship.
"Once we go through these hoops and they don't work, then we can go back to file a habeas petition," he said. "They're saying 'the Constitution is almost about to be violated, but we still want you to try this other thing, and if that doesn't work you can still file a habeas petition."
The district court ruled that a petition for review was an adequate substitution for a habeas petition. 
Though the 10th Circuit said Gonzalez-Alarcon must be granted a path to prove citizenship, the court still directed him to proceed under the REAL ID Act procedures (appealing to the federal court of appeals) before filing a habeas petition. Gonzalez-Alarcon is still under constructive custody.
Vrapi said the significance of the ruling comes down to timing, and when review procedures are delayed, U.S. citizens are unlawfully detained. That's what happened to Davino Watson in 2008. 
He was arrested by ICE officers and detained for more than three years despite becoming a U.S. citizen in 2002.
"When a U.S. citizen who remains detained for months has to go through extra hoops to challenge the detention, that opens the door for the government to get sued," Vrapi said. "The next case that comes down road, that person may be detained for a year before he can go to court, and if it turns out he is a U.S. citizen, the government is going to have to pay a whole lot of money for detaining a U.S. citizen."
—Kaley LaQuea