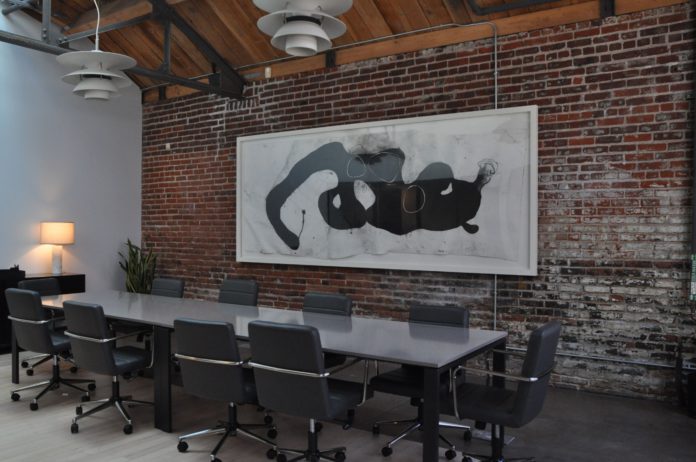 When the partners at Stimson Stancil LaBranche Hubbard closed on their office building in late January, they had plans to use the 5,000-plus-square-foot space for CLEs and seminars, fundraisers, art showings and community events.
While COVID has put those plans on hold, the former art gallery in City Park West has served its new owners as a space to collaborate and brainstorm, meet safely with clients and hold virtual hearings. It has also been a place for the partners and their families to go to escape the monotony of lockdown, and the spacious one-story brick building has been used for workouts, pizza nights and roller skating for the kids and a spot for the attorneys' five dogs to roam.
Partners Kate Stimson, Julia Stancil, Marci LaBranche and Jamie Hubbard had worked together at various points over the past two decades as criminal defense attorneys. After years at other firms — LaBranche at Ridley McGreevy & Winocur and Stimson, Stancil and Hubbard most recently at Haddon Morgan and Foreman — they say the timing felt right to go into business together, and the firm officially opened Jan. 1.
"I was ready for a change. And it was so exciting that it was three other women that I could work with and be partners with," LaBranche said. "And I feel like I was kind of at a point in my personal growth as a lawyer where I was comfortable enough to want to start something like this."
LaBranche said Denver defense attorney Pamela Mackey — "a very smart lawyer we've all worked with" — had once told her that ages 45 to 65 are the best years for an attorney. "So for me, it's been so exciting to get this in place right around that time," she said. "And if my next 20 years are my best years of my professional practice, and I get to do it with the three of them, how lucky are we?"
"It seemed like the right time where we had enough experience … but also a lot of the really great years ahead of us to have our own business and have this amazing building that's like a piece of art in the middle of the city," Stimson said.
According to Hubbard, buying a workspace they're proud of and can share with family and the community was an important step in going into business together. Law firms in general are easy to join and dissolve, Hubbard said, and often the commitment is only as long as the office lease. "We wanted to commit to each other as a partnership and commit to this being the place that we practice for the rest of our careers," she said.
They all practice criminal defense law, with Hubbard and LaBranche handling a lot of white-collar crime cases and Stimson and Stancil focused on sex crime defense. Their work includes civil rights and Title IX cases, domestic matters and civil litigation, especially civil cases that "feel criminal" because law enforcement might become involved or the client is under investigation. 
Although it has been a strange year to start a criminal defense firm as jury trials have halted, resumed and been suspended again in many counties, there have been some silver linings. 
Stancil said that in state cases, investigators have had trouble meeting people in person and have often resorted to phone interviews instead, alerting clients to the fact that they're under investigation. 
"We're getting in really early. We're getting an audience with the officer investigating or sometimes even prosecutors in the case," Stancil said, which has resulted in a lot of matters being resolved before charges are ever filed. "And that is the best result for everybody."
Stimson said the lack of trials has allowed them to focus on the other tasks that go along with starting a law firm and overseeing a major renovation. "I think it has been a blessing in some respects, because everything has slowed down," she said. "We all have very busy practices, and it's difficult to run a construction project of this magnitude. It's difficult to start any law firm."
Stimson added that while starting the firm during the pandemic has been "anxiety-provoking at times, because we took a lot of risks," their workload has remained "absolutely steady." "So we've been fortunate in that respect," she said. 
Despite the closure of colleges, bars and other settings where sexual assault or misconduct allegations often arise, the firm hasn't seen that work slow down, Stancil said, adding that sex crime investigations seem to have increased. 
"I've been quite pleased with how much work we've been able to continue getting and that business is very strong. It's just a little bit different," Hubbard said. 
She added that in federal cases, investigators have continued working but there haven't been many indictments due to a lack of grand juries, which has led to more pre-indictment work.
The pandemic has also led to work related to COVID's effects on the state's prisons and jails. In the spring, Hubbard partnered with the American Civil Liberties Union of Colorado to file a lawsuit against Weld County Sheriff over conditions at the Weld County Jail. 
The lawsuit was resolved last week, with the county agreeing to distribute masks, promote social distancing, comply with CDC testing guidelines and protect medically vulnerable people at the jail.
The firm has taken on pro bono cases arising from this summer's Black Lives Matter protests. "This summer was an interesting time to be a lawyer who cares a lot about social justice issues." Hubbard said. "I think most of us at various points attended some of the protests in support of Black Lives Matter and the other social justice movements that were going on all summer."
"It's important to me to spend some of my practice representing people who are on the ground taking care of and advocating for the issues that I care a lot about." 
—Jessica Folker