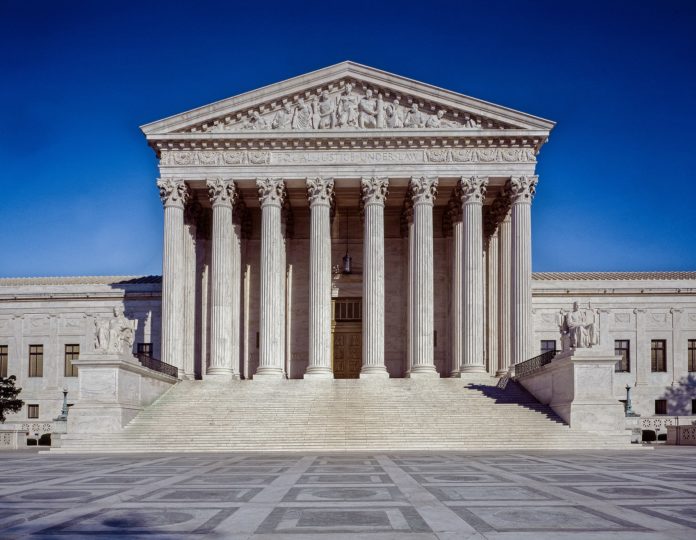 The U.S. The Supreme Court heard an appeal today from a doctor accused of running a pay-for-prescription operation in Wyoming and Arizona. The appeal of a 10th Circuit ruling was consolidated for oral argument with a similar case out of the 11th Circuit. 
Dr. Shakeel Kahn and his brother Nabeel Kahn appeal a 10th Circuit decision upholding their convictions for drug trafficking and money laundering and are asking the U.S. Supreme Court to decide if, under the Controlled Substances Act, federal prosecutors needed to prove they understood patients would be using prescriptions for non-medical reasons and if they're shielded from prosecution with a "good faith" defense. 
Dr. Shakeel Kahn started a medical practice in Arizona in 2008 and hired his brother Nabeel Kahn to help out with administrative tasks and pre-exam workups. After Nabeel Kahn joined the office, Dr. Shakeel Kahn began to focus on pain management which involved the regular prescription of controlled substances like oxycodone, alprazolam (Xanax) and carisoprodol, a muscle relaxant that some recreational drug users pair with opioids. Dr. Shakeel Kahn spent less and less time with patients and saw almost exclusively pain management clients. The brothers opened another practice in Casper, Wyoming in 2015 with Dr. Shakeel Kahn splitting his time between clinics and patients traveling to see him. 
Regional Arizona pharmacies stopped filling prescriptions written by Dr. Shakeel Kahn in 2012 and other practices at his clinics raised flags with authorities. The drugs Dr. Shakeel Kahn prescribed lined up more with what patients could pay rather than their therapeutic needs. If a patient needed more pills, they were charged more for the visit; if they couldn't pay for the medications, he wouldn't prescribe anything or write for fewer doses. Dr. Shakeel Kahn's practice also shifted to cash-only, but also accepted personal property, including guns, as payment. 
In 2013, the two brothers drafted a "drug addiction statement" they required patients to sign. The statement denied the doctor was a "drug dealer," denied any patients were "addicts" and added that patients would owe the clinic for any civil or criminal actions brought against it stemming from patient actions. One of the patients, Jessica Burch, died from an overdose of prescribed medications. 
Authorities executed a search warrant of Dr. Shakeel Kahn's houses and a business he owned in Wyoming. Officers seized patient files and some items not listed in the warrant including cash, guns and cars. 
The brothers and Dr. Shakeel Kahn's wife Lyn Kahn, who helped run one of the clinics, were charged and indicted with 23 counts including conspiracy to distribute controlled substances resulting in death, possession of firearms to further drug trafficking and money laundering. 
The trial court denied the brothers' motion to suppress evidence obtained in the searches and they were both convicted; Dr. Shakeel Kahn received a 25-year sentence and Nabeel Kahn a 15-year sentence. 
The brothers appealed their case to the 10th Circuit Court of Appeals which, in February last year, upheld the convictions. The appeals court ruled that the searches were lawful and therefore the trial court didn't err by including evidence obtained in them. 
The court also rejected the argument that the lower court gave bad instructions to the jury on the good faith defense. Dr. Shakeel Kahn argued the court erred by telling jurors a defendant's good faith must be reasonable, meaning he was convicted on a lesser mens rea than necessary. Nabeel Kahn argued the court erred by only extending the good faith defense to his brother and not him. 
Since appeal panels can't review decisions by a different panel of the same court, the 10th Circuit declined to revisit its prior holding that a licensed physician can be convicted under federal law for prescribing medications outside the scope of professional practice or for writing prescriptions that have no legitimate medical purpose. 
In front of the U.S. Supreme Court, the brothers raise three questions. First, when a medical professional is prosecuted for prescribing drugs outside "the usual course of professional practice," does the government need to prove the prescriber knew or intended the prescription to be used outside the scope of practice? Does the good faith defense protect doctors who have "an honest but mistaken belief" that they wrote a prescription in line with practice standards, and, if so, does that belief need to be objectively reasonable? And finally, should the "usual course of professional practice" and "legitimate medical purposes" prongs of federal law be applied together or separately? 
In their petition for certiorari, the brothers urged the court to take up their appeal which they say addressed a split between circuit courts over what prosecutors need to prove to convict prescribers under the CSA. 
All courts, except the 9th Circuit, hold that prosecutors must prove that a prescription was written outside professional norms or without a medical purpose. The circuits have a more scattered approach to the mens rea behind these prescriptions, however. 
Currently, the 11th, 10th and 5th Circuits rule that doctors charged with writing prescriptions outside professional norms are liable for writing the prescriptions regardless of if they understood the practice wasn't an industry standard. On the other hand, prosecutors in the 1st, 2nd, 3rd, 4th, 6th, 7th, 8th and 9th Circuits must prove that defendants knowingly or intentionally acted outside industry standards. Among the courts that require prosecutors prove mens rea, there's a split definition of good faith with some courts incorporating a defendant's personal beliefs about prescribing and some basing it on professional standards. 
Kahn v. U.S. and its companion case Ruan v. U.S. was the first time the U.S. Supreme Court considered the appeal of a medical practitioner charged under the CSA since 1975. 
Numerous professional organizations urged the court to side with Kahn in amicus briefs, arguing that denying a good faith defense for physicians could ultimately hurt patients. By opening doctors up to criminal penalties if their patients misuse prescriptions, many argued, the courts discourage providers from prescribing certain medications in cases where a controlled substance is the best treatment option.