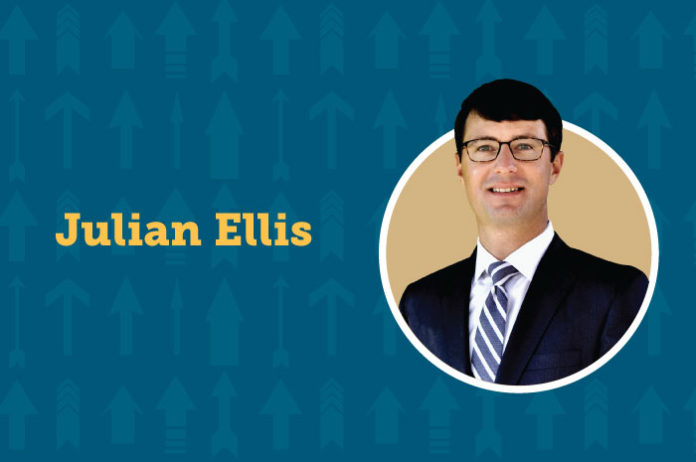 As a boy, Julian Ellis would study footage from the high school football games his father coached. From age five or six, Ellis took notes, thought through the strategy for next week's game and analyzed where players were on the field at different times.
"I think it was that base that created the interest in litigation for me, because I think of a case as a football game," said Ellis, an associate at Brownstein Hyatt Farber Schreck. 
"You run a play, something happens, and you have to come back to the huddle and re-strategize to figure out what you're going to do next. And then you go and execute it, and you come back," he said. "It's about working with a team and constantly changing circumstances."
Ellis went on to play for his dad's team during high school. Around the same time, he started thinking about possible career paths. "I always knew, going through the latter years of high school and college, that I wanted to do something that I could use my mind and my thinking to earn a living," said Ellis, who grew up in a "blue collar farming family" in rural Georgia.
After college, he started working in financial services in Denver — he'd wanted to move to Colorado since visiting an aunt and uncle in the state as a child. Ellis later enrolled at the University of Denver Sturm College of Law, and he was admitted to practice in November 2014.
At Brownstein, he practices a mix of election law, appellate law and traditional litigation. For election law, which makes up about half of his work during election years, he represents political parties, candidates and others with a stake in in election outcomes. His other clients include trade groups, corporate clients and groups and individuals with "an interest in suing the government," and his litigation practice is split about evenly between plaintiff and defense work.
This election season has already brought some big legal victories. Ellis represented business coalition Colorado Concern and University of Denver chancellor emeritus Dan Ritchie in their successful challenge to Governor Jared Polis's executive order allowing remote signature gathering for ballot measures. 
"I was actually in the mountains, and I got a call on a Saturday evening that said we're going to be filing a case on Monday morning against the Polis administration," he said. Ellis rushed back to Denver, and he and his Brownstein colleagues drafted the documents and filed the lawsuit in about 36 hours. 
In the past year, Ellis was counsel of record on amicus briefs in four cases before the U.S. Supreme Court, including Colorado's "faithless electors" case, Baca v. Colorado Department of State. 
He filed an amicus brief on behalf of the Colorado Republican Committee in support of the state in what he said was "a fun bipartisan case in which everyone came together in support of a similar cause and got a great result from the Supreme Court."
"I think the most exciting thing for me is really to see the appellate practice that I wanted to build start to blossom," Ellis said of his accomplishments in the past year.  
"It's hard to be an appellate practitioner here in Colorado just because, outside of government work, there's not a lot of the work," he said. "And I've had the opportunity to work on
18 different appeals and five different appeals before the US Supreme Court."
Ellis started his legal career as a clerk for 10th Circuit Court of Appeals Chief Judge Timothy Tymkovich — in his words, "one of the best jurists, if not the best jurist, in all of Colorado." 
"He was an election law attorney," Ellis said. "And he just instilled in me an interest in this area of the law that survived my clerkship." 
He ended up where he is now in part because of another former clerk for Tymkovich, Brownstein shareholder Chris Murray," who he said is "one of the primary reasons" he ended up at the firm. 
Ellis said he's also proud of his pro bono work in a prisoner's rights case before the 10th Circuit. His client, an inmate in Oklahoma, claimed the prison he was in was overcrowded and was rationing food, and he had lost over 20 pounds in less than four months. The case had been pending since 2014, according to Ellis, but last May the 10th Circuit reversed the lower court's dismissal, and he continued to represent the client on remand.
"It's been a fight from the very beginning, and we're waiting on a ruling now," he said. 
The man is scheduled to be released from prison in February, and it's unlikely the case will be resolved before then. However, the client calls or writes about every other week, Ellis said, and "he's so appreciative of the time and effort I'm putting into his case." 
He added the man is a voracious reader and asks for copies of law review articles on different topics.  "I wouldn't be surprised at all if he finds his way to some area of the law after he gets out in February," Ellis said. 
"Those are the things that you remember when this career is over."
Since graduating from DU Law, he has participated in the law school's mentoring program. His seven mentees' interests range from public interest litigation to academia and, he said, "I learn as much from them as they learn from me." 
As for what the future holds, Ellis said he's focusing on his work at Brownstein. "I try not to plan too far ahead in advance because I never can predict what the next step or layer is, especially in election work," he said. 
If the opportunity presented itself, he said, he'd consider a path to the bench. 
"But one can never plan on a career as a judicial officer," he said. "The opportunity finds you. You don't find it."
Ellis's father retired after nearly four decades as a football coach and now spends most of his time in Colorado. 
The two spend a lot of time together, often watching football. 
"Even though he doesn't know a lot about what I do, we can talk in a similar language and we can share war stories, and he knows what I'm going through," Ellis said. 
"If I tell him, 'Hey, I can't come up to the mountains this weekend. I'm in trial prep,'" he said, "He'll say, 'Oh, I've been there. I understand.'"
—Jessica Folker