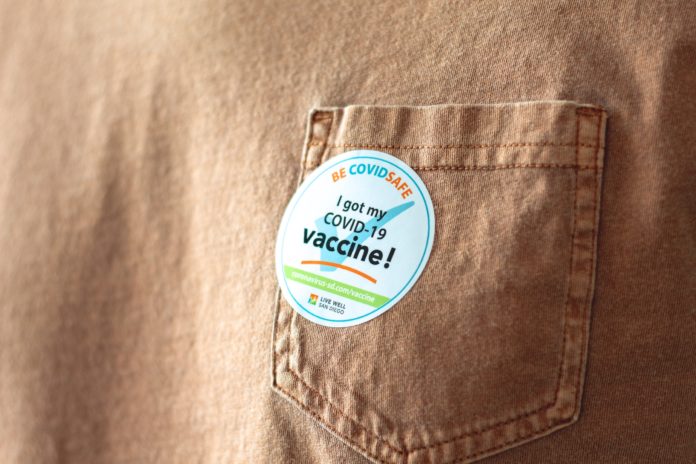 The Biden administration on Nov. 4 announced the details of two new COVID-19 vaccination policies, including a much-anticipated rule from the Occupational Safety and Health Administration that will cover 84 million employees.
OSHA's new COVID-19 Vaccination and Testing Emergency Temporary Standard requires employers with 100 or more employees to ensure their employees are fully vaccinated by Jan. 4. Employers must also pay employees for the time it takes to get vaccinated and provide sick leave for employees who experience vaccine side effects that keep them from working.
To be considered fully vaccinated, employees must have received their second Pfizer or Moderna shot or a single dose of the Johnson & Johnson vaccine by the Jan. 4 deadline, according to a White House news release. The ETS requires employers to determine and maintain records of each employee's vaccination status and obtain proof of vaccination.
Unvaccinated employees will need to produce a negative COVID test on at least a weekly basis, and employers must remove any employee who tests positive for COVID or is diagnosed by a licensed health care provider from the workplace. The ETS also requires unvaccinated employees to wear face coverings when indoors or occupying a vehicle with another person for work purposes.
Employers are not required to pay for any costs associated with testing under the new rule, though they may do so if they choose. "Given that vaccines are safe, free, and the most effective way for workers to be protected from COVID-19 transmission at work, the ETS does not require employers to provide or pay for tests," the White House announcement states. However, employers may be required to pay for testing under collective bargaining agreements or other laws and regulations.
While testing for unvaccinated workers will not be required until after Jan. 4, employers must comply with the rule's other requirements by Dec. 5, including mask mandates and providing paid time for vaccination.
The second rule announced Thursday was issued by the Centers for Medicare and Medicaid Services and requires workers at health care facilities participating in Medicare or Medicaid to be fully vaccinated by Jan. 4. The rule covers more than 17 million health care workers at around 76,000 facilities and applies to both clinical and non-clinical employees, students, trainees and volunteers.
The Biden administration previously implemented vaccine requirements for millions of federal employees and contractors, giving them until Dec. 8 to comply. But Thursday's announcement pushed back the deadline for federal contractors to Jan. 4. The new deadline is meant to "ensure that federal contractors implement their requirements on the same timeline as other employers in their industries," according to the White House announcement.
The White House also clarified that the OSHA ETS will not apply to workplaces subject to the CMS rule or federal contractor requirements, relieving employers of the need to track multiple vaccination requirements for the same employees.
According to the White House, more than two-thirds of U.S. workers are now covered by vaccination rules. The OSHA and CMS rules "preempt any inconsistent state or local laws, including laws that ban or limit an employer's authority to require vaccination masks or testing," the news release said.
Montana and Texas have banned employers, including private businesses, from implementing vaccine mandates. Several other states have bans on vaccine mandates that apply only to state or local government employees.
OSHA rarely exercises its ETS authority. Until the pandemic, the agency last issued an ETS in 1983 for asbestos. On his second day in office, President Joe Biden directed OSHA to consider whether a COVID-19 ETS was necessary. In June, after months of delay, the agency issued a narrowly tailored rule designed to protect health care workers in high-risk settings.
As recently as July, attorneys predicted the health care worker ETS would be OSHA's last binding rule to address COVID. But following a surge in cases and anti-vaccine sentiment, Biden announced in September that OSHA would develop an ETS on workplace vaccination and testing requirements.
Travis Vance, a partner in Fisher Phillips' Charlotte office, noted that OSHA spent the first 472 pages of the 490-page ETS explaining the legal basis for adopting the rule — a sign that the agency is expecting legal challenges.
For now, the ETS applies to employers with 100 or more employees, which includes temporary, part-time, seasonal and remote workers, Vance said Thursday during a web presentation for the media. However, he said, "OSHA has already indicated that it is looking to make this standard apply to smaller employers."
To justify the ETS, OSHA must show there is a "grave danger" for workers, and it might be difficult for the agency to explain why employees at bigger companies are more at risk than those at smaller organizations. "I think, personally, they anticipate that argument coming," Vance said, "and that's why it was included in that 472-page preface."
Todd Logsdon, a partner in Fisher Phillips' Louisville office, agreed that the "grave danger" standard will be difficult for OSHA to meet. "I think [the ETS] is susceptible, if challenged," Logsdon said during the presentation.
Vance added that employers might also challenge the ETS based on the non-delegation doctrine, arguing that the vaccine rule should be "part of a law that Congress adopts, as opposed to a fiat from the executive branch."
Vance said he has gotten a lot of calls about the avenues for contesting the OSHA rule, and companies are looking to build coalitions led by trade associations and business groups. If a trade group files the lawsuit, he said, individual employers can avoid "having the target on them" as a company that is trying to "fight vaccines, so to speak."
Given the near certainty of lawsuits, the attorneys said they expect some employers to take a wait-and-see approach to compliance in the hopes that a judge will block the rule. "I think you're really playing roulette doing that," Logsdon said. "I think you ought to at least have your plan ready and be ready to execute promptly." Employers that choose to take the gamble need to pay attention to the news and the details of any rulings, he added, since an injunction in one state might not cover employers in other states.
OSHA has indicated that it will look for egregious cases that could carry a willful violation penalty of more than $136,000 per violation, Vance said, and the more common citation for "serious violations" comes with maximum fines of more than $13,600 per violation. If the reconciliation bill passes Congress in its current form, those penalties could skyrocket to a maximum of $700,000 for willful violations and $70,000 for serious violations.
"Regardless of an employer's political thoughts or feelings about this, they owe it to their company and their board and shareholders to be prepared for this and not go from the frying pan into the fire with how they respond to OSHA," Logsdon said. "They could end up with a substantial set of penalties."