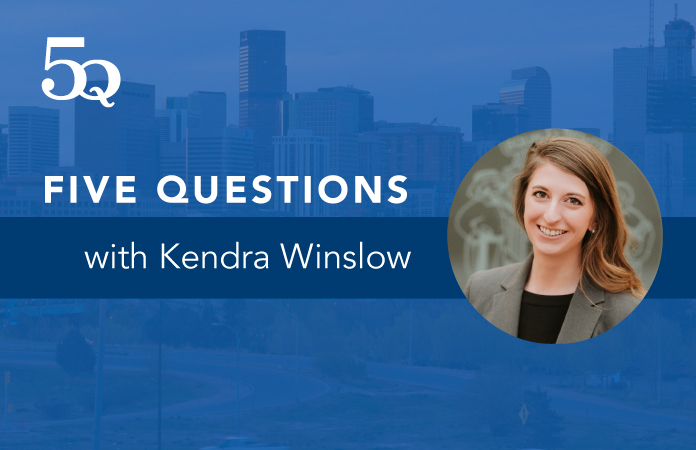 5Q is Law Week Colorado's weekly gateway for members of the legal community to get acquainted with each other. Each week, you'll hear from lawyers, judges and legal academics across Colorado. We ask industry professionals a range of questions from their thoughts on the challenges facing the profession to their personal interests. Their responses are lightly edited for clarity and space. Let us know of your interest in being included by emailing [email protected].
This week we spoke with Kendra Winslow, a prosecutor affiliated with the 17th Judicial District (Adams and Broomfield counties) Office of the District Attorney. A University of Wyoming College of Law graduate who also earned her undergraduate degree in Laramie, Winslow is a U.S. Army Judge Advocate General's Corps officer posted to the Wyoming Army National Guard. She joined the Wyoming ANG in 2018, earning her commission about one year after graduating from law school. During her service as a JAG Corps officer, Winslow has defended armed forces members in Uniform Code of Military Justice proceedings as a Trial Defense Service attorney.
Now holding the rank of captain, Winslow is currently assigned to active duty with U.S. Africa Command at the American embassy in Tunis, Tunisia. She said in an email that, while on assignment in Africa, she will be "implementing programs that are designed by the Department of Defense and the Department of State to build capabilities and relationships between the United States and Tunisia and increase interoperability between the nations."
Her sojourn in north Africa is not Winslow's first experience overseas. "I previously studied abroad at the University of Limerick, Ireland, studying European Union law and then in law school spent a summer in Phnom Penh, Cambodia, working for an NGO that supported the UN's prosecution of war criminals at the Khmer Rouge war crimes tribunal," she said, explaining that she has visited 22 foreign countries.
Winslow grew up in Longmont, born to two Wyomingites. She and her husband, Peter Seymour, are happy owners of two dogs, Harlow and Sagan, and have provided foster care for many canines. "During the pandemic, we really embraced the work from home lifestyle and started fostering dogs for a local rescue, Colorado Corgis and Friends," Winslow said. "At last count, we had 14 dogs we fostered and adopted out to their forever homes since last year."
Horses are a favorite of Winslow's. "I absolutely have a fondness for horses," she wrote in an email. "I went to the University of Wyoming for undergrad and was actually in charge of our mascot program. Our mascot is a Shetland pony named Cowboy Joe. I was in charge of caring for him and bringing him to all football games and public events for the university. My local Wyoming claim to fame is being dragged across the football field by him one game after the cannon fire spooked him — a meme of it went pretty wild where someone put 'never give up, never let go' across a photo of me falling and him dragging me."
Winslow and Seymour, a software engineer, enjoy hiking, mountain bicycling, running and stand-up paddleboarding. 
Question 1
Which rule of evidence do you hate the most? Discuss.
A: On a personal level, I say Federal Rule of Evidence 404(b). Propensity evidence haunts me. Just because I tripped walking up to the witness stand in one (okay, two) courtrooms doesn't mean my propensity for clumsiness should follow me everywhere. The admission of this evidence against me hasn't been authorized by a judge, yet. 
On a professional level, I think Federal Rule of Evidence 410, which relates to pleas and plea negotiations, deserves some criticism. As a deputy district attorney, I absolutely respect a defendant's right to go to trial and to require me to prove the case beyond a reasonable doubt. It makes perfect sense to me, legally, that evidence about a plea offer should not be admissible for consideration to a jury. But it is occasionally frustrating to be unable to communicate to the jury the result of the case that I wanted to see, how good the deal I offered was or the sentencing concessions that I offered. I think some jurors would benefit from knowing my intentions with some cases. In certain circumstances, all I am really looking for out of a conviction is to get resources and treatment for people in need of them.
Question 2 
Should U.S. Supreme Court justices be required by law to assume senior status, which would mean they are still drawing a salary and retaining life tenure after some period of active service on the bench? Explain.
A: Generally, I support any move that removes political consequences and tension from the court. I firmly believe the Supreme Court has a responsibility to remain apolitical and interpret the law. Allowing Supreme Court Justices to take senior status would free up a permanent seat on the bench, and allow them to continue to serve the public with a reduced caseload. 
I believe that a mandatory senior status rule would help relieve some of the ghoulish speculation about the health and wellness of sitting Justices, and reduce the partisan fight over the judiciary.
Question 3
Marvel Comics or DC Comics? Explain.
I have to admit, I don't have a strong opinion here. I take a slight preference to Marvel because I feel like it brings more elements of realism into the fantasy world. Marvel has also done a good job of highlighting disadvantaged portions of society and creating strong characters. I think Marvel, more than DC, has helped to turn comics into a mainstream sensation.
Question 4
What Netflix series do you regard as "can't miss"-quality? Discuss.
A: Derry Girls, hands down. This comedy follows five teenage friends living in Northern Ireland during the final years of The Troubles. The show focuses on that time in life, as a teen when everything feels urgent and tragic. The series hits an emotional intersection of cringe, sincerity and humor against the backdrop of a 30-year, ethno-religious conflict. The show embraces the embarrassing indignities of being a teen through a story about being ordinary and growing up during extraordinary times–something that is certainly relevant today. Plus, the late 90's soundtrack is fire.
Question 5 
What is your favorite novel? Discuss.
A: I am a voracious reader, but consistently find myself coming back to the classics. My all time favorite is "Pride and Prejudice," by Jane Austen. At some level, it is a novel about reading. The protagonist, Elizabeth, is also an avid reader and, through her, the novel shows how reading can tremendously change and impact a person. 
Elizabeth is also a relatable character. She knows her worth and refuses to take flack in a way that is graceful and respectful. Attorneys also deal with a bit of flack and also always have to strike a balance between maintaining boundaries, commanding respect and ensuring productive working relationships. 
Pride and Prejudice is also a landmark romantic satire that has held up over 200 years. While issues for women are certainly different today — we aren't being married off for dowries — I think many core themes hold true. Pride and Prejudice is simultaneously Austen's most playful and most serious work.