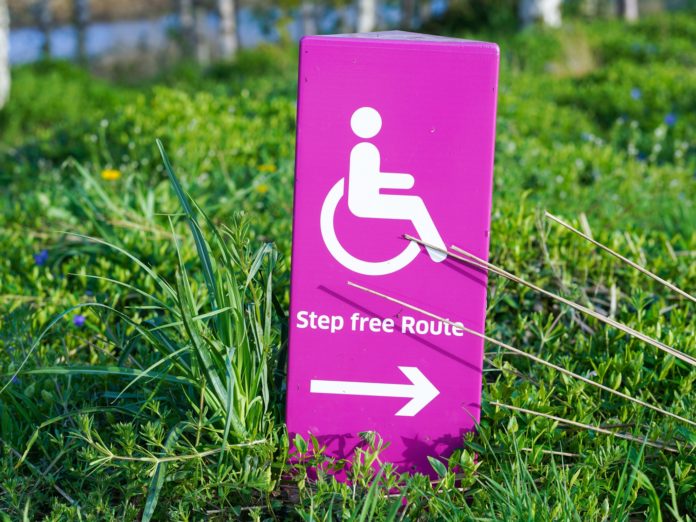 On July 26, 1990, the Americans with Disabilities Act was signed into law, paving the way to protect people with disabilities against discrimination. 
U.S. Attorney General Merrick Garland delivered remarks at a program commemorating the ADA's 33rd anniversary earlier this week, as the act has some roots in Colorado.
"That landmark civil rights law ushered in a new era of greater participation, inclusion, independent living and opportunity for people with disabilities," Garland said. "The ADA has been transformative, opening doors and removing barriers to nearly all aspects of life including community living, housing, education, employment, healthcare, transportation, parental and family rights and voting to name just a few."
Garland added the anniversary also provides an opportunity to understand the many barriers that remain for those with disabilities. 
"We know that far too often, law enforcement officers are forced to respond to individuals experiencing challenges that do not have a law enforcement solution," Garland said. "This can contribute to significant harm to people experiencing mental health crises, as well as to needless incarceration or institutionalization of such people. At the same time, it puts a great strain on the law enforcement officers who are forced to fill in the gap where community services have failed."
Garland added the Department of Justice is working across the government to provide communities and law enforcement agencies with support to care for people in crisis. 
Garland noted in May the DOJ, along with the Department of Health and Human Services, issued guidance for emergency responses to people who have behavioral health conditions or other disabilities. 
"This guidance provides state and local officials with best practices for responding to crises experienced by people with disabilities," Garland said.
Colorado Mental Health and the Criminal Justice System
Colorado also has a co-responder program. According to the Colorado Behavioral Health Administration's website, the program pairs up behavioral health specialists and law enforcement officials to respond to behavioral health-related calls for police service. 
"On scene, the team works not only to de-escalate the situation, but also provide behavioral health screening and assessment, call disposition planning and referral or linkage to needed services," BHA's website said.
According to a fact sheet, the program is located in several counties in the state including in Denver, Boulder, Arapahoe and Jefferson counties. BHA's website noted nearly 26,000 calls were fielded by Office of Behavioral Health-funded co-responder teams between July 2020 and June 2021 with 98% avoiding arrest.
Accessibility
According to a press release, the DOJ also sent to the Federal Register for publication a notice of proposed rulemaking under the ADA with the goal of improving web and mobile apps access for people with disabilities and to clarify how public entities, like state and local governments, can meet existing ADA obligations.
"This proposed rule, which is the culmination of years of work and collaboration, is a historic moment for the Justice Department," said Associate Attorney General Vanita Gupta in a press release. "It will help enshrine the right of Americans with disabilities to access critical information needed to lead safe, productive, and prosperous lives."
A comment period will be open for 60 days from the date the proposed rule is published. Comments can be submitted here.
"This proposed rule marks a significant milestone in the Justice Department's efforts to advance accessibility in the digital sphere," said Assistant Attorney General Kristen Clarke of the DOJ's Civil Rights Division in a press release. "This groundbreaking moment makes clear our commitment to eradicating the barriers faced by people with disabilities and affording equal access to online government programs and services that people around the country depend on every day. We will continue to use every tool available to ensure that people with disabilities are provided full access to the digital town square."