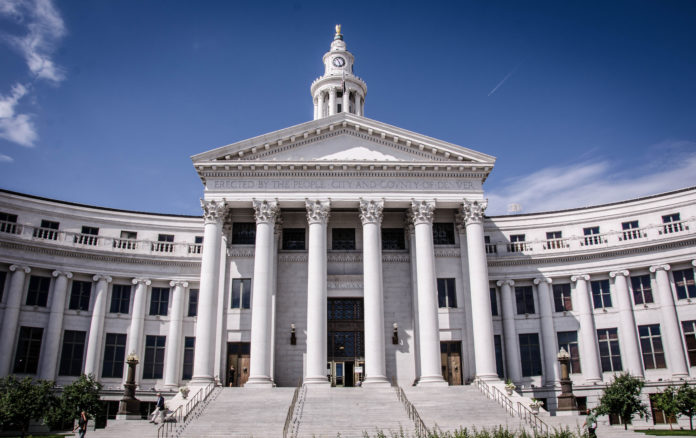 Denver is among 40 U.S. cities and counties that have asked a federal judge in Ohio to create a "negotiation class" to represent all of the country's municipalities in settlements against opioid manufacturers. The motion, filed June 14, aims to reach bigger settlements quickly and distribute them more equitably.  
Approximately 1,800 municipalities have already sued drug manufacturers and distributors for their role in the opioid crisis. These federal lawsuits have been consolidated into multidistrict litigation presided over by Judge Dan Polster of the Northern District of Ohio, who has pushed for settlement. 
If Polster approves the negotiation class, any interested U.S. city or county could participate in the class to gain voting powers and a share of a national settlement. 
The motion outlines a formula for determining a municipality's share of the settlement based on opioid-related deaths, the number of people suffering from opioid addiction and opioid distribution in each county.
The negotiation class would be the first in U.S. history, according to a news release from the Denver City Attorney's Office. Denver Assistant City Attorney Reneé Goble, who is in charge of Denver's role in the litigation, said the scale of the opioid crisis warrants a novel approach to settlement negotiation.  
"Pretty much every city and county has been damaged by these drugs, and so the only way to get a global settlement is to include everybody," Goble said .
The motion is clear that it does not seek to certify a class for settlement or litigation but to unify cities and counties for "more efficient and more certain negotiation" of a settlement.  It also states that lawsuits filed so far would proceed until a settlement is reached, municipalities may opt out of the class and membership in the class would not prevent municipalities from suing or settling on their own.
Goble said that unlike in typical class settlement negotiations that occur near the end of the court process, the negotiation class structure would allow municipalities to get involved early on.
"In this case, because cities and counties will be able to quantify the damage opioids have done, it makes sense to present those needs and costs early in the settlement process than later," she said in a news release.
As for why Denver was selected as a representative municipality in the settlement class, the city isn't sure, though it could have something to do with its status as both a city and county. In 2018, several Colorado communities, including Alamosa, Chaffee, Conejos, Huerfano, Las Animas and Otero counties and the cities of Lakewood and Wheat Ridge, filed lawsuits against opioid manufacturers and distributors. In January, Denver and 16 other local governments in the state also filed a lawsuit against the companies. Those cases are now all being overseen by Polster in Ohio.
Denver and the other 39 representative cities and counties would negotiate on behalf of nearly 25,000 municipalities in the U.S. A supermajority of 75% of participating cities and counties would be needed to approve a final settlement. 
With over 100 attorneys on staff, Denver has resources to devote to negotiations that other communities lack, said Ryan Luby, public information officer for the Denver City Attorney's Office. 
"I would assume a lot of other cities would be very happy with [the negotiation class] structure because they wouldn't necessarily have the ability to do it themselves," Luby said. 
Attorneys for counties and cities in southern Colorado with lawsuits against the companies did not respond to requests for comment about how the motion could affect them.
Purdue Pharma did not directly address how the motion would affect the company, but issued a statement that said, "The company is committed to working with all parties toward a resolution that helps bring needed solutions to communities and states to address this public health crisis. We continue to work collaboratively within the MDL process outlined by Judge Polster."
Representatives for other major drug companies named in the federal suits, including Endo, Janssen Pharmaceuticals, and Teva Pharmaceutical Industries, did not respond to requests for comment.
Goble said the defendants would also benefit from the new mechanism. With almost 2,000 lawsuits pending and potentially thousands more that could be filed by other communities, the drug companies risk being sued over and over. 
The negotiation class structure would allow the defendants to pool their money for a final settlement to be split among participating cities and counties.
"They want some assurance that if they settle today with everyone, they're not going to get sued tomorrow by a new set of people," said Goble.
One uncertainty for communities seeking settlement funds is the possibility that the litigation could force drugmakers into bankruptcy. Earlier this month, opioid manufacturer Insys Therapeutics filed for Chapter 11 bankruptcy protection days after agreeing to a $225 million settlement. Purdue Pharma, which produces OxyContin and is named as a defendant in nearly all of the pending lawsuits, is also considering filing for bankruptcy, according to news reports.
Goble acknowledged the risk that bankruptcies could prevent communities from getting their piece of the payout but said that's why it's important to involve the negotiation class early in the process so companies can pool their money and parties can reach a global settlement.
It's also unclear how this would affect legal actions by states. So far, every state except Nebraska has sued, promised to sue or filed administrative charges against companies that make or market opioids. 
"We've been sharing information and working with the state [attorney general] as much as we can, even though our cases are somewhat different," said Goble, "but we're all friends here in that regard for how we're going to solve this problem."
Goble said it's hard to predict whether the motion would lead to repeated use of the negotiation class mechanism, but she said the opioid issue is special in its reach and severity.
"The opioid crisis is different in that it affects everyone," she said, "I can't think of another situation where you could use a mechanism like this. But it's very creative and it's one where, if it works, maybe one day down the road it could be used again."
— Jessica Folker, [email protected]