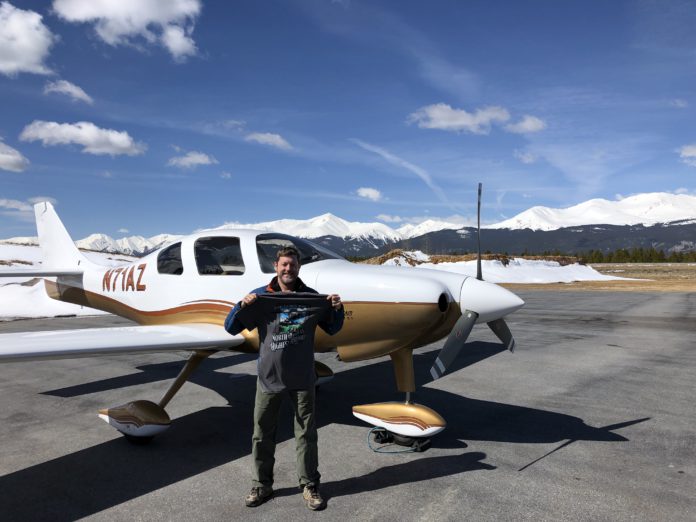 A Colorado attorney's name is in the record books after flying his airplane from the nation's highest airport in Leadville to its lowest in Death Valley, California. But for Kent Holsinger, a natural resources lawyer, the flight was just as much about the journey as it was the speed record.
On June 1, Holsinger set a world speed record in his plane category flying from Leadville Airport, which sits at 9,927 feet above sea level, to Death Valley's Furnace Creek Airport at 210 feet below sea level. 
In his single-engine plane, Holsinger made the 530-mile run in 3 hours, 13 minutes, with an average speed of 161 mph. The National Aeronautic Association con Holsinger's record claim was valid but had not yet certified it. The previous record for the run — 4 hours 13 minutes with an average speed of 147.54 mph — had stood since 1995. 
His firm, Holsinger Law, is a boutique in Denver and Telluride that focuses on public lands and natural resources law, including water and oil and gas. Holsinger has held a pilot's license for 10 years, and he often flies his plane to court appearances and client meetings around Colorado and the West.
Holsinger said his attempt was inspired by an article in Flying Magazine he'd read about world flight records, and he ruminated on whether he might set one himself with his Lancair Super ES. He saw an existing record for a flight between the airports in Leadville Airport and Furnace Creek Airport in his plane's subclass and thought he could beat it.
An added bonus for Holsinger was that with this particular flight, he could call attention to the 17 different wilderness areas, five national forests and three national parks he'd fly over, highlighting the public lands, resources, water, minerals, and oil and gas along that route.
The trip itself had its own highs and lows. He encountered snowstorms in the mountains, and his record run was in jeopardy when he couldn't reach ground control in Death Valley until literally the last minute.
Law Week: So the highest airport in the U.S. to the lowest — what's different about descending 10,000 feet over a flight?
Kent Holsinger: Oh, gosh, actually, the altitude difference was quite a bit more than that. Over Leadville, I was at 15,500 feet. Furnace Creek is 210 feet below sea level. And to get picked up on radar eventually when I was over Furnace Creek, I was at 17,500 feet. One of the interesting things was even right over Death Valley at 17,000 feet, it was 20 degrees [Fahrenheit] outside. And by the time I landed at Death Valley — it took me some time to descend all that altitude — it was 98 degrees and windy on the ground. So it's quite a stark difference. 
Law Week: What were some of the wilderness areas or national parks you flew over? Which were the most recognizable from the air?
Holsinger: The Raggeds Wilderness is really interesting to me because it's the beginning of a real transition zone. You're transitioning from the High Rockies down to the fertile North Fork Valley, where orchards and agriculture are so prevalent. Canyonlands National Park is just spectacular, and the route took me right over Canyonlands and some incredible views of Island in the Sky. Then of course Death Valley National Park. I was stunned by the enormity of Death Valley National Park. I would venture a guess that it's got to be close to the size of some of our Northeastern states. It's really remarkable.
Law Week: You ran into snow showers over Leadville. What was it like to encounter that?
Holsinger: I got up at 4 a.m., and the first thing I did was look at the weather, and it sounded encouraging. … But as I was over South Park and looking at the clouds ahead of me, I wasn't very optimistic at all that I was going to be able to get over Leadville and then west through the central mountains. But it just so happened as I got to Leadville, and as I was proceeding west, that there was a blue hole between the snowstorms, and it was exactly where I needed to go. I had enough room that I could have turned around if I got in the middle of it and conditions changed on me quickly, so I didn't feel like it was a dangerous risk to take. But it was a little nerve-wracking because the ceilings were dropping, and the clouds were building quickly.
Law Week: Take me through that last couple minutes when you were trying to reach ground control at Death Valley. What was going through your head?
Holsinger: Oh, that was a stressful time. I had put significant work in ahead of time to coordinate with through the FAA [Federal Aviation Administration], air traffic control both and Leadville and Death Valley. And in both instances, I had a heads-up that radar contact might be challenging. Leadville because of the terrain — well, there's some significant terrain at Death Valley too, but [more because of] the distance from the radar receiving stations and the like. I had a sense it could be an issue 30 miles from the airport at Death Valley. I easily established radar contact, I got in touch with Joshua Approach. And I thought I was home free. But as soon as I started to celebrate, they called me back and said, "You're dropping in and out of radar. You're going to have to try someone else." So I scrambled to try to reach another air traffic control facility. Tried Los Angeles [Air Route Traffic Control] Center, I tried Nellis Air Force Base, nobody was picking me up. And so I had asked Joshua Approach, if I climbed, if that might help with radar contact. So I pointed that nose and I was just rocketing up, hoping that they would catch me on radar, trying and trying and hoping and praying for radar contact. And it wasn't until two miles from the field — and at this point, I'm traveling about three miles a minute — they finally picked me up and they were able to watch me and clock me out at Death Valley. So it was stressful at the beginning with snow showers and whether I could get my way through the mountains. And it was stressful at the end, too.
Law Week: How does it feel to hold a world record?
Holsinger: Well, I'm really thankful most of all. I think the best part of the whole experience was a tremendous outpouring of support and well wishes from so many different friends and clients and colleagues. I'm extremely grateful to the FAA and the folks at Denver Center and Joshua Approach for helping me get ducks in a row as best we could. So the first feeling was tremendous relief, followed by a good dose of jubilation.
Law Week: Would you ever consider trying it again, maybe setting an even tougher record?
Holsinger: I'm not terribly inclined to do that. I think the real magic of the experience was probably the first attempt, and thankfully a successful attempt. I'm not sure if I'd rule it out entirely. But I'd probably look at whether there are other unique records out there that that might be fun to look at. 
This one I thought was very unique. From a natural resources perspective, from a landscape perspective, it doesn't get much better.  
— Doug Chartier