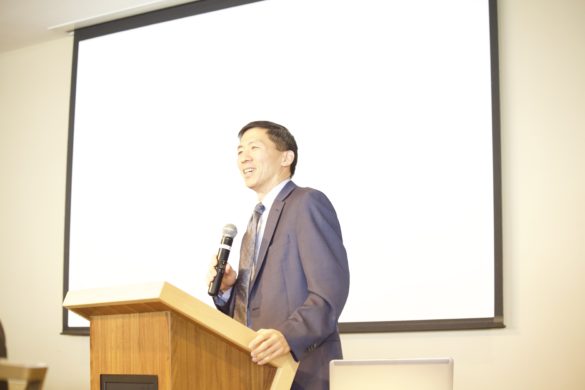 According to California Supreme Court Justice Goodwin Liu, a lack of inclusion can also contribute to isolation in the legal profession.
Liu spoke Feb. 7 to a crowded room of legal professionals about diversity in legal jobs and shared information from a study he helped conduct that breaks down some of the data regarding growing diversity. 
He discussed his own journey in the legal field as a son of Taiwanese immigrants and warned that a common hazard for many legal professionals today is isolation. He went on to note that, often, there are inadequate resources for diverse legal professionals. And although the statistics he presented showed a somewhat steady progression of diversity in legal jobs, he reminded the crowd that the numbers are just a snapshot of the present and will shift as time passes. 
His study, "A Portrait of Asian Americans in the Law," was conducted in partnership with Yale Law School and the National Asian Pacific American Bar Association. The study revealed that, between 2000 and 2009, Asian Americans were among the fastest growing group in the legal profession but are now the fastest declining group according to the data from study respondents. The data also showed that Asian legal professionals are underrepresented in high-level positions such as equity partner and are more heavily represented among paralegals, clerks and associates. 
Beyond the hard data, Liu discussed findings regarding colleague perceptions. 
Many respondents said they did not imagine Asian Americans in positions of leadership in the field because they perceived these individuals to be "foreign, socially awkward or unassimilable," according to the 2017 study. Liu paused during his presentation of the data set to say that the perception seems to be largely based on stereotypes. 
Liu responded to an audience member question about how Asian legal professionals can navigate that particular niche classification by saying, "it's important to try and consider the yoga and the wine to be part of the job." 
Panelist and partner at Arnold & Porter Suneeta Hazra said she broke the mold for a typical partner just by showing up and being herself, but she said many professionals often can't get that far due to implicit bias in the field. "[I'm] just not what people are expecting to see," Hazra said. 
Liu noted that implicit bias would likely be a larger focal point in his next study because of the commonality of the occurrence in professional fields like law and the judiciary. More than 58% of respondents in the 2017 study reported that they often or sometimes have a perception that they are a target of implicit bias in the workplace.
Panelist and Holland & Hart partner Roger Tsai presented data that mirrored Liu's study in many ways but the overarching takeaway was a lack of representation of Asian lawyers specifically at the partner level. Tsai clicked to the next slide and showed the 2018 new partner announcement from Paul Weiss that proudly displayed 12 headshots for its new partners — 11 white men and one white woman. 
John Lee, panelist and senior assistant attorney general, said the profession is leaning both toward and away from diversity. 
The study Liu presented showed a surge in enrollment at law schools and subsequent positions in the field, but the firms and agencies hiring these professionals have a tendency to keep them in entry or associate level positions. 
The 2017 study showed a multitude of trends in several groups, for example Liu showed data that showed that Hispanic and Native American lawyers might have higher law school debt and a lower overall salary when compared to white, black and Asian groups. 
Hispanic, black and Asian groups showed varying numbers in direct competition for higher level positions with the primarily white male-led area but the data showed many of the groups at less than 5% in a partner position. 
Liu also presented data on women and women of color, demonstrating a higher representation in some cases at higher level positions. 
The study showed a higher likelihood that women of color would experience some manner of discrimination but also showed that this particular group was more likely to report discriminatory behavior than men in most cases. The data also noted that "although women outnumber men among law firm associates, men outnumber women by almost twofold at the partner level," according to the 2017 study. 
Liu seemed to sum up the data best by saying, "We're nowhere near the solutions."
—Jess Brovsky-Eaker