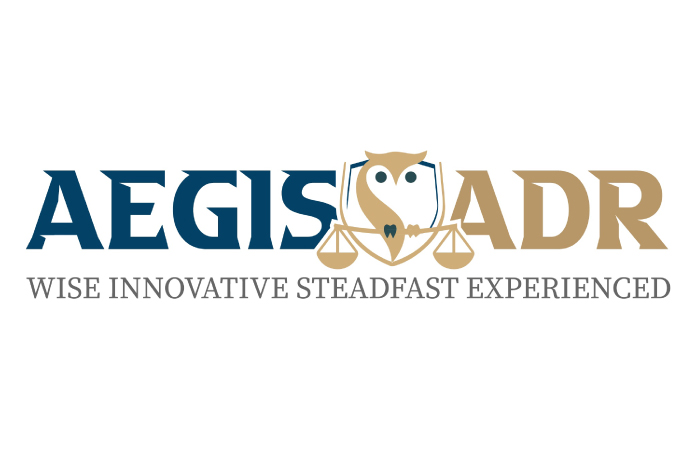 On June 1, a new boutique ADR firm opened its doors in Denver — with state-of-the-art tech to support clients and a focus on client needs and tailor-made processes. Staffed by three top attorneys with extensive histories in legal practice, Aegis ADR is here for client-focused solutions.
When Becky Kourlis retired from her position at the Institute for the Advancement of the American Legal Profession at the University of Denver in 2019, and then throughout the pandemic, she wondered what her next step would be. Through conversations with friends and the legal community, she decided to reach out to Jim Lyons, a 40-year veteran of complex cases and a partner at Lewis Roca, to create a different kind of Alternative Dispute Resolution firm — a boutique focusing on putting clients first and finds the best options for clients and counsels in how to proceed with their cases.
"The real hallmark that we decided was really important to us was that this is going to be client-focused, client-centered," Kourlis said. "We will tailor-make processes depending on the case itself and the needs of the client and their counsel."
Lyons and Kourlis began discussing how to do ADR a little bit differently. Kourlis said the two reached out to attorneys and clients to gather feedback on what they'd like to see in a boutique firm and spent significant amounts of time picking out software to best serve client needs post-COVID.
Kourlis said that in the end they created a boutique ADR firm with a focus primarily on complex commercial cases which does arbitration, both American Arbitration Association and private; mediation; and something they call public policy dispute resolution, meaning a facilitation of public policy disputes across a variety of spectrums.
With many ADR providers already in the field, Kourlis said the firm's size, infrastructure and a capacity to focus on a case-by-case basis is what sets it apart. The firm will be selective about cases taken to assure Aegis can offer the level of service the firm wants to provide to clients and to help become part of the solution.
"We hope this will be a really in-depth opportunity for us to be constructive to the clients in arriving at an outcome that they feel is fair," Kourlis said.
Both Kourlis and Lyons have extensive careers in the law and well-respected accomplishments. Kourlis is a former Chief Judge and Justice of the Colorado Supreme Court, and founder of IAALS. Lyons, in addition to being a Fellow of the International and the American academies of trial lawyers, was President Bill Clinton's Special Advisor for economic initiatives to Northern Ireland during the negotiations leading to the accord between Northern Ireland and Ireland. Kourlis said he will continue his litigation practice at Lewis Roca, while handling ADR work with Aegis.
The Aegis website explains that ADR processes shouldn't always be one-size-fits all and Kourlis said that's why they decided to take a special approach to creating ADR options for their clients. "We will be in a position to create the processes that work best for the case," Kourlis said, noting that AAA rules will be observed whenever appropriate.
"We would be able to essentially tailor-make the process to the case in a way where a bigger shop with a lot more cases, and a lot more neutrals, don't necessarily have the opportunity to do," she said.
But there's another member of Aegis — Stacy Kourlis Guillon. When discussing the creation of the Aegis boutique, Lyons suggested to Kourlis that they bring her daughter on board. Kourlis said it was thrilling and very exciting to have been working with her daughter.
Lyons and Kourlis Guillon worked together at Lewis Roca, where Kourlis Guillon has a practice that covers agricultural and constitutional law and can operate as a second chair in some cases.
But one noteworthy aspect of Aegis is the public policy part of the firm which will help in public setting issues by facilitating groups around hot-button issues. Kourlis said the kind of instance that Aegis might be interested in working on would be an oil and gas task force needing facilitation services.
"We have it there for two reasons, first, we think the times are in great need of spaces where people can talk about issues and resolve those issues while listening to each other and learning from those with opposing viewpoints," Kourlis said. "The second reason is our own backgrounds."
Kourlis said that during her time at IAALS she facilitated many groups with different viewpoints, many around rules and discovery reform, and judicial discipline. From that experience, she developed a comfort level managing groups with adverse viewpoints in moving toward resolution to all involved.
"That's a process that IAALS which used empirical research, relied upon getting information from sources not from one side or the other, and relying on goodwill from listening to each other and hearing each other," she said. "That is a process I believe in and is much needed."
For Lyons, Kourlis said his time as Pres. Clinton's counsel involved reaching agreements and is a firm believer in a process equaling better outcomes than expected. While Lyons is a Democrat, Kourlis said she is a Republican in background, and with both individuals coming at issues from different perspectives — the firm could be useful in circumstances where public groups need help finding resolution.
With a focus primarily on complex-commercial cases, Aegis plans to be very client-focused in process and the three members of the firm will work together on any instances where more than one brain might be useful, Kourlis said.
"We really understand that the process is important," Kourlis said. As people have a need to be heard and understand what is going on at any point, she said Aegis intends to follow procedural fairness. While the outcome of a case in litigation is important, the process — and how people feel they were treated fairly during the process — also matters.
Aegis wants to be of use to the system, Kourlis said. With a heavy backlog of cases due to the pandemic, the firm members hope they can be of service to parties that need resolution and don't have access to the courts as immediate and cost-effective as they would like.
"Jim, Stacy and I hope that we will be able to provide a level of attention and a level of service that will make each client feel that they have gotten our complete attention and we will stick with it as long as needed," Kourlis said. "And, hopefully, reach an outcome they can live with."
For Kourlis, she said that she's spent her life trying to improve the justice system and she hopes to bring that same heart to providing ADR options that are fair and efficient. She continues to believe that access to justice and the legal system are hallmarks of American society
"I think that in this day and age, I think ADR is an important piece of that," Kourlis said.