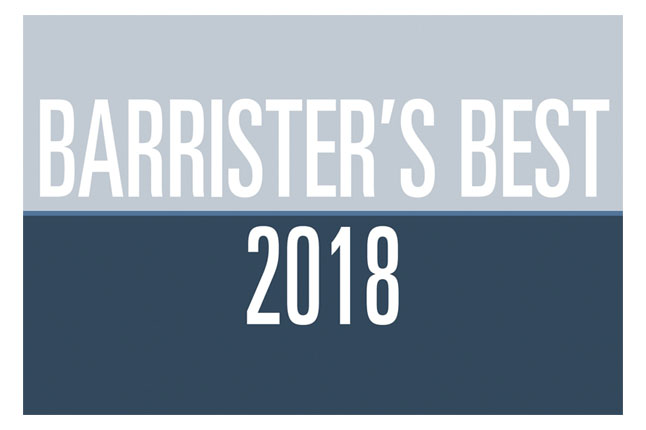 Best State Supreme Court judge
People's Choice: Justice Richard Gabriel
Justice Gabriel is one of the state Supreme Court's more vocal justices, but remains even-keeled and thoughtful in his questioning. This time last year, he was still the newest Supreme Court justice, having been appointed in 2015. But he's not the new judge on the block anymore with Justices Melissa Hart and Carlos Samour joining the bench. 
Barrister's Choice: Justice Nathan Coats
Justice Coats has a new job title for his business card: Chief Justice. It's a crowning achievement for someone who applied 12 times before getting his black robes, so we'd say it's a good thing he didn't give up after application number 11.
Best Court of Appeals Judge
People's Choice: Judge Alan Loeb
This recognition is a cap on Chief Judge Loeb's time on the Court of Appeals, since he'll retire in December after 15 years on the bench. Loeb sat on the three-judge panel that heard Craig and Mullins v. Masterpiece Cakeshop in 2015, but is squirrelly about singling out his most important rulings as a judge. He's told Law Week in the past that every case is "just as important as the next one."
Barrister's Choice: Judge Ted Tow
Judge Tow is a relative newcomer to the Court of Appeals, having been appointed in December 2017. Before his appointment to Colorado's second-highest court, he worked in nearly every facet of the legal profession: civil and criminal litigation as a private attorney, as a prosecutor and as a trial judge in the 17th Judicial District.
Best State Trial Judge
People's Choice: Diego Hunt, 1st Judicial District
Judge Hunt spent more than a decade with Holland & Hart before joining the 1st Judicial District bench in 2016. He has remained active in the Latinx community, such as with the Latino Community Foundation of Colorado and the Colorado Hispanic Bar Association. In 2015, Hunt received the CHBA's Chris Miranda Award.
Barrister's Choice: Morris Hoffman, 2nd Judicial District
Judge Hoffman has gained a reputation for his colorful writings since he joined the 2nd Judicial District bench in 1990. One of his memorable orders came last November when he awarded attorneys' fees to the Castle Law Group in a lawsuit brought by the Colorado Attorney General's Office. 
Hoffman didn't mince words when he called the suit  "substantially groundless and substantially frivolous."
 Best Arbitrator
People's Choice: Sandy Brook, Judicial Arbiter Group
Former Judge Brook joined JAG in 2004, but he has roots far beyond Colorado. He spent 12 years as a trial judge in South Bend, Indiana, and four on the state's Court of Appeals. Brook has also taught trial advocacy internationally in Canada, England, Scotland, Northern Ireland, Thailand and China with the National Institute of Trial Advocacy.
Barrister's Choice: David Tenner, Ridley McGreevy & Winocur
Tenner is a regular on our list in the arbitration category. His experience as a trial attorney, arbitrator and court-appointed special master have convinced his peers of his worthiness as People's Choice, and now they've persuaded us as well. 
Best Mediator
People's Choice: Steve Mains, Mains Mediation
With over 2,000 cases in his pocket, Mains' mediation expertise isn't limited to one area. The cases he's overseen range almost literally from A to Z, from ADA disability to wrongful death.
Barrister's Choice: Robbie Barr, Barr ADR
Barr is another adept mediator whose skill set comes from time on both sides of the bench. She has a complex civil litigation background in private practice, and became a judge on Miami-Dade County's Circuit Court in 1991. Barr has also been a mainstay on the Super Lawyers list since 2015, and is on the faculty for the National Institute of Trial Advocacy.
 Best Overall Litigator
People's Choice: Michael Hearn, Hearn & Fleener
Hearn has been a heavyweight in construction defect litigation for more than 30 years in both Colorado and California. He previously earned Barrister's Best honors as people's choice for plaintiffs' construction defects lawyer in 2016 for obtaining a $6 million jury verdict for his client Vallagio North Association.
Barrister's Choice: Jim Kilroy, Snell & Wilmer
Kilroy is a regular on the Best Lawyers and Colorado's Top 100 Super Lawyers lists for his commercial and labor and employment litigation. One major verdict on his résumé is a $41.6 million award in Nevada for a client then-called Pacific Coast Steel, now known as Gerdau Reinforcing Steel.
 Best Commercial Litigator
People's Choice: John McDermott, Brownstein Hyatt Farber Schreck
Back when we interviewed him as one of our 2017 Top Litigators, McDermott said his main priority in trying his securities cases is to own the courtroom — both with case facts and demeanor. The legal community seems to get that impression from him, voting him as a People's Choice again for a litigation category.
Barrister's Choice: Jim Lyons, Lewis Roca Rothgerber Christie
Jim Lyons' clients run the gamut from municipalities to corporations to school districts. He also has experience as an arbitrator and court-appointed mediator, and with such a rounded portfolio of clients and perspectives, it's no wonder he's Barrister's Choice for commercial litigation.
 Best Civil Litigator
People's Choice: John Walsh, WilmerHale
Walsh lands on our list in this category for the second year in a row. WilmerHale has built up a stable of former government attorneys, and Walsh joined the firm early in 2017 to head up the investigations, criminal litigation and complex civil litigation practice. He served six years as Colorado's U.S. Attorney and a stint as chair of the Attorney General's Advisory Committee of U.S. Attorneys.
Barrister's Choice: Carolyn Fairless, Wheeler Trigg O'Donnell
As Fairless told Law Week in March in her Top Litigators feature, you can be nice and be a top-notch trial lawyer at the same time. And she definitely has the lawyering part down: Her expertise in malpractice defense and penchant for obtaining multiple trial or arbitration wins each year have made the WTO managing partner a standout among Colorado litigators.
 Best Lawyer-Turned-Legislator
People's Choice: Dylan Roberts, Colorado House of Representatives
Roberts, a Democrat, has built up an impressive résumé by his third decade. He obtained his law degree just two years ago and took over Colorado's House District 26 in 2017, but his political roots date back much further. He worked as an organizer in Steamboat Springs for Barack Obama's presidential campaign in 2008, and during law school as a policy adviser for state Rep. Mike Foote. 
Barrister's Choice: Cole Wist, Colorado House of Representatives
It seems cliche to say a legislator strives for bipartisanship, but Wist's efforts are evident. This Republican doesn't seem to shy away from supporting bills that seem unconventional for his party's views.
In the past legislative session he signed on as a sponsor of a "red flag" bill to allow seizure of firearms from people with mental health disorders who may harm themselves or others. Wist was only one of two Republicans in the Democrat-controlled House to support the measure.
Best Public Sector Lawyer
People's Choice: Jacki Cooper Melmed, Chief Legal Counsel to Gov. John Hickenlooper
As chief legal counsel for Gov. John Hickenlooper since 2015, Cooper Melmed often serves as a spokesperson for the office on legal matters. She can also count among her responsibilities helping to vet temporary district attorney appointments and judicial candidates chosen by Colorado's nominating commissions. 
Barrister's Choice: Fred Yarger, Colorado Solicitor General
Yarger told Law Week for his Top Litigators feature he credits luck with getting him to his current role as Colorado's solicitor general. But the high-profile cases he's taken on while in the role also take talent and nerves of steel. 
He argued Masterpiece Cakeshop v. Colorado Civil Rights Commission in front of the U.S. Supreme Court last December, and one of his first cases on the job in 2014 involved defending the state against a suit brought by Oklahoma and Nebraska over the passage of Amendment 64.
 Best Government Lawyer
People's Choice: Cole Finegan, Hogan Lovells 
The nomination of Finegan as Best Government Lawyer is no shock — Finegan has worked within the government as Denver city attorney and chief of staff to Mayor John Hickenlooper and has worked with the government in private practice for years. He's been recognized as a Lawyer of the Decade by Law Week Colorado and is a mainstay on the Barrister's Best list as well.  
Barrister's Choice: Chantell Taylor, Snell & Wilmer
Taylor joined Snell & Wilmer as a partner in August. She's worn a more colorful array of hats than most throughout her legal career, from political ethics watchdog to oil and gas industry advocate as as government relations manager at Anadarko Petroleum. 
Best Lobbying Firm
People's Choice: Brownstein Hyatt Farber Schreck
Brownstein turned 50 this year and is a mainstay for its government relations practice across the U.S. The firm is known for representing not only municipalities and government agencies but also Native American tribes across the country, in regulatory matters ranging from sports team relocation to consumer protection.
Barrister's Choice: Freedman & Koski
Andrew Freedman and Lewis Koski are both former government officials in marijuana policy who have brought their expertise to a new consulting business helping states develop and implement marijuana policy. But they maintain they are not marijuana lobbyists, maintaining a publicly neutral stance on the issue of legalization.
 Best Family Law Lawyer
People's Choice: Margot Alicks, Broxterman Alicks McFarlane
Alicks began her legal career in corporate practice, but switched to family law after realizing her affinity for the practice area while at Richards Layton & Finger. She went on to co-found BAM Family Law, which has the distinction of catchiest nickname, BAM Fam. 
Barrister's Choice: Suzanne Griffiths, Griffiths Law
Handling so many high-net-worth divorces over the years that involve business assets, Griffiths knows a thing or two about business, herself. She's recognized for her complicated cases as well as her savvy in helping to steer her family firm, which in the past year took a big swing toward civil litigation expertise to capture even more of those complex family cases.
Best Private Equity Lawyer
People's Choice: Keith Trammell, WilmerHale
Trammell didn't top his own achievement of being on the Barrister's Best list in three categories last year, but that probably would've been a record. This year he's again in the private equity category. Late last year he added another feather in his M&A cap when he advised Regal Entertainment Group on its merge with Cineworld, which made Cineworld the second-largest movie theatre chain in the world.
Barrister's Choice: Ted White, Moye White
A pattern seems to be emerging that our Barrister's Choice honorees often have colorful portfolios of experience beyond their current positions. Beyond his corporate practice, White also arbitrates commercial disputes and has taught a business transactions course at the University of Colorado Law School. 
Best Real Estate Lawyer
People's Choice: Sarah Kellner, Faegre Baker Daniels
Whether it's straight-up real estate litigation or condemnation actions, Kellner has helped clients develop successful strategies for the past 12 years at Faegre BD. She has experience leading trials in state and federal court, as well as mediation. In particular, Kellner is knowledgeable about one of the most contentious real estate issues year-in, year-out: eminent domain.  
Barrister's Choice: James Benjamin, Benjamin & Cohen
Benjamin, a mainstay on the Colorado Super Lawyers list for the past several years, manages the firm's real estate and business transactional department. He's also been president of the Denver Bar Association, the DBA's Board of Trustees, and the DBA's Executive Council. And if that wasn't enough, Benjamin often serves as an expert witness in complex real estate litigation cases and founded his own firm in the early '90s.
Best Banking Lawyer
People's Choice: Christian Otteson, Shapiro Bieging Barber Otteson
We never intend to give awards to the same attorneys each year, but here we are anyway awarding Otteson with the Best Banking Lawyer recognition for the third year in a row. Otteson has established his position in the banking world by earning experience at an international law firm as well as one with his name on it and demonstrated that expertise through speaking engagements.
Barrister's Choice: Curt Reimann, Snell & Wilmer
Reimann's practices in banking and commercial finance would be impressive on their own, but he has also been serving as managing partner of the Denver office of Snell & Wilmer during a time where the office has seen significant growth and major lateral moves. We're wondering whether he stops to sleep. 
Best Bankruptcy Lawyer
People's Choice: Rob Cohen, Cohen & Cohen
The elder (and, presumably, first-listed) of the two Cohen's in the Cohen Cohen law firm, Rob Cohen Sr. was born in Kansas and began practicing law out on the plains in the 1970s. Fast forward to today and Cohen has handled cases on everything from family law to commercial litigation. Where he excels now, though, is bankruptcy matters, including being well suited to help clients refine and develop case strategy.
Barrister's Choice: Brad Dempsey, Faegre Baker Daniels
Resolving high-stakes disputes is Dempsey's specialty — whether that's in state court, bankruptcy court, or appellate courts around the country. And although Faegre Baker Daniels is a big firm with a worldwide presence, Dempsey stays in tune with what's happening in the Centennial State by leading the firm's Colorado finance and restructuring litigation team.
Best Tax Lawyer
People's Choice: Michael Merrion, Michael Merrion PC
It's no surprise that Merrion received the votes to be the People's Choice for tax law. He has built a career around the subject as both an attorney and CPA. He serves as corporate counsel for several businesses but also shares his knowledge by teaching tax classes to lawyers and accountants.
Barrister's Choice: Ted Gelt, BakerHostetler
Law Week is just one more publication piling on recognition for Gelt's expertise in the area of tax law. He's received accolades from local and national publications and best-of lists and has had an impressive career as a professor at the University of Denver Sturm College of Law as well as in his legal practice. 
Best Securities Lawyer
People's Choice: Paul Hilton, Hogan Lovells
Whether it's consumer products, engineering and construction, mining, restaurants, or the tech industry, Hilton is comfortable counseling companies on a wide variety of industries. He's also represented companies seeking to go public or companies that are looking to grow via acquisition. Point is, as leader of the firm's U.S. Public Company practice, there's not much Hilton can't do. 
Barrister's Choice: Lucy Stark, Holland & Hart
Stark is a regular on Law Week's Big Deals lists. With her practice focused on advising energy and mining industry clients on SEC matters, among other things in the M&A world, she has found solid ground in Colorado's market and has managed to stand out among her peers in the securities world. 
Best Anti-Trust Lawyer
People's Choice: Katie Reilly, Wheeler Trigg O'Donnell
You can actually geek out on antitrust law. If you don't believe us, talk to Reilly. Her gusto for the practice seems to have translated into success, as she's built an enviable track record for defending clients in industries from health care to tech.
Barrister's Choice: Rich Cunningham, Gibson Dunn & Crutcher
Cunningham knows how to win a trial. After nearly a decade as Senior Trial Counsel at the Federal Trade Commission's Bureau of Competition, which included a stint as a special assistant to the U.S. Attorney in the U.S. Attorney's office for the District of Columbia, he joined Gibson Dunn in 2013 first as of counsel and eventually rose to the partner level. He now focuses specifically on antitrust and consumer protection work. 
Best M&A Lawyer
People's Choice: Pat Linden, Linden Segal
Linden describes himself as an entrepreneur for entrepreneurs. His focus on transactions for small and midsize companies means he stays active with like-minded businesspeople who are making moves in the area.
Barrister's Choice: Rochelle Rabeler, Holland & Hart
Rabeler is prolific in the M&A space. At least as far as Law Week is concerned. Her focus on project development, financing, joint ventures and M&A in the renewable energy space keeps her busy in Colorado's bustling energy market, and her name is one we can count on seeing listed on multiple deals in each of our quarterly deals issues.
Best Health Care Lawyer
People's Choice: Barbara Grandjean, Husch Blackwell
Practicing employment and labor litigation in health care, like Grandjean does, could be a category unto itself. Health systems and providers are glad to have her wide-ranging legal knowledge of issues from FMLA to the ADEA. Grandjean, who is president of the Colorado Women's Bar Association Foundation's board, also had plenty of insights on the practice of law worth checking out in our Women's Roundtable this year. 
Barrister's Choice: Jennifer Evans, Polsinelli
Evans knows health care from a multitude of different angles. She's on healthcare information technology for the National Governors' Association, represented both nonprofits and for-profit health care organizations before Congress and served as deputy director for the Colorado Department of Health Care Policy and Financing. As an office managing partner, Evans brings her expertise to clients ranging from small hospitals to equipment suppliers and laboratories. 
Best Environmental Lawyer
People's Choice: Scott Reisch, Hogan Lovells
From Stanford Law School in the late '80s (where he served as notes editor of the Stanford Law Review) to Colorado today, Reisch has racked up numerous legal accolades, including nods from Best Lawyers in American and Chambers USA. Reisch is no stranger to big cases, particularly representing companies with voluntary cleanups; he worked with the developer of the Pepsi Center on that front and also an apartment real estate investment trust in Indiana that cleaned up a high-priority Environmental Protection Agency site. 
Barrister's Choice: Jon Rauchway, Davis Graham & Stubbs
Rauchway knows how to win a trial. In fact, he's confident enough in his skills and the skills of others at his firm that he often gives serious consideration to trying a case when other attorneys or firms might be quick to settle. On environmental matters specifically Rauchway applies his expertise and that type of thinking to cases involving everything from the Clean Air and Clean Water Acts to matters involving Superfund sites. 
Best Oil and Gas Lawyer
People's Choice: Jeff Stengel, Stengel Hoppe
Given the modern oil and gas market fluctuations that have taken place in this country over the past several years, questions of mineral rights ownership have become particularly important. Stengel has a made a career in part by tending to the needs of those types of clients — property and mineral rights owners who interact with the oil and gas industry. Oh, and he also happens to have co-founded the Stengel Hoppe firm. 
Barrister's Choice: Crystal McDonough, McDonough Law
McDonough's willingness to fight hard for her clients has earned her the nickname the "little bulldog." She has a catalogue of expertise drawn from her colorful background before law practice, from a master's degree in energy and natural resources to her years of owning small businesses that have helped her understand the business issues in energy disputes.
Best Water Law Lawyer
People's Choice: Kristin Howse Moseley, Porzak Browning & Bushong
More so than perhaps any other legal field, water law can be, well, particularly dry. No sweat for Howse Moseley, who's been tackling client matters in this field for more than 20 years. In particular, Porzak Browning & Bushong has strong ties to the recreation industry (such as ski resorts) and mountain communities. What could be more Colorado than that? 
Barrister's Choice: Brian Nazarenus, Ryley Carlock & Applewhite
It's no wonder Nazarenus has been on this list several times before: He has a sterling reputation in a notoriously complicated area of the law. Indeed, Nazarenus has experience handling water rights litigation in Colorado and other Western states, business transactions that deal with the sale of water rights and water rights contracts, and even obtaining permits from the truly obscure Colorado Mined Land Reclamation Board. 
Best Renewable Energy Lawyer
People's Choice: Andy Spielman, WilmerHale
Spielman has added "global" to his title of chair of WilmerHale's energy, environment and natural resources practice. Chairing is something he has an affinity for, as he's also a former chair of the Colorado Oil and Gas Conservation Commission. And when talking about the geography of oil and gas drilling in the state, Spielman has a wealth of memorable Jackson Pollock analogies to offer.
Barrister's Choice: Chris Irby, Xcel Energy
Anyone following Xcel Energy's efforts in developing renewable energy sources and bringing them to market is likely already familiar with Irby's name. As assistant general counsel, he's been at the forefront of the company's interactions with the Colorado Public Utilities Commission and as such is one of the most impactful attorneys in the renewable energy space in Colorado.
Best Agricultural Lawyer
People's Choice: John O'Brien, Spencer Fane
O'Brien's agrifinance work has closed more than $1 billion in lending for livestock facilities. (Cattle, and hogs and poultry, oh my!) That's a lot of money. He's also a boots-on -the ground sort of attorney, having visited more than 100 livestock production operations from Iowa to New Mexico. We rate that as a plus, particularly in the ag field.
Barrister's Choice: Jim Fipp, Berg Hill Greenleaf + Ruscitti
Selected for the past four years as a Super Lawyer, Fipp has plenty of hands-on industry experience, which helps drive his work as a partner at Berg Hill Greenleaf Ruscitti. He directed business operations at Cargill and acted as Senior Counsel for mergers and acquisitions at The WhiteWave Foods Company. Now, he uses that experience advising clients on a wide range of business and corporate matters. 
Best DUI Lawyer
People's Choice: Abe Hutt, RechtKornfeld
Many years ago, Hutt successfully defended gonzo journalist and Woody Creek resident Hunter S. Thompson on DUI (and assault) charges. What more do you need to know? More than that? OK, well, Hutt's been winning trials in Denver since 1984, and he often teaches DUI defense at both Colorado law schools. 
Barrister's Choice: Jay Tiftickjian, Tiftickjian Law
Tiftickjian wrote the book on DUI defense in Colorado. We actually mean that: In 2013, Tiftickjian published Colorado DUI Defense: The Law and Practice. Aside from being one of the most well-known names when it comes to DUI defense in the Centennial State, Tiftickjian also was elected this summer to serve as president of the Colorado Criminal Defense Bar, a position he will hold until May 31, 2019. 
Best Marijuana Lawyer 
People's Choice: Tom Downey, Ireland Stapleton
Downey is an exceptionally well-regarded attorney when it comes to navigating Colorado's legalized recreational marijuana industry. But he's also well-versed in just about any regulatory field you can think of — the liquor industry and the emergence of the use of drones, for instance. And just as important as far as we're concerned: He's an incredibly kind dude. Downey also likes to boast about his three young daughters who are talented singer-songwriters. 
Barrister's Choice: Rachel Gillette, Greenspoon Marder
While many attorneys in Colorado have added marijuana-related services to their repertoire in recent years, Gillette has been an early adopter. Greenspoon Marder's cannabis law practice chair had been working with all things marijuana licensing back in 2010. Since she took the helm of the Denver office in 2016, that practice has grown like a — we won't say it.
Best Criminal Defense Lawyer
People's Choice: Patrick Ridley, Ridley McGreevy & Winocur
Ridley is one of those rare trial attorneys who can excel on the defensive side of the "v" regardless of the matter at hand — civil or criminal, in trials and appeals, and ranging from mail fraud to capital murder cases.
Barrister's Choice: Tim Galluzzi, Cheney Galluzzi & Howard
It's a platitude that you want a fighter in the courtroom. With Galluzzi, you get just that. Although he's a newcomer to Law Week's Barrister's Best list and a relative newcomer to the profession, he's already made a name for himself winning complete dismissal for clients in criminal defense cases and boasts his experience with mixed martial arts and Brazilian jiu-jitsu.
Best CriminalDefense Lawyer – White Collar
People's Choice: John Walsh, WilmerHale
It makes sense that Walsh ended up as the people's choice; he was one of Colorado's longest-serving U.S. attorneys when he returned to private practice in 2017. And since his return, he's stepped taken the lead role of WilmerHale's investigations, criminal litigation and complex civil litigation practice in the firm's Denver office.  
Barrister's Choice: Stan Garnett, Brownstein Hyatt Farber Schreck
Garnett saw such success in his role as Boulder County district attorney that he managed to win a third term once the county's voters approved a term limit. Now, Garnett has gone full circle to his former firm of Brownstein where he's putting all that public prosecutor experience to work in his commercial litigation and government investigations practice.
Best Sports Lawyer
People's Choice: Ena Patel, Colorado Rapids
Patel is a fairly new face at the Rapids and in the local legal community — she joined the organization in January. Even in that short time, though, she seems to have made a splash as the director of player personnel. She oversees player contracts, which means we know whom to talk to about the new Rapids recruits.
Barrister's Choice: Stephen Hess, Sherman & Howard
Hess was an easy choice for our gold medal. Law Week reporters have noticed he pops up on our radar every two years. His experience representing Olympic athletes and national governing bodies as well as serving on the international sports tribunals make him a favorite source for Law Week as well as media outlets across the country for Olympic coverage.
Best Communications/Media Lawyer
People's Choice: Niki Tuttle, Hogan Lovells
Tuttle has been handling media cases, particularly as it relates to cable companies, long before the phrase "cord-cutter" entered the lexicon. In doing so, she's played a role in the way we consume content. In particular, Tuttle's extensive experience applies to the sports category, an area in which she's executed numerous distribution and sponsorship agreements.
Barrister's Choice: Steve Zansberg, Ballard Spahr
Strike up a conversation about media law with just about anyone in the Denver legal community and it won't be long before Zansberg's name comes up. 
For more than two decades, Zansberg has handled high-profile cases pertaining to national news media and public records — Kobe Bryant, the Columbine Shooting and the JonBenet Ramsey murder, to name a few. 
Recently, he fought to unseal records in a capital murder case on behalf of the Colorado Independent.
Best Entertainment Lawyer
People's Choice: Mark Kurtenbach, Hogan Lovells
Kurtenbach's practice covers M&A for all types of entities, but he's developed a special niche in representing sports franchises, parks and resorts. He's worked with franchises in the NBA, NHL and MLS on both sides of dispositions and represents minority and majority participants in joint venture arrangements in sports and entertainment.
Barrister's Choice: Dave Ratner, Creative Law Network
It takes one to know one. It also probably helps to have someone with an insider view of the entertainment industry to offer informed representation in that area. Ratner has been a tour manager, publicist, band manager and now entertainment lawyer, and his legal practice has him now representing creatives in all industries. 
Best Immigration Lawyer
People's Choice: Ken Stern, Stern & Curry
Our Barrister's Best voters made an easy choice in selecting Stern for Best Immigration Lawyer. Stern has a long list of accolades and has already received recognition for his long career devoted to immigration law and has appeared before the Colorado Supreme Court and the U.S. supreme Court for immigration cases.
Barrister's Choice: Arnulfo Hernández, Hernandez & Associates
We're not sure if Hernández wears a three-piece suit to work every day, or just on the occasions we've interviewed him because he's getting his picture taken. But his knowledge of "crimmigration" law is as sharp as his sense of style, and he's one-half of a criminal-and-immigration-law duo with his wife, Christine.
Best Trust/Estates Lawyer
People's Choice: Lorni Sharrow, Moye White
Sharrow not only received the votes for People's Choice for Best Trust and Estates Lawyer, but she has also earned Law Week's trust as a repeat contributor to our publication. She's demonstrated her experience in the area to us as well as to her own clients through her work in helping them set up their charitable giving plans.
Barrister's Choice: Laurence Gendelman, Gendelman Law Group
Gendelman was the one lawyer on our list who not only received numerous nominations but also had enthusiastic explanations as to why he should win. While the numbers were not quite on his side for People's Choice, the advocacy for him won us over. Gendelman is new to legal practice but clearly has already found fans.
Best Nonprofit Lawyer
People's Choice: Karen Leaffer, Leaffer Law Group
Leaffer has been the managing editor of "A Guide for Colorado Nonprofit Organizations" since it was created in 2007, but that book's title might be a good description of Leaffer herself. She has guided nonprofits throughout her career and tailors her law firm, Leaffer Law Group, to serving nonprofits. 
Barrister's Choice: Cara Lawrence, Tierney Lawrence
 In addition to her nonprofit-focused practice, Lawrence also works with for-profit companies on their corporate social responsibility. That positions her as an experienced lawyer involved in both the giving and receiving sides and makes her a trusted expert in the nonprofit world. 
Best Corporate Lawyer
People's Choice: Scott Berdan, Polsinelli
Berdan recently joined Polsinelli, but he's well established in his practice area. His move to the law firm was a step in scaling up his practice to have a national footprint. With experience in a wide range of industries and representing clients in a variety of corporate events, his practice seems ready for the larger footprint he's seeking out.
Barrister's Choice: Dave Hersh, Burg Simpson
Burg Simpson is known for being a trial firm, and Hersh's corporate litigation practice at the firm has him busy — according to the firm, he's been involved in more than 145 trials that went to jury verdicts. When considering the landscape of experienced attorneys, that resume is hard to beat.
Best In-House Counsel/Team
People's Choice: Xcel Energy
Xcel's legal department has had no shortage of tricky projects this year. In its ongoing negotiations involving Boulder's proposed utility, it's had to advocate for the company without burning bridges with the city. Xcel's most recent success, however, came in August when the Public Utilities Commission approved the company's $2.5 billion clean energy plan.
Barrister's Choice: Linda Ramirez-Eaves, SomaLogic
The Association of Corporate Counsel's Colorado Chapter president really went the extra mile this past year. The EU's enormous new data privacy regulation gave in-house lawyers everywhere nightmares, but Ramirez-Eaves made sure her Boulder-based medical tech company was ready for it. She even took time to earn a CIPP/E certification and become an expert on European cybersecurity regs, herself.
Best Appellate Lawyer
People's Choice: Sean Connelly, Connelly Law
At Law Week, we've grown accustomed to seeing Connelly's name just about every time the Colorado Supreme Court or Court of Appeals releases a new batch of opinions. And for good reason: Connelly, a former Colorado Court of Appeals judge, has recently been on the winning side of arguments ranging from juvenile justice to allegations of a law firm committing fraud in a land deal.   
Barrister's Choice: Anne Gill, Gill  & Ledbetter
It's no wonder Gill is one of Colorado's most skilled appellate lawyers: She spent 12 years on the "inside," working as a staff attorney for the Colorado Court of Appeals. Indeed, that long stint in the office has served Gill well; in recent years she's successfully handled appeals on a whole host of matters ranging from family law to deeds and easements to probate litigation.
 Best IP Lawyer
People's Choice: Ben Fernandez, WilmerHale
Fernandez is making a repeat appearance on our Barrister's Best list after being selected for the People's Choice for Best IP Lawyer in 2017 as well. Fernandez's work includes experience in most areas of patent work as well as in a number of industries. Add in his work with ProBoPat Colorado, which helps provide pro bono patent work for low-income inventors, it's no surprise he's so popular in the patent world. 
Barrister's Choice: Gene Bernard, Kilpatrick Townsend & Stockton
We're probably not concealing our preferences too much with making Bernard our Barrister's pick for Best IP lawyer. Bernard is a favorite expert source for Law Week both for his own work as well as for his ability to provide analysis on other major IP issues.
Best IP Litigator
People's Choice: Natalie Hanlon-Leh, WilmerHale
Since coming onto the Denver scene several years ago, WilmerHale has made a name as a powerhouse IP firm. And as co-partner-in-charge and a renowned IP litigator, it sure seems like Hanlon-Leh has something to do with that. One of the many votes cast for Hanlon-Leh said the competition is "not even close" — it seems that plenty of Colorado attorneys agree. 
Barrister's Choice: Aaron Bradford, Bradford LTD
It didn't take long for Bradford's firm, Bradford LTD, to establish itself as an international IP firm. With a footprint in Denver and in China, Bradford has spun his own extensive IP experience into a firm worth recognition. 
Best Employment Lawyer – Plaintiffs
People's Choice: Clayton Wire, Ogborn Mihm 
Wire has emerged as a leading expert in a rather specialized area of employment issues — corporate whistleblowing. His success at the 10th Circuit this year representing a pharma company's ousted exec in Genberg v. Porter cemented his reputation. If you see something, say something. And if it doesn't go well, call Clay Wire.
Barrister's Choice: Qusair Mohamedbhai, Rathod Mohamedbhai
While he's best known for his excessive force cases against police, Mohamedbhai is also a top-notch advocate for employees. His work with the Equal Employment Opportunity Commission resulted in a $1.5 million settlement last month for Somali-American workers at a Cargill meat packing plant over religious discrimination claims.
Best Employment Lawyer – Defendants
People's Choice: Todd Fredrickson, Fisher Phillips
We've lost count how many years Barrister's Best has recognized Fredrickson, who's known for his well-rounded expertise and continues to pull in reader votes. From traditional labor issues to wage-and-hour disputes to discrimination claims, his expertise covers almost all the bases for employers.
Barrister's Choice: Amy Miletich, Miletich PC
Miletich is a busy litigator who has a sharp eye for the big-picture trends in anti-discrimination enforcement and other employment issues. That insight has no doubt proven indispensible to her management-side clients in helping them navigate the new #MeToo climate.
Best Disability Law Lawyer
People's Choice: Amy Robertson, Civil Rights Education and Enforcement Center
Robertson, a BigLaw expat to the Colorado civil rights community, has built a disability rights powerhouse in our backyard. Under her and her husband's leadership, CREEC has secured the support of Colorado's most formidable civil rights lawyers and scholars. In the past year, it's also taken on a new mission: seeking better treatment of detainees with disabilities in immigrant detention centers.
Barrister's Choice: Steven Earl, Apex Disability Law
This Burg Simpson alum has carved out a thriving practice in the niche of Social Security disability law, helping thousands of clients with their claims. Claiming SSD benefits can be a mystifying process, but Earl has a rock-solid reputation for knowing it inside and out.
Best Personal Injury Lawyer
People's Choice: Jim Chalat, Chalat Law
Chalat is a force to be reckoned with in a variety of serious injury suits, but readers still know him well for his work for plaintiffs who've been hurt on the slopes. Recently his firm negotiated a settlement of more than $300,000 in June for a skier's leg injury and a $1.5 million settlement last September from a high-speed skier-snowboarder collision.
Barrister's Choice: David Woodruff, Denver Trial Lawyers
Woodruff leverages his knowledge of "the other side." He has doctors in his family and used to defend doctors and hospitals before switching over to representing plaintiffs in medical malpractice claims. Since then his case results have shown up in "top verdict" lists year after year, including a $7 million verdict last summer in a birth injury case.
 Best Medical Malpractice Lawyer – Plaintiffs
People's Choice: Stephen Justino, Boesen Law
Readers are recognizing Justino this year for med mal, but his work for plaintiffs in other types of injury cases lately have turned heads. In January, he obtained a million-dollar settlement in a Federal Tort Claims Act case for a delivery truck driver who suffered injuries at an Air Force base. Justino also sued Anadarko and Noble Energy in connection with the deadly Firestone house explosion last year.
Barrister's Choice: Jim Leventhal, Leventhal & Puga
Even after what he's accomplished in more than four decades of med mal litigation, Leventhal doesn't seem to be slowing down. He's still plying his courtroom craft to devastating effect in several trials a year. Last year a Kentucky jury awarded his client $8 million for injuries stemming from an undiagnosed aneurysm.
 Best Medical Malpractice Lawyer – Defendants
People's Choice: Kevin Kuhn, Wheeler Trigg O'Donnell
It's no wonder Kuhn comes to readers' minds when we ask them to name a top med mal defender. Best Lawyers just named him a Lawyer of the Year in Medical Malpractice Defense — for the third time. Even so, his 135-plus trials and regular speaking engagements have already cemented his reputation as one of the health care community's most skilled advocates.
Barrister's Choice: Bruce Montoya, Messner Reeves
 Montoya's community involvement in the social justice realm is as colorful as his regular practice. He co-founded the Hate Crimes Task Force, a part of the Colorado Lawyers Committee that puts on mock trials in middle and high schools. And he's volunteered his lawyering for the ABA's Post-Conviction Death Penalty Project.
Best Construction Defects Lawyer – Plaintiffs
People's Choice: Shane Fleener, Hearn & Fleener
The Colorado legal community knows Fleener not just as a seasoned litigator but also as a prolific speaker and writer on construction defects issues. This Iowan's straightforward approach in explaining complex case factors is appealing to his HOA clients — and juries, too, we'd assume.
Barrister's Choice: Heidi Storz, Benson Kerrane Storz & Nelson
Whether it's leading a firm that represents homeowners or a nonprofit supporting people with disabilities, Storz seems drawn to helping the underdog. And if her track record of favorable outcomes is any indicator, she's terrific at it. The honors continue piling up for Storz, who was also named to Super Lawyers' Top 100 list for the fifth time this year.
Best Construction Defects Lawyer – Defendants
People's Choice: Reid Jennings, Lasater & Martin
Industry clients like dealing with "one of their own," and with his degree and background in architectural engineering, Jennings can speak his construction clients' language more easily than most attorneys. Keep an eye on this Super Lawyers Rising Star.
Barrister's Choice: Dave Mayhan, Butler Snow
A construction defects suit often means millions of dollars are at stake, which is why construction clients might opt for a seasoned litigator like Mayhan when it's time to go to trial. He may be a new arrival at Butler Snow, but he's been at this since 1985. He also contributed to the latest edition of Colorado Courtroom Handbook for Civil Trials.
Best Class Action/Mass Tort Lawyer – Plaintiffs
People's Choice: Michael Burg, Burg Simpson
Burg has been recognized in the pages of Law Week as a Lawyer of the Year on multiple occasions as well as a Lawyer of the Decade; He's earned the spot on our Barrister's Best list as well as in previous lists for his story of building a name for himself and then putting that name on one of the biggest trial firms in the state. He has also led the charge on major class action cases that have reached resolution or been filed in the past couple years.
Barrister's Choice: Joe Zonies, Zonies Law
Zonies is not afraid of the spotlight. This actor and video producer-turned trial lawyer continues to make waves helping to lead massive tort cases involving pharmaceuticals and medical devices. His small firm maintains a big national footprint in challenging Big Pharma.
Best Class Action/Mass Tort Lawyer – Defendants
People's Choice: Mike Williams, Wheeler Trigg O'Donnell
Even in a firm full of strong defense litigators, Williams has managed to stand out as a mass tort defense guru with clients like Whirlpool and General Electric. He can play offense, too: This summer, a federal judge confirmed an arbitration award of nearly a million dollars that his team won for an oil-and-gas company in March 2017.
Barrister's Choice: Miko Brown, Davis Graham & Stubbs
Few top-tier defense litigators have a practice quite so varied as Brown's, which ranges from wrongful death suits to employment to consumer protection. But she's also had a major impact outside the courtroom. This summer, Corporate Counsel selected Brown for one of the publication's National Women in Law awards for her Women in Leadership Lecture Series to help advance women in the practice of law.
Best Insurance Lawyer – Plaintiffs
People's Choice: Stephen Shapiro, Shapiro Bieging Barber Otteson
Insurance companies still hate seeing Shapiro's signature at the end of a complaint, and our readers know it. He's been building upon his reputation (and piling up more awards)  representing HOAs and construction companies in some of the more complicated insurance cases to hit the federal court.
Barrister's Choice: Brad Levin, Levin Sitcoff
Levin's pragmatic approach to his practice stands out when you talk to him. When we interviewed him for our Super Lawyers issue last spring, he said he finds satisfaction in getting to a case resolution that lets his client move on with their life, because they need closure. And if a case does go to trial, Levin is satisfied when he knows he's done everything he can to present it well. 
Best Insurance Lawyer – Defendants
People's Choice: Emily Swanson, Lasater & Martin
Swanson can count hefty victories both in the court of public opinion and in actual courtrooms. She forced a settlement in a complex collateral sources case after she achieved a $250,000 reduction to the plaintiff's claimed damages. 
And she used her influence on social media to help obtain a lifetime ban from USA Volleyball for Rick Butler, nicknamed by some as the Larry Nassar of the sport.
Barrister's Choice: Jon Sands, Sweetbaum Sands Anderson
In litigation, there's no substitute for experience, and Sands has about as deep a resume as anyone in Colorado's insurance defense biz. His talks and writings on insurance bad faith over the years have helped mentor a new generation of attorneys in the field, even as he maintains a highly active practice in federal courts.
Best Colorado court reporter/videographer service
People's Choice: Hansen & Company
Readers really like the range of services and tech amenities they get from this Colorado fixture that's been operating for 25 years. They enjoy a strong reputation, getting a seal of approval from the likes of COPIC, Magna Legal Services and Veritext.
Barrister's Choice: Hunter + Geist
If you can help lawyers carry out depositions smoothly, you become their best friend. Incidentally, lots of them swear by Hunter & Geist and say they'll use no one else. While our Managing Partner Roundtables aren't as stressful and exacting as depos, we use them exclusively for reporting those transcripts, too.
Best staffing agency when you need to 'lawyer up'
People's Choice: Gibson Arnold & Associates
In a legal community where "everybody knows everybody," it's still good to know the staffing agency that knows everybody. They've leveraged their connections to find the missing pieces for all types of legal teams and projects, from general counsel for Fortune 500 companies to temps for document reviews.
Barrister's Choice: Paralegal Resource Center
We've heard lawyers and firm administrators say it before — it's tough to find great paralegals and legal secretaries, as valuable as they are. The Paralegal Resource Center has been a reliable go-to for finding quality candidates in those increasingly hard-to-fill support positions, however. 
They've got a deep knowledge of the Colorado legal community, too, having been in business more than 30 years.