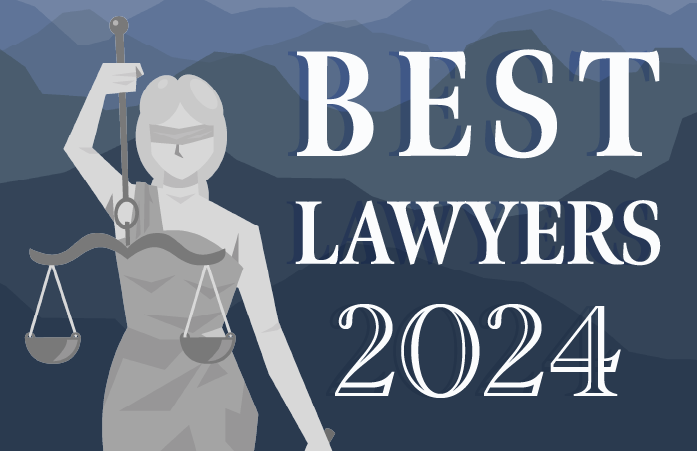 Law Week caught up with the Colorado construction lawyers who told us they made the 2024 Best Lawyers® list to find out how their practice area is shaping up.
Brooke Yates, a partner at Foley Hoag LLP, has a specialty in helping construction professionals and real estate developers with insurance issues. 
"Construction defect claims continue to happen at a high rate in Colorado, so much of my practice has been devoted to helping construction professionals set up their insurance programs in a way to protect their bottom line by maximizing insurance coverage for construction defect claims," Yates wrote in an email to Law Week.
Yates added major natural disaster claims across the country, including in Colorado, have increased insurance payouts and insurer premium costs across different lines.
"Because insurance prices continue to go up, construction professionals are getting creative to get comprehensive coverage at cost-effective prices and seeking insurance programs that meet their needs and budget," Yates wrote.
As for the future, Yates anticipates more work in the residential conversion market as Denver faces challenges concerning unused office buildings and the need for more housing options.
Milton "Skip" Smith, a member of Sherman & Howard, explained his specialty is infrastructure development including highways, dams, other water resource projects and large civil projects.
Smith noted delays and disruptions are always a big issue.
"It's the nature of large construction projects that go into the ground," Smith wrote. "You can do Geotech evaluations pre-construction, but very often find different underground conditions."
He believes artificial intelligence will play a larger role in construction planning and management.
"AI may be able to predict issues and provide options when certain conditions are experienced," Smith wrote. 
Julie Walker, director at Ireland Stapleton Pryor & Pascoe, PC, has a practice involving the representation of parties in a variety of capacities from owners/developers to design professionals and contractors.
"I have seen issues arising as a result of Covid delays in construction and the impacts of that as well as an increase in mechanics lien related matters," Walker wrote. "These seem typical when the economy shows some signs of hardening in the construction area. With construction related firms understaffed and interest rates higher than they have been, parties can turn to litigation."
Walker added she's working to transition to more of an alternative dispute resolution practice, offering services in the construction area as a mediator and arbitrator.
Sean Hanlon is a partner and co-leader of Holland & Hart's construction and development industry group. 
"Recently, a significant portion of my practice focuses on advising clients involved in developing renewable energy projects," Hanlon wrote. "Specifically, I guide clients through the transactional intricacies of Engineering, Procurement, and Construction agreements needed to design and build renewable energy facilities."
He added the Inflation Reduction Act and the incentives connected to it are causing an increase in renewable energy projects. 
"In the near term, and for the foreseeable future, we expect to see continued growth in the renewable energy development industry and in data center development," Hanlon wrote. "On the public project front, infrastructure will likely be an area of focused and sustained growth, including projects delivered via public-private partnerships."
For Joel Heusinger, a partner at Woods Aitken, his main focus for construction is within litigation, mediation and arbitration, both as an advocate and neutral mediator or arbitrator. 
He noted the firm had a large case in arbitration, that was recently resolved, that dealt with design-build project considerations, adding those projects are not new to the industry but are coming under closer scrutiny.
"We are seeing a lot of disputes arise around design-build projects where the scope and obligations between owners, contractors, designers, and subcontractors are not as clearly defined as one would hope," Heusinger wrote. "There are a lot of proponents to using the design-build project delivery method, and it can be very attractive for owners to want to use; however, if care and attention to detail is not accounted for at the outset, it can often lead to some sticky legal issues."
As for the future, he expects his practice to remain busy and has a bright hope for the future.
"We also have a lot of young rising stars in our litigation and construction law group at the firm, many of whom are talented women," Heusinger wrote. "I think that will be both a growing and necessary trend for both the legal profession, specifically construction law, as well as for the construction industry."
Benton Barton, a member of Hall & Evans, said for the past 20-plus years most of his construction cases have involved defending design professionals like architects and engineers in professional malpractice claims. In the last 10 years, he's also acted as a neutral arbitrator.
"I seem to be working more and more on cases which involve the performance — or failure — of highly specialized, engineered products," Barton wrote. "Upstream products and systems can negatively impact downstream products and systems, and products are often substituted or 'value engineered' out of the original design, to save the owner money or because a contractor is more familiar with one item or another."
Barton added issues with products are also more common now due to their engineered nature, specialization of designers and certain types of subcontractors and marketing by salespeople. 
Matthew Ninneman, who is also a member of Hall & Evans and was recognized as "Lawyer of the Year" for construction law by Best Lawyers®, serves as outside counsel and litigation counsel for his clients and is engaged to advise his clients on project and cost methodologies. 
"Owners/developers, for whatever reason, have been slower to pay for the work, which causes a domino effect on the lower-tier entities who have less cash flow to pay workers and business operations," Ninneman wrote about what he's been dealing with lately. "On a positive note, we continue to see a large quantity of contracts needing negotiation for residential and commercial space, which tells us the market remains healthy."
He added he believes technology like artificial intelligence will continue to advance the industry.
"This includes using technology to better track schedules, costs and labor productivity," Ninneman wrote.
Joe Cavasinni, also a member of Hall & Evans, currently represents a lot of private clients on matters from "cradle to grave" like up-front contract negotiations, dealing with issues arising during the project and handling claims on the back end. He's also on the American Arbitration Association's national panel of arbitrators and mediators for construction disputes.
"Over the past few years, I've seen a decline in the level of professionalism amongst counsel in matters I've handled as an attorney, arbitrator and mediator," Cavasinni wrote, adding he attributed the combativeness to COVID-19 and more virtual communications that popped up because of it. He noted he tries to schedule in-person meetings as much as possible. 
He added over the last five or 10 years, he's observed public-private partnership agreements becoming more common for large infrastructure projects. 
"P3 agreements can result in shifting of risks traditionally assumed by the owner from the owner to the private entity," Cavasinni wrote. "There is not a wide body of case law dealing with the risk transfer associated with P3 agreements since they are newer in the market."
Also making the list according to announcements Law Week received for construction law areas are Christopher Heaphey, Christopher Gunlikson, Robert Benson, J. Kevin Bridston, Timothy Gordon and Evan Randall of Holland & Hart; and John Madden III at Coan, Payton & Payne, LLC.
Others named to the list included Colin Baumchen, Alvin Cohen, Kory George, Daniel Gross and Kerry Kester of Woods Aitken; Jonathan Pray, Caitlin Quander and Kevin Walsh of Brownstein Hyatt Farber Schreck; Charlotte Wiessner of Sherman & Howard; David Kay and Tiffanie Stasiak of Kutak Rock LLP; Jonathon Bergman, Barbara Mueller and J. Christopher Kinsman of Davis Graham & Stubbs LLP; Mike Ogborn of Ogborn Mihm, LLP; and David McLain of Higgins, Hopkins, McLain & Roswell, LLC.