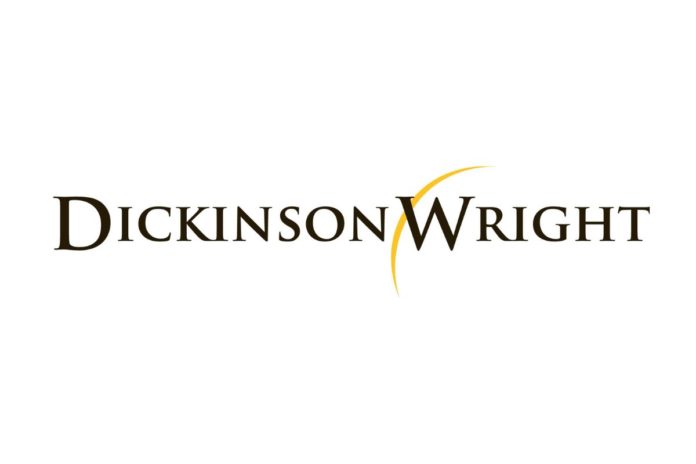 North American business law firm Dickinson Wright has officially opened the doors to a Denver office as it hopes to rapidly grow its footprint in Colorado. 
The firm officially moved into its new office space at 1626 Wazee St. in downtown Denver July 31 with a team of five lawyers: Katie VanderVeen, Jeffrey Kass, Frank Long, Nicholas Loyacona and James Rigberg. Prior to the office opening, the attorneys were working remotely. VanderVeen, the Denver office leader and a member of the firm's banking and finance group, said the new office is an important step for the firm that's looking to grow headcount locally and establish itself in the Denver market. 
Founded in 1878 in Michigan, Dickinson Wright currently has more than 475 attorneys in 20 offices across the country and one in Canada. In the last 15 years, the firm has rapidly grown its footprint opening 13 offices across the country and internationally. Dickinson Wright describes itself as a general practice business law firm with focuses that range from general labor and employment to technology and data privacy to political and public sector law and everything in between.
VanderVeen, who first joined the firm in 2013 as a summer associate, moved to Colorado about three years ago to scope out Denver as a market for the firm's expansion. She said the firm was looking to see if there was a place for it and how it could find a niche in the state. 
"So kind of from the outside, it looks like Denver is a saturated legal market," explained VanderVeen, who added after spending time in Colorado, she believed the firm could add value and stand out. "What I found when we were out here is that there are not a ton of law firms that are of Dickinson Wright's size, that have Dickinson Wright's reach."
Compared to other firms in the Denver market, VanderVeen believes Dickinson Wright's combination of nationwide talent and competitive rates makes it stand out. She said attorneys from across the firm's offices work closely together to bring specialized and general expertise on a full range of business legal needs to clients. 
"We definitely work across all of our offices and across all of our practice groups and industries. So I think being able to offer that holistic legal service really sets us apart," explained VanderVeen. "I think we are very efficient and have very competitive rates. So compared to some of the law firms that are in Denver, that sets us apart as well."
Over the last 15 years, Dickinson Wright has quickly grown its footprint outside of the Midwest. Since 2008, the firm has added locations in Toronto, Tennessee, Arizona, Nevada, Ohio, Michigan, Kentucky, Nevada, Florida, Texas and California. The firm already had Colorado-based clients and VanderVeen said the state also appealed to the firm as a bridge between its east and west coast offices. Dickinson Wright works with clients in a range of industries, but VanderVeen added Colorado's growing life sciences and cannabis industries were of interest to the firm. 
VanderVeen hopes that opening a brick-and-mortar office location will help fuel the firm's planned growth in Denver. Over the next five years, she said Dickinson Wright hopes to grow its Denver office to around 50 attorneys. That's an ambitious goal, but VanderVeen explained the firm has experience entering new markets and building offices. 
"Our traditional growth model has been, if we are entering a new market, to try to partner up with another local firm who has been there, who has boots on the ground. And we really form strategic partnerships there," VanderVeen said, noting the Denver office hasn't partnered with any firms yet. The firm looks for culture fit when considering partnerships or when hiring attorneys, she added. VanderVeen describes Dickinson Wright's culture as an all-hands-on-deck collaboration between offices that sees partners, associates and staff working closely together for clients. The new office space that will allow the Denver office's current attorneys to meet in person will contribute to that culture, she added. 
On top of plans to add more lawyers in the near future, VanderVeen hopes Dickinson Wright will be able to establish itself in the Denver community through volunteering, participating events and supporting Colorado organizations. She hopes the firm will develop a reputation for excellent legal services and be seen as a trusted, go-to source for legal needs. As a transplant herself, VanderVeen said she's felt very welcomed by the business and legal community in Colorado and hopes the firm will get the same reception. 
"We're super excited to enter the market here," she said. "As a transplant myself … I think that the business community, as well as the just regular community, has been very welcoming to me and I hope that they're the same way with Dickinson Wright. I know that there are a lot of awesome firms in Denver, and some that are headquartered here and have been here for a long time. But we are definitely looking to add value to the market. And we think that we can do that."