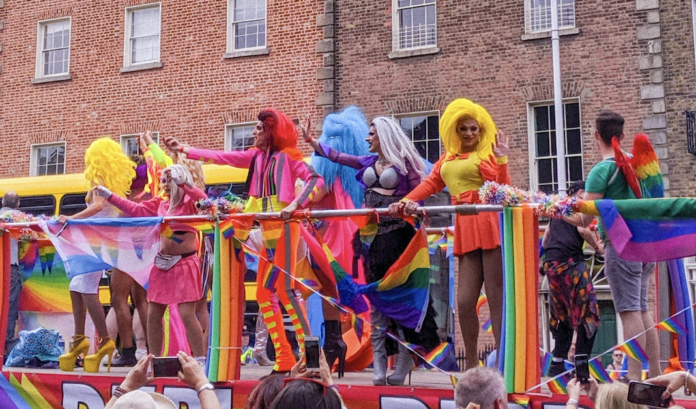 Recently, legislation against drag performers has been sweeping the nation. 
According to research by Time, there are multiple states that have adopted or attempted to adopt legislation banning drag performances in various circumstances including at parks, on government property, in front of children, at public libraries and so on. 
"We have seen more than 40 bills introduced around the country that will have very specific provisions that would have a negative impact on drag performances," said Sarah Warbelow, vice president of law for the Human Rights Campaign.
Missouri has several municipalities that are attempting to restrict drag performances, classifying them as obscene and akin to stripping; as well as House Bill 1364 which was introduced in March, but no hearing has been scheduled. House Bill 359 was introduced in Montana, prohibiting children from attending sexually oriented shows and drag story hours in schools and libraries that receive public funding. The bill was signed by Montana Gov. Greg Gianforte May 22. The bill was blocked by a federal judge claiming it suffered from "constitutional maladies."
In Idaho, House Bill 265 sought to prohibit minors from attending shows involving sexual conduct. The bill didn't advance during the 2023 legislative session. 
In Nebraska, Legislative Bill 371, proposed by Sen. Dave Murman, sought to prohibit minors under 19 years old or 21 years old from attending or being present at a drag show. Nebraska Sen. Megan Hunt filed a motion to postpone the bill indefinitely. 
In Arizona, Senate Bill 1028 sought to prohibit "sexually explicit" performances and adult cabarets from taking place on public property or in an area where their performance can be seen by a minor. The bill was vetoed by Arizona Gov. Katie Hobbs June 16. 
"[I was unsurprised] based on the landscape and the rhetoric and I think the shifts that we've seen politically and socially over the past … six years," said Anaya Robinson, senior policy strategist at the American Civil Liberties Union of Colorado. 
In Tennessee, Senate Bill 3 became one of the nation's first pieces of legislation signed by Gov. Bill Lee in February to officially ban drag performances, specifically in public and/or in front of a minor. However, U.S. District Judge Thomas Parker ruled this restriction was unconstitutional and vague. Parker referenced free speech which is protected under the First Amendment.
"Any statute or ordinance that restricts expressive conduct in public, which drag performances unquestionably are, and does so based on the content of the performance, is highly unlikely to survive a constitutional challenge under strict scrutiny," said Steve Zansberg, Denver-based First Amendment lawyer. 
"And, indeed, several courts have already so held," added Zansberg.
In Florida, Senate Bill 1438 signed by Gov. Ron DeSantis, aimed to prohibit minors from attending adult performances, which included drag shows. It was ​​later blocked by U.S. District Judge Gregory Presnell because he argued there are already statutes protecting minors from adult-oriented performances and he felt this bill was suppressing the speech of drag performers.
​​"Where you are restricting a type of speech, such as a drag performance simply because you disagree with the message, that is where it becomes unconstitutional," added Warbelow. 
In Arkansas, ​​Senate Bill 43, introduced in January by Sen. Gary Stubblefield, sought to prevent drag shows from occurring on public property or in view of a minor. 
Warbelow told Law Week through "important educational work about what drag is and how it's an important part of the community" Arkansas became a "success story" when the Arkansas House of Representatives voted to take out language in SB 43 about drag shows when defining adult-oriented performances and content. 
Other states like Kansas, Kentucky, West Virginia, Oklahoma and South Carolina have also introduced bills. Although there are no actual laws banning drag performers or their business in Colorado, these nationwide efforts have implications for the state's communities.
House Bill 23-1135 was recently signed into Colorado law June 6. Labeled as the "Penalty For Indecent Exposure In View Of Minors," the bill identifies indecent exposure as a class 6 felony if the person who commits the indecent exposure is over the age of 18 and commits such an act knowing there is a child under the age of 15 in view of it, and the person is more than four years older than said child. 
Rep. Leslie Herod told The Gazette laws like HB 23-1135 have been used to ban drag shows. 
With dissension between all sides comes passionate expression. 
"Sending a message to all the drag queens out there: stay away from the children in Colorado's Third District!" tweeted Rep. Lauren Boebert in August 2022, the U.S. Representative for Colorado's 3rd District.
In an interview with KOA radio, Boebert explained her criticism stems from her concern over the sexualization of children. She used the teaching of sex education in school as an example of grooming, and stood by her June 2022 tweet "take your children to CHURCH, not drag bars," explaining…
"We don't need 6-year-old children putting dollar bills in the thongs of grown men shaking and twerking in front of children…that is child abuse," Boebert told KOA radio.
Warbelow says the narrative being formed against the community with regard to affecting children in a negative or inappropriate way is all about language. 
"A lot of it is very sexualized language … around stripteases going topless, simulated sex, nudity," said Warbelow. "And it paints a picture that that's what all drag performances are, rather than acknowledging that a drag performance could have some of those elements."
Robinson told Law Week children who see and watch drag entertainers or just people in general whom they're reflected in, end up in better circumstances than those who grow up not seeing any reflection of who they are to know safe spaces exist for them. Robinson said these drag bans are an "erasure of inclusion and diversity and being able to see folks as adults that align with who we know we want to become."
"While drag's main purpose has been for drag performance and entertainment, it is also used as self-expression and a celebration of LGBTQ+ pride," as stated in a MasterClass article. 
Robinson also noted in this current climate with the debate of drag and transgender rights, it's not just politicians who don't agree with the community, but politicians who don't have lived experience that would allow them to be empathetic toward those who make up the community, and "what the policies actually need to look like to function in the way [they] should." 
"We went from Reading Rainbow to Randy Rainbow in a few decades, but don't dare say the Left is grooming our kids!" tweeted Boebert in May 2022.
As the debate continues, specialists like Guss Keyes, think these bans add unnecessary anxiety and stress, and even invoke something called secondary trauma. Keyes is a behavioral health specialist for the Denver Element and The Transgender Center of the Rockies. 
"People, in general, can kind of bump against that in many ways, whether it's listening to somebody else's trauma narrative [or] reading traumatic things on Twitter and social media," added Keyes. 
Boebert told KOA Radio she has never spoken negatively about anyone and their personal preference as an adult, rather she's criticized the sexualization of children and "men dressing up as caricatures of women and taking what is rightfully a woman's." 
The future remains unknown on both sides.
But Warbelow feels the work isn't done. 
"[There are] two pieces to this … paying attention to what the state legislature is doing," said Warbelow. "And I also think there are incredible opportunities to engage directly with state legislatures."